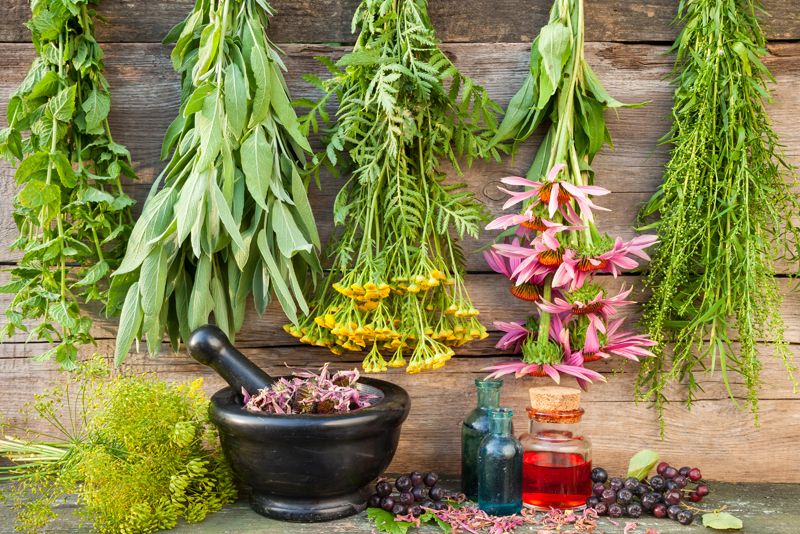 Our skin, especially our face has weathered all seasons – from hot sun to frigid winter temperatures, it takes a beating and still keeps on smiling. While I may not be subject to "city" pollution, out in the country, we still have chemicals and pollutants from farmers spraying their crops. It is crucial for us to remove the dirt and toxins from our skin on a daily basis to promote healthy, glowing skin.

Such herbs to help us with that are chamomile, rosemary, comfrey and elder blossoms. These wonderful herbs help to draw out the impurities from the pores while cleansing and softening the skin.

Chamomile promotes even skin tone while comfrey restores the skin cells. Unlike some of the products that you can't even pronounce the ingredients, these plans are safe enough to use around your delicate eye areas, yet strong enough to see substantial results.

Items you will need:

Coffee grinder for turning your herbs into magic gold

Milk, eggs, plain yogurt (natural with no additives)

Witch Hazel

Avocado

Oatmeal (Organic Oats if possible)

Chamomile, Comfrey, Rosemary

Elder Blossoms, Calendula, Lavender, Peppermint

(These four herbs can be found already dried at your local health food store if you don't grow your own.)

Airtight container for keeping mixture(s) in


4 Step Approach to Radiant Skin

Step #1: Exfoliating dead skin cells not only helps clean your skin but it removes toxins. By using an herbal cleansing powder on a wet sponge, rub gently in tiny circles over your face, rinsing well with water and patting dry.

Step #2: Splash toner over your face or use cotton pad to spread it over your skin. Do not rinse.

Step #3: This is a must – moisturize. This step locks in moisture, leaving your skin soft and silky.

Step #4: Once a week give yourself a facial, your face with thank you.

Facial Scrub
1 / 2 cup each of dried comfrey and oats

Put both dry ingredients into coffee grinder until a fine powder (keep this in a container in a cool, dark place for up to half a year.

*Tip – take approximately 1 tablespoon of your herbs and mix with 1 teaspoon of yogurt until it becomes a paste. This is the ratio to use for future scrubs.

Facial Toner

2 cups of pure water

1 / 4 cup of apple cider vinegar

1 / 2 cup dried chamomile

1 / 4 cup of peppermint

Use a spare canning jar you have left over and heat the water in microwave for 1 – 2 minutes. Add chamomile and peppermint and stir. Cover jar until liquid has cooled before adding your cider vinegar. This will keep for about a week.

*Tip – let sit for at least 24 hours (not in the refrigerator) before straining liquid to removed chamomile. This remaining toner will keep in a pretty airtight bottle for about half a year. Shake before using.

Facial Mask

1 /4 each of oats, comfrey and calendula

1 tablespoon each of chamomile and rosemary

*Tip - take coffee grinder and turn the ingredients above into a powder. Keep in an airtight container for future use.

Ratio for mask is 1 part powder to 1 part liquid (whole milk).

Mix until thick and leave on your skin for 20 minutes to half an hour. Rinse with warm water and apply moisturizer.

Facial Moisturizer

1 tablespoon each of dried elder blossoms and comfrey

2 tablespoons of jojoba oil

1 / 4 cup of olive oil

1 teaspoon of beeswax

Once again take one of your canning jars and put the olive and jojoba oil in, microwaving on high for 45 seconds to 1 minute. Add your herbs and place lid on the jar. Shake well and let sit in a dark place (not cold) for 48 – 72 hours…giving it a swirl every so often during this time.

Strain herbs from mixture and add the beeswax. Put jar in a pan filled with hot water, stirring until wax has melted. Store blended liquid in an airtight jar or container to use daily. Moisturizer will keep for up to half a year.

Please always do your research and consult with your physician, naturopath, or health care provider before taking any home remedies or supplements or following any treatment suggested on this page. Only your health care provider, personal physician, or naturopath can provide you with advice on what is safe and effective for your unique needs or to diagnose your particular medical issue.


Related Articles
Editor's Picks Articles
Top Ten Articles
Previous Features
Site Map





Content copyright © 2022 by Bettina Thomas-Smith. All rights reserved.
This content was written by Bettina Thomas-Smith. If you wish to use this content in any manner, you need written permission. Contact Bettina Thomas-Smith for details.