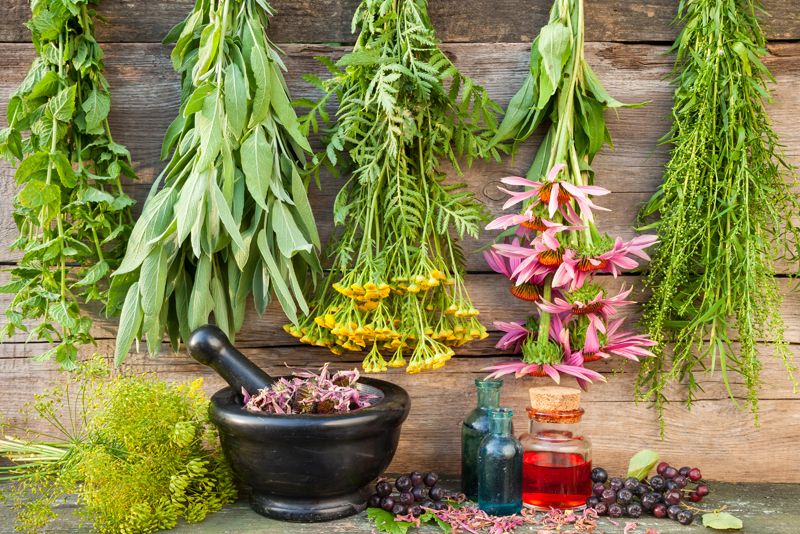 There are three herbs that I thought would be a great addition to anyone's medicine cabinet. They are beneficial for cuts, scrapes, cough, aches and pains, arthritis, your digestion, blood and even your heart. Who could have knows these three herbs could do so much?

They are as follows:

Aloe, also known as Aloe Vera. Its leaves yield juice, gel, and a dried leaf powder. We have used the soothing gel from the plant for centuries and it has been specifically used for scrapes and in particular burns. When applying to burns, it can be more effective when mixed with honey and vitamin E oil.

Aloe is also known to halt the growth of cancer tumors, lowers high cholesterol, repairs your blood, boosts the oxygenation of your blood, eases inflammation and soothes arthritis pain, protects the body from oxidative stress, prevents kidney stones and protects the body from oxalates in coffee and tea, alkalizes the body, helping to balance overly acidic dietary habits, cures ulcers, IBS, Crohn's disease and other digestive disorders, reduces high blood pressure naturally, by treating the cause, not just the symptoms, nourishes the body with minerals, replaces dozens of first aid products, halts colon cancer, heals the intestines and lubricates the digestive tract, ends constipation, stabilizes blood sugar and reduces triglycerides in diabetics, prevents and treats Candida infections, protects the kidneys from disease, functions as nature's own "sports drink" for electrolyte balance, boosts cardiovascular performance and physical endurance, speeds recovery from injury or physical exertion, hydrates the skin, accelerates skin repair.

Black Cohosh is also known as Snake root and squaw root. Black Cohosh has been used by Native Americans for more than two hundred years. Black Cohosh is a wonderful medication in dealing with both whooping cough and asthma. It is used quite effectively for menstrual cramps and muscle tension in rheumatoid arthritis. This herb also has anti-inflammatory properties and is helpful in dealing with arthritis and also respiratory disorders. What's more, it is a mild sedative and will work well with other antispasmodics in decreasing pain.

Cayenne is also known as Bird pepper. Cayenne is useful in lowering blood pressure. It is an excellent gargle for sore throat and oral ulcers. It alleviates the pain as well as purifying and cleansing. It is antibacterial. Cayenne is a marvelous remedy for preventing bleeding both internally and externally. Cayenne is also used as a natural pain killer with anti-inflammatory properties. Cayenne may be used internally or externally to treat arthritis, bunions, psoriasis, and muscle and joint pain. Used externally, cayenne liniment may soothe the stiffness and pain of rheumatism and arthritis.

Cayenne is used as a natural fat burner, increases metabolism, improve circulation, and boosts the immune system and aid digestion. It is used as a tonic for the heart, kidneys, lungs, pancreas, spleen and stomach and to treat herpes, shingles and rheumatism and for preventing heart disease and can be used as a general stimulant to build up resistance at the beginning of a cold, tonsilitis, laryngitis, hoarseness and even shingles. Recently, cayenne has been used successfully to treat patients with cluster headaches, a particularly painful type of headache.

Please always do your research and consult with your physician, naturopath, or health care provider before taking any home remedies or supplements or following any treatment suggested on this page. Only your health care provider, personal physician, or naturopath can provide you with advice on what is safe and effective for your unique needs or to diagnose your particular medical issue.


Related Articles
Editor's Picks Articles
Top Ten Articles
Previous Features
Site Map





Content copyright © 2023 by Bettina Thomas-Smith. All rights reserved.
This content was written by Bettina Thomas-Smith. If you wish to use this content in any manner, you need written permission. Contact Bettina Thomas-Smith for details.