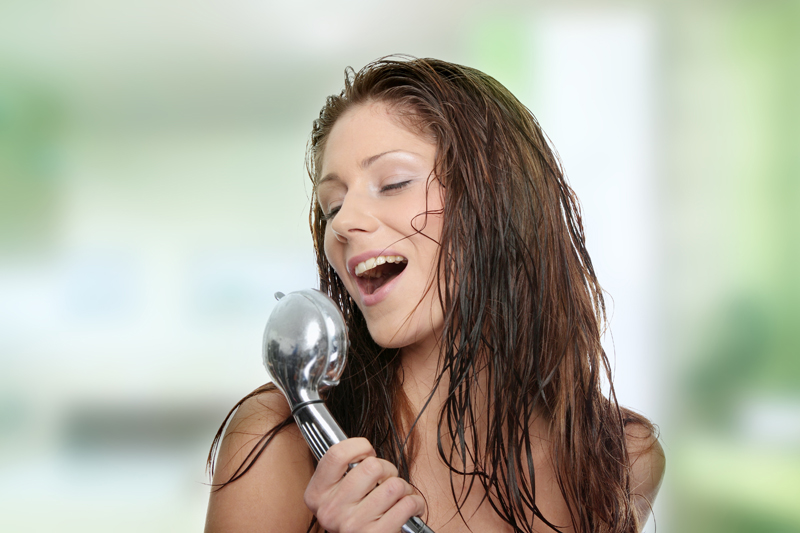 I used to dream of being a singer. Like so many other teen-age girls, I'd stand
in front of the mirror, my hairbrush a microphone, while I sang along with my favorite songs. I was destined to be the next Olivia Newton-John or Stevie Nicks.
Then one day my choir teacher announced she wanted me to sing the solo in the "The Girl with the Golden Hair" by ABBA. This was one of my favorite songs! I stood, excited and nervous, but when it came time to belt out my part I had no voice. The only thing that came out of my mouth was a slight choking sound. My teacher did not have the time to deal with my performance anxiety, so she gave the part to another girl.
It was five years before I could bring myself to sing again.
Most people have some sort of fear to deal with, especially as they start building their career.
Will I make enough money?
Is this right for me?
What if I fail?
But musicians, like any artist, tend to be more vulnerable when it comes to dealing with fear of failure. As an artist, what the musician creates is very personal. They put a piece of themselves out there for the world to see (and judge), and unless they are particularly resilient, they may find it hard to move past any negative criticisms.
Fear of not being liked
Many performers worry about being accepted as musicians. They may worry that the audience won't enjoy their music or that other musicians in the audience may judge their performance abilities. But keep in mind that the audience wants you to succeed, and they'll be very supportive. It's a rare person that has to heckle. In fact, hecklers are usually just negative people who would heckle anyone – so it's not personal.
Not everyone is going to love you, and you'll compromise your music if you try to please everyone. Remember, as a musician, you are offering something from your heart, and your performance is for those people who love what you have created.
Fear of forgetting the music
At some point in time, every musician has forgotten something, and ended up ad-libbing a bit. Keeping in practice is the best remedy for this. Even if you forget a line, hit a sour note, or forget the chord progression, you know you can recover. And remember, your audience wants you to succeed. If you mess up a song, and you can laugh at yourself, your audience will find it endearing, and love you for it.
Fear of Succeeding
Just about every musician worries about failing, but many musicians worry about what success may bring. Success may mean long hours, touring, and a radical change in lifestyle. It may mean giving up the security of a day job and living out of a hotel room.
The secret here is to know what your expectations are. What does your life, as a successful musician, look like? Do you tour or play locally? Are you performing originals or covers? Fear of success generally translates into fear of the unknown, so when you know what this life looks like, it's easier to move forward.
I've fallen off a stage, eaten a bug while singing, and yes, even forgotten the words and chords to the song I was playing. And where every performance may not be the best performance of my life, I can say I generally have a good time.
Being a musician is about expressing your art, and expressing art is about opening the heart. When you trust that you can handle anything that comes your way, it makes it easier to express yourself.
Photo of Deanna Moon used by permission
You Should Also Read:
Selecting Band Members
Vocalist Tips For Staying On Pitch
Good Musician Practice Habits


Related Articles
Editor's Picks Articles
Top Ten Articles
Previous Features
Site Map





Content copyright © 2022 by Deanna Moon. All rights reserved.
This content was written by Deanna Moon. If you wish to use this content in any manner, you need written permission. Contact Sabira Woolley for details.