New Year in Mexico - Churros and Hot Chocolate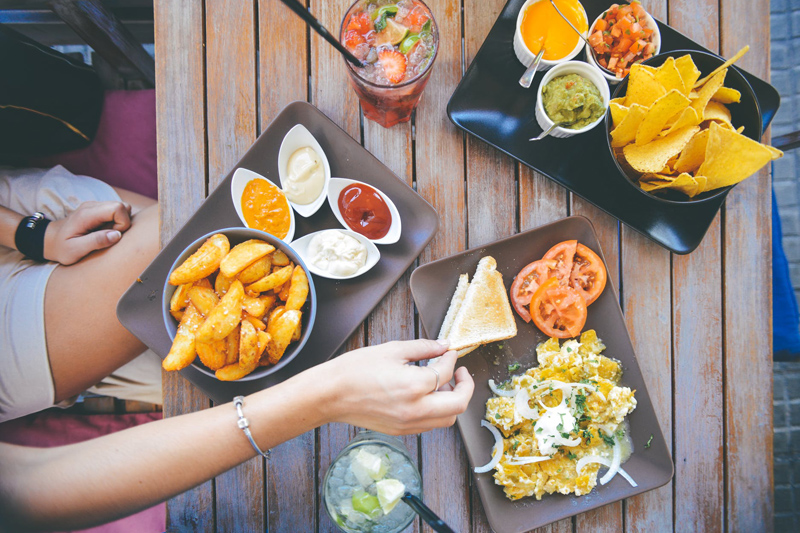 New Year's Eve in the Zócalo in Mexico City is ablaze with fireworks and festivities and traditionally, at every stroke of midnight, revellers swallow a grape and make a wish for the coming year. You have to swallow them very quickly and the trick is not to choke on them or find yourself with several grapes in your mouth at the same time as they have to be consumed by the twelfth stroke. The carousing then continues well into the night, and there are many sore heads by dawn. One would think at that stage that a darkened room and a bottle of mineral water would be the best, if not the most rousing, cure for the first "cruda" or hangover of the year, but a cup of hot chocolate and a freshly cooked "churro" - crisp on the outside, soft and melting on the inside, fragrant with cinnamon and crunchy with sugar - are an infinitely more appealing antidote to the excesses of the night before, let alone a more exhilarating tactic for greeting the incoming twelve months.

Churros are deep-fried, ridged strips of choux pastry, decidedly European and nothing whatsoever to do with pre-Hispanic Mexican food. They are a popular street snack and the aroma which wafts from a "churrería" or churros stand is utterly hypnotic, and needless to say, totally irresistible. Their perfect partner is a cup of steaming hot chocolate, and the pleasure of dunking a freshly cooked churro into the chocolate is impossible to describe – it has to be experienced. For me, the chocolate has to be combined with milk or cream, which is of course a mixture of New and Old Worlds, as it was made with just water before the arrival of the Spaniards – but having tried chocolate pre-hispánico on a couple of occasions and found it lacking in comfort, I always make my hot chocolate at home with milk and at least some cream.

Admittedly churros are not the most healthy or digestible of foods, but if your head feels as though it is about to crack open on New Year's Day, drag yourself into the kitchen, whip up a batch of choux pastry, make some rich hot chocolate, and welcome the brand new year in style.

Feliz Año Nuevo – Happy New Year!

Churros con chocolate – Churros with hot chocolate

Serves 4

Makes about 10 churros

For the churros:
150 g/5 oz plain flour
2.5 ml/1/2 tsp + 5 ml/1 tsp ground cinnamon
250 ml/8 fl oz water
100 g/4 oz unsalted butter
Pinch of salt
3 eggs
1 litre/1 3/4 pints vegetable oil
30 g/1 1/4 oz caster sugar
1 tsp ground cinnamon

Sift the flour with the 1/2 tsp cinnamon. Bring the water, butter and salt to the boil in a heavy, medium saucepan. Add the flour all in one go and stir vigorously until the dough forms a mass and comes away from the sides of the saucepan. Remove from the heat and beat the eggs in, one at a time. Scoop the dough into a piping bag fitted with a fluted nozzle and leave to cool for about one hour (a disposable plastic piping bag, available at cookware shops, is ideal).

Heat the oil in a large frying pan or deep-fat fryer to 190°C/375°F. Pipe the dough straight into the hot oil in 15 cm/6 in lengths, cutting it away from the nozzle with scissors. Cook about 4 at a time, depending on the size of your frying pan, until they are golden, then turn them over and cook the underside – about 3 to 5 minutes on each side. Remove them with a slotted spoon or spatula to a baking tray lined with kitchen paper.

When all the churros are cooked, mix the sugar and remaining cinnamon in a roasting tin, add the churros and shake them around gently, spooning the sugar over them, until they are well coated and nice and crunchy.

Serve immediately while they are still slightly warm, with a mug of steaming hot chocolate.

The churros are also very nice cold although their texture becomes less light as they cool.

For the chocolate:-
500 ml/1 pint full cream milk
500 ml/1 pint single/light cream
200 g/8 oz dark chocolate (at least 50% cocoa solids) – Green & Black's Maya Gold is perfect
Sugar if you wish
4 cinnamon sticks (optional)

Heat the milk and cream in a small saucepan until steaming. Remove from the heat, add the chocolate and whisk until melted. Pour into four cups and garnish with a cinnamon stick.

Serve with churros.

Buén provecho!

You Should Also Read:
New Year in Mexico - Shrimp Broth
New Year in Mexico - Pozole Recipe
Xocolatl, the Aztecs' Food of the Gods


Related Articles
Editor's Picks Articles
Top Ten Articles
Previous Features
Site Map





Content copyright © 2023 by Isabel Hood. All rights reserved.
This content was written by Isabel Hood. If you wish to use this content in any manner, you need written permission. Contact Mickey Marquez for details.