Manage Stress in Retirement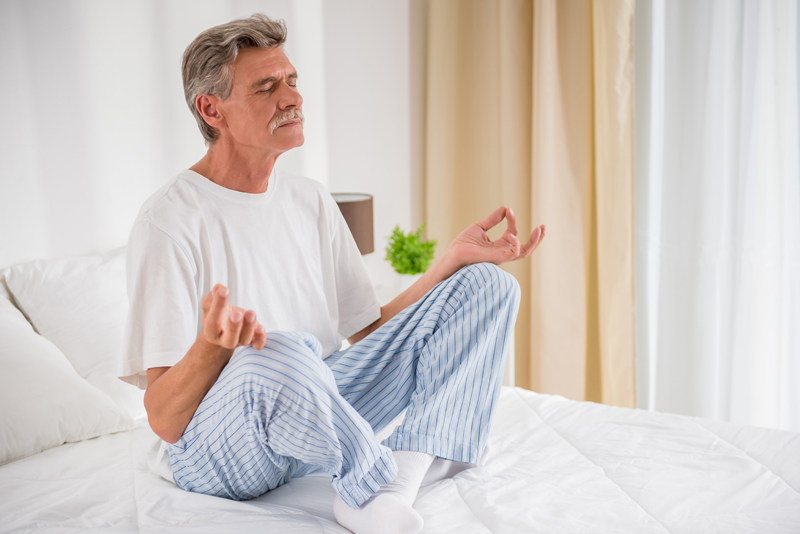 Stress is a part of everyday life. There are dozens of contributing factors and, although they seem to vary from person to person, some things are common to all. Finances, families, uncertainty about the future and change all create stress. While some things change when we retire, stress doesn't disappear. Learning to deal with stress in new ways is important to both your quality and quantity of life.

Stress doesn't just cause worry and anxiety. It steals sleep, causes headaches and chest pain and can be a contributing factor in serious health risks such as high blood pressure, heart conditions, asthma, arthritis and diabetes. According to WebMD, anywhere from 75% - 90% of doctor visits are stress related. Obviously then, managing your stress level is an important part of enjoying retirement. Because stress is created by our perception of situations and ability to cope with them, we are in charge of improving our stress management.

Yep - It's Stress

During stressful situations, take a minute to think about what's going on. Consider your options, breathe slowly and think about what you can do to reduce the stress of the situation. Take a step back and acknowledge that this moment will not last forever.

Decide how important the stress-situation is in your life. Will it make a difference in a day? In a week or month? If it's not going to affect your life for the long-term, don't give it more attention than it's due.


Some situations or people will stress you out every time you're in or near them. Decide which of these you can do without and ... do without them. If you cannot eliminate them from your life, limit the amount of your time and energy they get.

Prayer, Meditation and Yoga

Studies have repeatedly shown that people of faith who practice prayer have an easier time handling stress than those who do not. The act of prayerfully considering the situation, mentally laying it down and walking away has benefits that are not always understood.


Motion Over Emotion

When we get stressed, we often try to 'put it out of our mind'. We push unpleasant thoughts away. Unfortunately, research shows that the very effort of ignoring a though actually brings it into sharper focus in our minds. Therefore, it's important to acknowledge the stressful thoughts and then move on. Don't try to repress them – replace them.

Because your brain focuses more on motion than thought, a good way to displace those negative thoughts is with action. Clean the house, take a walk, dance, lift weights (yes, lift weights), paint a picture, do some gardening; find an activity that pulls your brain's attention from the negative to the positive.

The thought will return, worry will rear its ugly head again and the stress=cycle will begin again. Don't worry about it. Just give it a nod and move on. Remember, action is a stronger pull for your brain than thought. And the movement will be good for you.

Goals are Good

We've lived our lives with goals and schedules. Now, for most of us, that's a part of our past. It can be a little unnerving to wake up without a routine for the day. Goals for our Golden Years lessen the stress of retirement.

Choose some reasonable things to strive for. It may be a volunteer position that you're interested in, a hobby you've never had time to pursue or something completely new that you'd like to explore. Choose one (or more) and break it into smaller bits, sub-goals that you can achieve in a couple of weeks or a month. Write them down with a timeline and get started!

Know Your Values

Sometimes when we get stressed, we feel like we've lost our way. Sitting down in a quiet place and writing down your values, beliefs and self-worth will reestablish your understanding of yourself. That is an important part of coping with stressful situations or people.

Make Lemonade

Regardless of how cliché it is, when life gives you lemons … Well, you know. Look for a lesson in each situation, a way to accept it and grow from it. Accept what you cannot change and look for the positive in it. Often, challenges that we hate can become opportunities that we relish later. Even in retirement, we can learn, be challenged and grow.

Perspective and Humor

Finally, keep each situation in the proper perspective. We let things grow out of control by giving them negative attention. Like Gizmo in the movie Gremlins, little things can get ugly quickly if they're not treated right.

Life is stressful. But handling stress is within our grasp, and can make the difference between a retirement where we contribute, learn and grow and one we suffer through.

You Should Also Read:
Keeping Resoulutions
Spa Day at Home
Exercise Slows Aging


Related Articles
Editor's Picks Articles
Top Ten Articles
Previous Features
Site Map





Content copyright © 2023 by Debora Dyess. All rights reserved.
This content was written by Debora Dyess. If you wish to use this content in any manner, you need written permission. Contact Debora Dyess for details.