Mexican Antojitos - Chilaquiles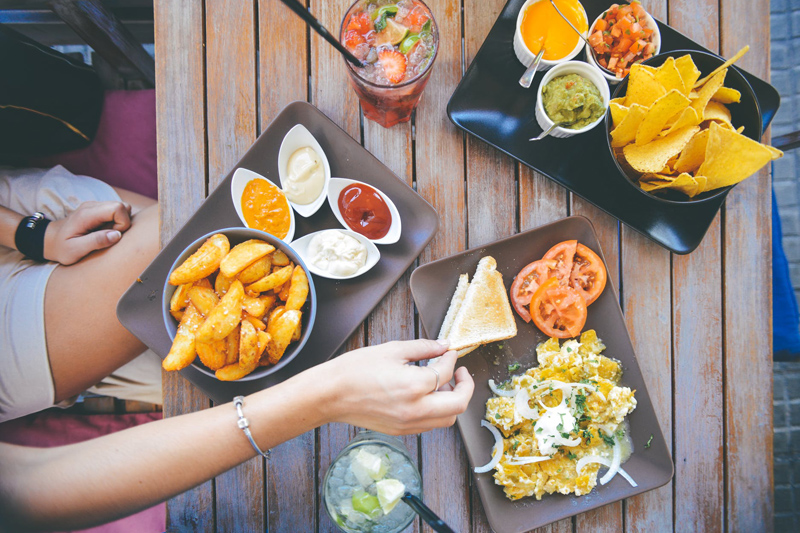 According to an old Mexican wives' tale, chilaquiles are good for the head: specifically first thing in the morning after the night before, as the perfect cure for a "cruda", which translates as raw but is the evocative term used in Mexico for a hangover! In this particular case, they need to contain plenty of chilli to stimulate the brain to release pain-killing endorphins and set over-indulgent merry-makers back on their feet in a trice. However, excess consumption of tequila aside, chilaquiles are the most comforting of foods, satisfying, rib-sticking, deeply flavoured and just as good for the soul as for the head.

The name chilaquiles can be traced back to the Aztec Náhuatl "chil-a-quilitl", meaning herbs or greens in chilli broth. There is no mention of tortillas, however, indicating that the dish has obviously altered quite considerably over the centuries. Chilaquiles are essentially stale tortillas moistened with a sauce, so the concept of the chilli broth is obviously still there, but nowadays it is more likely to take the form of a tomato, tomatillo or bean sauce. Furthermore, while the tortillas today are lightly fried before being added to the sauce, this would not have been the case before the Conquest, as frying only became a traditional cooking method in Mexico after the introduction of Spanish pigs and their rich, tasty lard.

Chilaquiles are poverty cooking, made up of cheap, plentiful ingredients which are staples in every Mexican household, and in their simplest form, consist of nothing more than old tortillas and sauce. Nevertheless, chilaquiles have come a long way since their pre-hispanic days and very dressed-up versions can be found in fancy restaurants, featuring luxury components like wild mushrooms and lobster – and while they can be incredibly delicious, they bear little resemblance to the more authentic varieties rustled up by a cook in a battered frying pan over a small charcoal brazier on the pavement.

In the markets and on the streets, chilaquiles are eaten mostly for breakfast, often topped with fried eggs or sprinkled with cheese and sour cream. The sauce is invariably well spiced with green or red chillies, and the cooks will often refer to their particular version of chilaquiles by a different name: for instance, chilaquiles in a tomato sauce might be called "enjitomatadas", and "enfrijoladas" are chilaquiles in a sauce made of beans or "frijoles".

Every region has its own version of chilaquiles, and in the state of Veracruz, they are often served in a sauce of the local little black beans and are known as black chilaquiles, "chilaquiles negros". It is a wonderfully earthy dish, dark and deeply flavoured, which I make with tortilla chips to save time and serve topped with a sharp, fresh salsa and fried plantains, a very traditional ingredient in Mexican and Veracruz cooking which arrived in Mexico with the slave trade.

Don't be put off by the length of this recipe, it is all very easy, even though the beans take time to cook.

Black Bean Chilaquiles – Chilaquiles Negros

Serves 6

For the chilaquiles:-
250 g/9 oz black beans, rinsed
1 bay leaf
30 ml/2 tbsp olive oil
150 g/5 oz onions, peeled and coarsely chopped
2 garlic cloves, peeled and crushed
1 red and 1 green chilli, deseeded and finely sliced
15 ml/1 tbsp cumin seeds
15 ml/1 tbsp dried Mexican or Greek oregano
250 g/9 oz plain tortilla chips
Sea salt and freshly ground black pepper

For the tomato salsa:-
25 g/1 oz red onions, peeled and finely chopped
1 garlic clove, peeled and crushed
1 red and 1 green chilli, deseeded and finely sliced
30 ml/2 tbsp olive oil
250 g/9 oz cherry tomatoes, quartered
15 g/1/2 oz fresh coriander/cilantro, coarsely chopped
Sea salt and freshly ground black pepper

For the fried plantains:-
30 ml/2 tbsp oil
1 large ripe plantain, about 250g/9 oz, peeled

Place the beans in a large saucepan with the bay leaf, add enough water to cover by 10 cm/4 in, and bring to the boil. Turn the heat down to low, cover the saucepan and simmer very gently for at least 2 hours, until the beans are totally tender. Check them occasionally to make sure they are not drying out and are covered by at least 1 cm/1/2 in of water. Season and cook for another 20 minutes. The beans may be prepared several days in advance and refrigerated.

Remove the bay leaf from the beans and purée them with their liquid in a food processor until fairly smooth, adding a bit of water if the mixture is very thick - it needs to be of a pouring consistency, as it will thicken when the tortillas are added.

Heat the olive oil in a large frying pan, add the onions, garlic, chillies, cumin seeds, oregano and a bit of seasoning, and cook gently, stirring occasionally, until soft and starting to brown. Add the bean purée and bring to the boil, stirring all the time to prevent sticking. Check the seasoning, leaving it just a bit on the bland side, as tortilla chips are salty. Set aside while you deal with the salsa and the plantains.

Gently mix the salsa ingredients together in a small bowl but leave the seasoning until just before serving.

Heat the oven to its lowest temperature and put a large, deep serving dish to warm.

Cut the plantain on the diagonal into slices about 1 cm/1/2 in thick. Heat the oil in a non-stick frying pan, add the plantain and cook for about three minutes on each side, until golden. Keep warm in the oven.

Bring the bean purée back to a simmer and stir in the tortilla chips, turning them over and over in the sauce with a large spoon until they are well coated.

Spoon the chilaquiles into the warm serving dish. Top with plantains and some salsa and serve immediately, with any remaining salsa on the side.

Buén provecho!
You Should Also Read:
Antojitos, the Street Food of Mexico
Mexican Street Food - Enfrijoladas
Chilaquile Casserole Recipe


Related Articles
Editor's Picks Articles
Top Ten Articles
Previous Features
Site Map





Content copyright © 2023 by Isabel Hood. All rights reserved.
This content was written by Isabel Hood. If you wish to use this content in any manner, you need written permission. Contact Mickey Marquez for details.