Mexican Street Food - Enfrijoladas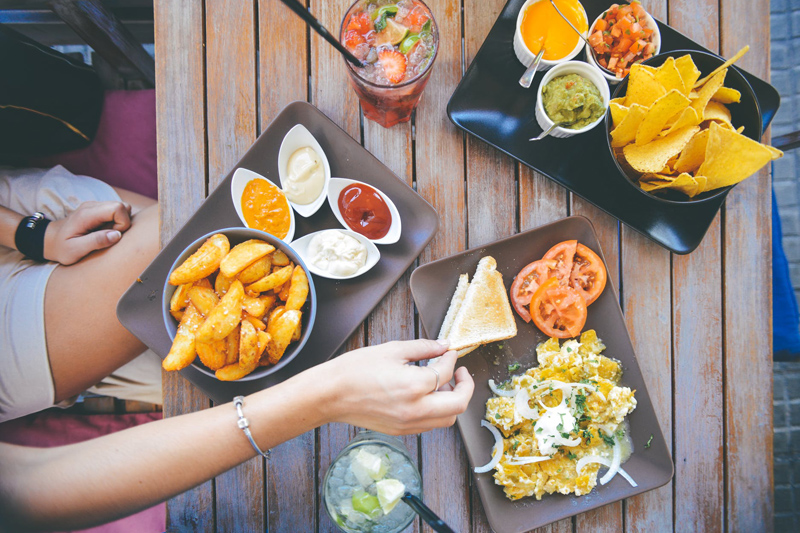 "Enfrijoladas", like "chilaquiles", are Mexican street food at its simplest but most satisfying and comforting, drawn from poverty cooking – the ingredients are cheap and plentiful, staples to be found under every shabby market awning and in every Mexican household, particularly the pot of beans, which is always simmering away somewhere in the kitchen. The flavours are deep and rich with earthy frijoles, cheese and cream, and yet sparkling and fresh with the spicy salsa. They are eaten mostly for breakfast, predominantly at street stalls and market fondas, as cooking them does not require much in the way of equipment – they are on the whole a one pot meal, easy to rustle up on a single gas burner or a little stove full of glowing coals on the pavement. Whole stale corn tortillas are normally used; they are dipped into the sauce one by one, folded over like crêpes Suzette and piled neatly on one side of the pan – the street cooks' dexterity is a joy to watch as they deftly flip them this way and that like a master chef. However, tortilla chips make the whole process much simpler if less authentic, and their crunch, once softened by the sauce, gives them a wonderful chewy texture. Be generous with the chillies in the salsa, as their warmth and shimmer are essential to the liveliness of the overall dish.

Tortillas in black bean sauce - Enfrijoladas

Serves 4

For the beans:-
250 g/9 oz black or red beans
100 g/4 oz onions, peeled and finely sliced
2 garlic cloves, peeled
1 bay leaf
15 ml/1 tbsp olive oil
150 g/5 oz onions, peeled and coarsely chopped
2 garlic cloves, peeled and crushed
15 ml/1 tbsp cumin seeds, coarsely ground in a mortar or spice grinder
15 ml/1 tbsp dried Mexican oregano
250 g/9 oz plain tortilla chips
150 g/5 oz strong Cheddar cheese, coarsely grated
250 ml/8 fl oz soured cream or Greek-style plain yoghurt

For the salsa:-
25 g/1 oz red onions, peeled and coarsely chopped
1 garlic clove, peeled
1 red and 1 green chilli, halved and deseeded
30 ml/2 tbsp olive oil
250 g/9 oz ripe tomatoes, quartered
15 g/1/2 oz fresh coriander/cilantro, coarsely chopped
Sea salt and freshly ground black pepper

Place the beans in a colander and rinse them under cold, running water. Put them in a large saucepan with the 100 g of onions, 2 whole garlic cloves and bay leaf, add enough water to cover by 10 cm/4 in, and bring to the boil over medium heat. Turn the heat down to low, cover the saucepan and simmer very gently for at least 2 hours, preferably 3 or 4, until the beans are totally tender. Check them every now and then to make sure that they are not drying out and are covered by at least 1 cm/1/2 in of water. Add some seasoning and cook for another 20 minutes. Remove the bay leaf and purée with the cooking liquid in a food processor until fairly smooth, adding a bit of water if the mixture is very thick - it needs to be of a pouring consistency, as it will thicken when the tortillas are added.

For the salsa, place the onions, garlic, chillies and olive oil in a food processor and process until coarsely chopped. Add the tomatoes and process again for just a few seconds, to break them down – you are looking for a chunky texture, not a purée. Scrape into a bowl and season just before serving.

Heat the oven to its lowest temperature and put a large, deep serving dish to warm.

Heat the olive oil in a large frying pan, add the 150 g of onions, crushed garlic, cumin seeds, oregano and a bit of seasoning, and cook gently, stirring occasionally, until soft and starting to brown. Add the bean purée and bring to the boil, stirring all the time, as it tends to stick instantly to the bottom of the pan. Check the seasoning, leaving it just a bit on the bland side, as tortilla chips are salty. Stir in the tortilla chips, turning them over and over in the sauce with a large spoon until they are well coated.

Spoon the enfrijoladas into the warm serving dish. Drizzle the soured cream or yoghurt over them, sprinkle with the cheese, and top with the salsa.

Serve immediately with any remaining salsa on the side.

Buén provecho!

You Should Also Read:
A Pot of Beans
Antojitos, the Street Food of Mexico
Mexican Antojitos - Chilaquiles


Related Articles
Editor's Picks Articles
Top Ten Articles
Previous Features
Site Map





Content copyright © 2022 by Isabel Hood. All rights reserved.
This content was written by Isabel Hood. If you wish to use this content in any manner, you need written permission. Contact Mickey Marquez for details.