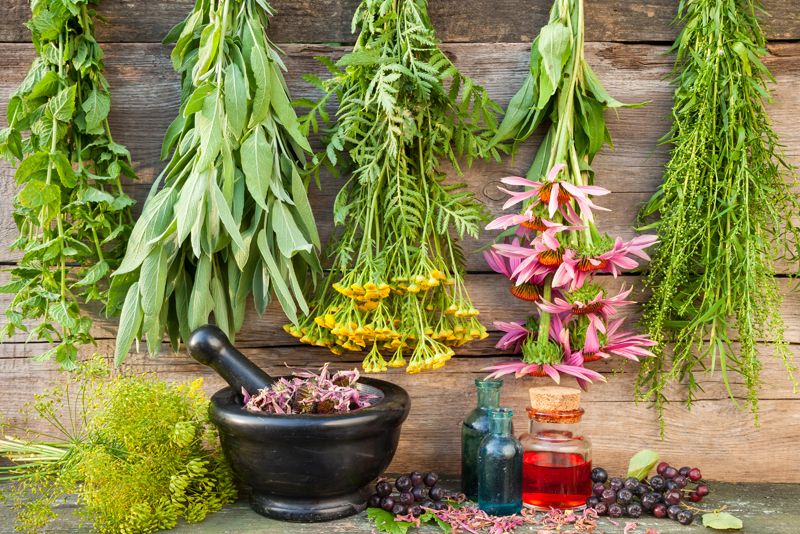 The bad news is that from time to time we all get a little weighed down by life's demands. You feel like you are being torn in one hundred different directions, from work to the kids, your head is about to explode. The good news is that there are some herbs that not only reduce stress and anxiety, but furthermore fortify the nervous system. Unlike sedatives that often disguise symptoms, certain herbs are known for their ability to calm the nervous tension by toning and vitalizing the central nervous system.

Nerve tonics are generally very gentle and soothing. They tend to be high in protein, B vitamins, calcium, and magnesium and actually nourish the nervous system. Their properties are very quieting and will loosen up those ragged nerves. Such herbs are skullcap, oat straw, hops and lemon balm.

Nerve sedatives are more powerful than tonics and are good for bringing a sense of overall peace and calm to your body. Some herbs to consider are catnip, lobelia, valerian, passionflower and California poppy.

Nervine demulcents are therapeutic agents by nature of their mucilaginous reliability. Taken internally, these herbs coat inflamed mucous membranes and sooth agitations. Types of herbs used are marshmallow root, slippery elm bark, barley and flaxseed.

Nerve stimulants get neurochemical transmitters charged up in a healthy, stimulating way. They boost circulation and energy without the "buzz" of more well-known stimulants such as caffeine and sugar. Herbs such as ginger, rosemary, sage spearmint and peppermint get you moving back into an attentive and re-energized state of mind.

These herbal nervines are tools in your toolbox. Unlike most pharmaceutical drugs that might serve the same purpose, herbs have some nutritive value, so they feed your body as well as your mind.

But, don't forget the simplest of remedies to alleviate frazzled nerves. Remember the old R and R path to relaxation. It doesn't take a boatload of money to do the simplest therapies, like soaking in a nice hot bath or asking your loved one for a little massage. Have your own time out to meditate...you deserve it! Take pleasure in the scent of some flowers from your garden. Or my favourite, sitting quietly in the gazebo and watching the hummingbirds…there is nothing quite like it for distressing one's mind and body.

Always do what you feel is best for you. Each of us is different, so treat yourself as such and do your homework and find what works best.

Please always do your research and consult with your physician, naturopath, or health care provider before taking any home remedies or supplements or following any treatment suggested on this page. Only your health care provider, personal physician, or naturopath can provide you with advice on what is safe and effective for your unique needs or to diagnose your particular medical issue.


Related Articles
Editor's Picks Articles
Top Ten Articles
Previous Features
Site Map





Content copyright © 2023 by Bettina Thomas-Smith. All rights reserved.
This content was written by Bettina Thomas-Smith. If you wish to use this content in any manner, you need written permission. Contact Bettina Thomas-Smith for details.