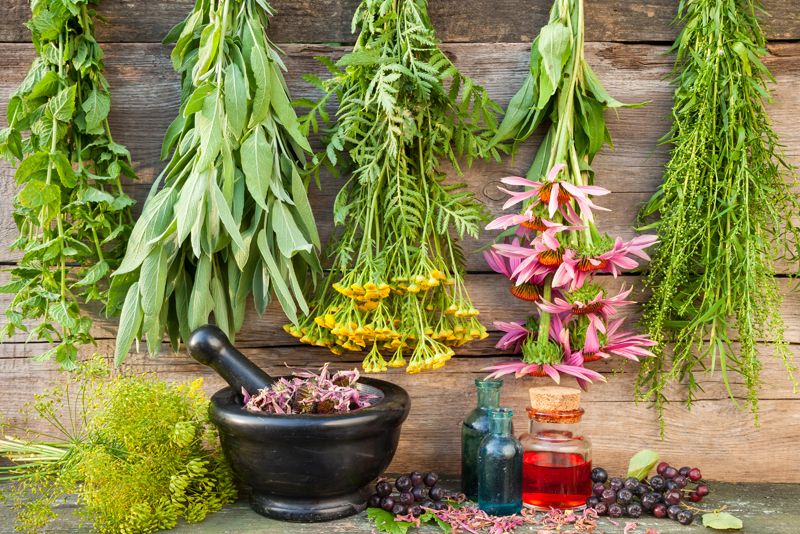 Although best known as an ingredient in poultry stuffing, Sage(or edible sage/garden sage) has been used medicinally for thousands of years. In the Middle ages, Sage was thought to promote longevity.

Native to the Mediterranean region, its name comes from the Latin Salvare, which translates roughly as "to rescue" or "to heal." Sage is often used as a remedy for respiratory infections, congestion, cough, sore throats, appetite stimulant, indigestion and is said to have a beneficial effect on the liver. It is also given for fever, night sweats and urinary problems. Some women even find that it helps with menopausal symptoms. Sage is a uterine stimulant, so it should be avoided in therapeutic doses during pregnancy. It is safe to use in cooking however. It may also decrease milk production so nursing mothers be aware of that. Gargling or swishing the tea without swallowing should not lead to this effect.

Sage grows up to three feet in height and gives off a distinct fragrance. It should be planted in rich, well drained soil in a sunny location.The leaves grow 1 1/2 to 2 inches long, are oblong in shape with rounded ends They are gray-green in color and have fine, soft hairs. The leaves grow in pairs on the stems.

Sage Tea

1/2 to 1 tsp. Sage
1 Cup boiling water
Steep 10 minutes

(Apple cider vinegar and salt may be added to sage tea to use as a gargle for sore throat)

For culinary purposes, Sage is wonderful with many dishes. I enjoy the taste mixed with Rosemary and in this lovely Focaccia recipe I invented.

Sage and Rosemary Focaccia
Makes two large breads

2 cups warm water
1 1/2 tsp. yeast
1 Tbsp. sugar or honey
1 tsp. salt
2 Tbsp. Olive oil

Stir and let sit until bubbly. Then add:

6 cups flour
2 Tbsp chopped fresh Sage
2 Tbsp chopped fresh Rosemary

Stir flour and herbs into wet mixture until it can be turned out onto a floured surface and kneaded.

-Knead on floured surface until no longer sticky. The longer you knead it, the better.
-Shape into a smooth ball and place in a well oiled bowl.
-Cover and let rise for 1 hour.
-Punch down, remove from bowl and divide in half.
place half of the dough onto baking stone or sheet and flatten to approximately 1/2 inch thick. Press fingers firmly over surface until it is covered in indentations.
-Brush with Olive oil
-Sprinkle with more chopped Sage, Rosemary and coarse Sea salt/pepper.
-Bake 375 until dark and crusty-about 45 minutes-watch closely as ovens may vary.








Related Articles
Editor's Picks Articles
Top Ten Articles
Previous Features
Site Map





Content copyright © 2023 by Amelia Tucker. All rights reserved.
This content was written by Amelia Tucker. If you wish to use this content in any manner, you need written permission. Contact Bettina Thomas-Smith for details.