Mexican Antojitos - Quesadillas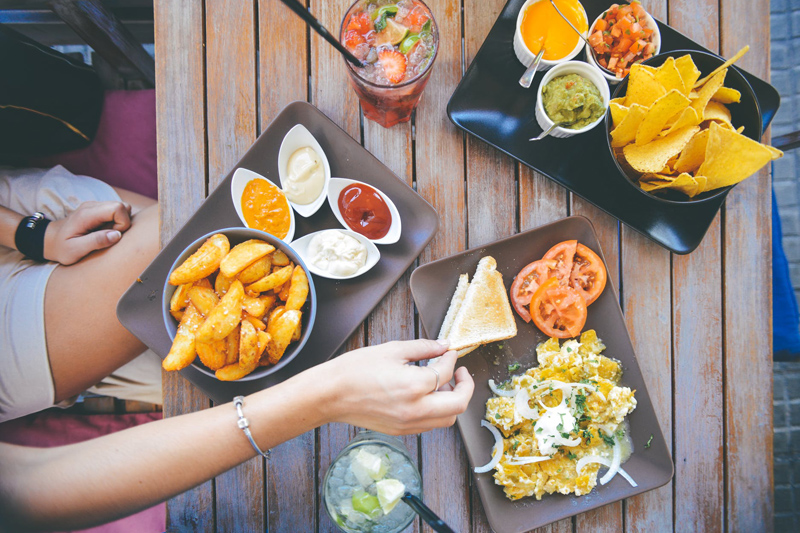 While tacos usually consist of a tortilla wrapped around a filling, a quesadilla is folded up and over the filling into a half-moon shape, rather like a turnover, and then fried until the envelope is crisp and golden and the cheese is all melting and oozing out around the edges. The filling always contains cheese - "queso" is Spanish for cheese – but otherwise it varies from cook to cook and region to region. In its simplest form, it may literally be nothing more than grated cheese, and in this case, bearing in mind that tortillas are effectively the "bread" of Mexico, a quesadilla is to all intents and purposes a toasted cheese sandwich. At the other end of the spectrum, a quesadilla can reach the height of sophistication and come to the table garnished with smoked salmon and caviar, stuffed with wild mushrooms or napped with a classical French sauce – needless to say, this is only in fancy restaurants and not out on the pavements!

In the autumn, a street cook might fold her tortilla over a delicate filling of pumpkin blossoms, and when the sinister-looking fungus, huitlacotchle, forms on the corn cobs, she will be sure to use it; or she may choose her local chillies, both fresh and dried, to flavour the cheese; a spoonful of chorizo or crisp bacon bits are common additions, or perhaps a thin slice of ham to turn the quesadilla into one of the most popular of all, known rather bizarrely as "sincronisadas", synchronised quesadillas.

One of quesadilla's most useful attributes in the modern kitchen is ease of preparation, as nothing more is needed than a handful of grated cheese and a corn tortilla to produce a delicious snack or supper dish in less than five minutes. If you have some left-over roast chicken or steak in the refrigerator, or a few slices of salami or Parma ham to include in the filling, your quesadilla will move up the scale one notch; sun-dried tomatoes and olives are an excellent, if not particularly Mexican, concept; and whenever I make a Mediterranean style salad of griddled vegetables like aubergines, courgettes and red onions, I invariably ensure that I cook enough to add to quesadillas later in the week with a handful of Greek feta cheese and a sprinkling of dried oregano.

Many cheeses can be used for quesadillas but they need to have melting ability, as it is essential that the filling is rich, gooey and seeping out all over the place. They also need to be strong and boldly flavoured – it is a Mexican dish after all and there is little room for subtlety, let alone refinement. A fresh goat's cheese is one of my great favourites, mixed with some grated mature Cheddar – a combination with just the right balance of acidity and depth, which goes well with a burst of freshness from some finely chopped red onions and herbs.

The recipe below is my basic quesadilla formula, utterly delicious on its own, but also an excellent building block, as it can be dressed up to order. This version with the cherry tomato salad is one of my regular first courses when friends are coming over for supper, or as part of a hot and cold buffet.

Goat's cheese quesadillas with cherry tomato salad – Quesadillas de queso de cabra con salsa cruda

Makes 4 quesadillas

For the cherry tomato salad:-
300 g/11 oz cherry tomatoes, quartered – a mixture of red and yellow looks very pretty
40 g/1 1/2 oz red onions, peeled and finely chopped
1 garlic clove, peeled and crushed
1 red and 1 green chilli, deseeded and finely sliced
15 g/1/2 oz fresh coriander/cilantro, coarsely chopped
60 ml/4 tbsp olive oil
Sea salt and freshly ground black pepper

For the quesadillas:-
200 g/7 oz fresh goat's cheese, at room temperature
100 g/4 oz mature Cheddar cheese, coarsely grated
20 g/3/4 oz red onions, peeled and finely chopped
15 g/1/2 oz fresh coriander/cilantro, coarsely chopped
2 corn tortillas
15 ml/1 tbsp vegetable oil
1 lime, quartered

Gently mix all the ingredients for the salad except the seasoning in a bowl and set aside while you make the quesadillas.

Mash the goat's cheese in a small bowl and fold in the Cheddar cheese, onions and coriander. Lay the two tortillas out on a work surface and spread half the cheese mixture over one half of each tortilla. Fold each tortilla into a half-moon shape, making sure the filling is totally covered, and press it down gently with a spatula.

Heat the vegetable oil in a heavy, preferably non-stick, frying pan over medium heat and place the quesadillas in it, curved edges facing outwards. Cook for about 4 minutes, until lightly browned, then carefully flip them over and brown the other side. When they are hot and crusty, lift them with a spatula onto a chopping board and cut them in half, into fan shapes, with kitchen scissors or a very sharp knife. Place on warm plates.

Season the cherry tomato salad and spoon it over the quesadillas. Garnish with lime wedges to squeeze over everything.

Serve immediately.

Buén provecho!
You Should Also Read:
Antojitos, the Street Food of Mexico
Mexican antojitos - Tacos
Mexican Antojitos - Enchiladas


Related Articles
Editor's Picks Articles
Top Ten Articles
Previous Features
Site Map





Content copyright © 2018 by Isabel Hood. All rights reserved.
This content was written by Isabel Hood. If you wish to use this content in any manner, you need written permission. Contact Mickey Marquez for details.