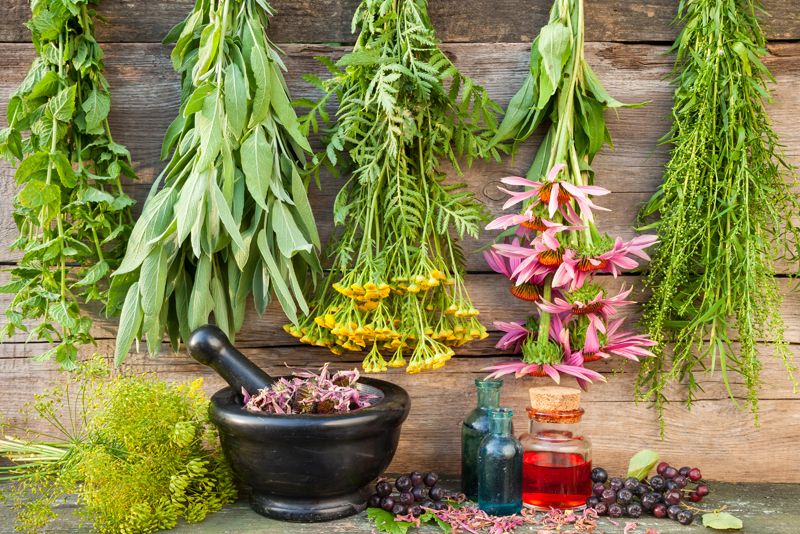 Making homemade cough drops is an easy way to start using herbals. You make the drops by creating what is essentially a sort of hard candy, based on herbs that help soothe a dry, scratchy throat. Herbs with mucilaginous properties will help promote mucous to ease inflamed tissues.

When making these, remember that boiling sugars is a somewhat dangerous thing as sugar can boil over and this happens very quickly. Melted sugar is also super hot. Please use caution if you are working with young helpers for this recipe.

Start with some herbs that are good for a cough like mullein, sage, horehound, and mint or a mix of these. Make a very strong tea, known as a decoction using your favorite combination. If you make your own tinctures or have access to them, a tincture would be good because it is already concentrated. The alcohol will evaporate. you can safely use them for your cough drops. The alcohol will quickly evaporate leaving only the concentrated herb behind.

In a saucepan, measure the following:

1/2 Cup herbal decoction(strong herbal tea)
1 Cup honey
2 Cups sugar

Carefully bring to a boil and then to hardball stage: when a drop of the mixture turns to a brittle ball when dropped into cold water.

Pour into a pan lined with wax paper and let cool enough to still be able to cut. Cut into lozenges. For an extra help for a sore throat, roll each lozenge in powdered slippery elm bark. There is no reason you need to have a round cough drop.

This is a good way to include Echinacea as it is a very bitter herb. The honey/sugar combo will help neutralize the flavor. These lozenges will absorb moisture in the air and stick to each other if no stored properly.These should be stored in a jar with a tight fitting lid. I have tried to keep them in the refrigerator but have never had much luck. If your drops do stick together, they are still viable but have to be broken up into bite sized pieces.

Here are some great ideas for herbal recipes to make your next batch of cough drops.

* Mint, horehound, sage
* Astragalus, wild cherry bark, spearmint
* Licorice, marshmallow, mullein
*

There are many ways to relieve the problems associated with colds and flu if you do get sick. Cough drops are one of the easiest ways.






Related Articles
Editor's Picks Articles
Top Ten Articles
Previous Features
Site Map





Content copyright © 2019 by Amelia Tucker. All rights reserved.
This content was written by Amelia Tucker. If you wish to use this content in any manner, you need written permission. Contact Bettina Thomas-Smith for details.