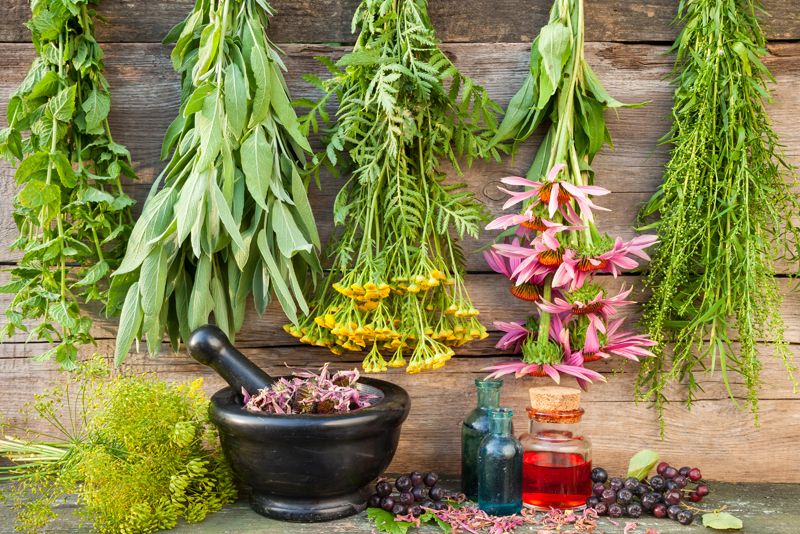 Buying Dried Herbs

This is the time of year that buying dried herbs is the most common way of obtaining them. Before buying the first packet of overpriced Thyme powder that you find, take a moment to review what a fresh but dried herb should be.

A fresh, dried herb should be bright in color. Never buy an herb that is a washed out color. Many herbs start out as crisp green plants that over time, fade-not unlike your aunt Mildred's 25 year old couch. Color is a good indication of an herb's age.

A fresh, dried herb should smell fresh, clean and full of flavor. Never buy an herb that is dried, without an obvious smell. If possible, crush a small bit of the herb between your fingers and you should clearly smell the herb.

A fresh, dried herb should be purchased in its fullest form. If you need a powdered herb, buy it whole and grind it yourself(use a common coffee grinder that you use just for herbs). The more of the herb that is exposed to air, the faster it deteriorates.

A fresh, dried herb should NOT be powdered if at all possible. There is no way of knowing when it was ground and mass produced packages of herbs may not have seen the care of a smaller herb dealer's product would.

A fresh, dried herb should be certified organic if purchased from a dealer that you do not actually know. Many of the larger warehouse herbal dealers buy their product from unknown sellers that may or may not grwo the herbs in conditions that are healthy. Some countries use pestisides that are not even legal in the US. This is not to say that you must buy certified organic only. If you know the grower and his or her gardening practices, they may not use any chemicals needlessly and take utmost care with their product. It is always best to buy locally and KNOW your supplier.

To recap, herbs should look, smell and appear to be as close to their living state as possible. Know your supplier and know how they practice their gardening and harvesting of the herbs. If you must buy from a dealer, buy certified organic only.

Change your unused herbs every year and keep a record of what you use and what you wish you bought so you can streamline your purchases and spend money on the best quality herbs you can.



Related Articles
Editor's Picks Articles
Top Ten Articles
Previous Features
Site Map





Content copyright © 2019 by Amelia Tucker. All rights reserved.
This content was written by Amelia Tucker. If you wish to use this content in any manner, you need written permission. Contact Bettina Thomas-Smith for details.