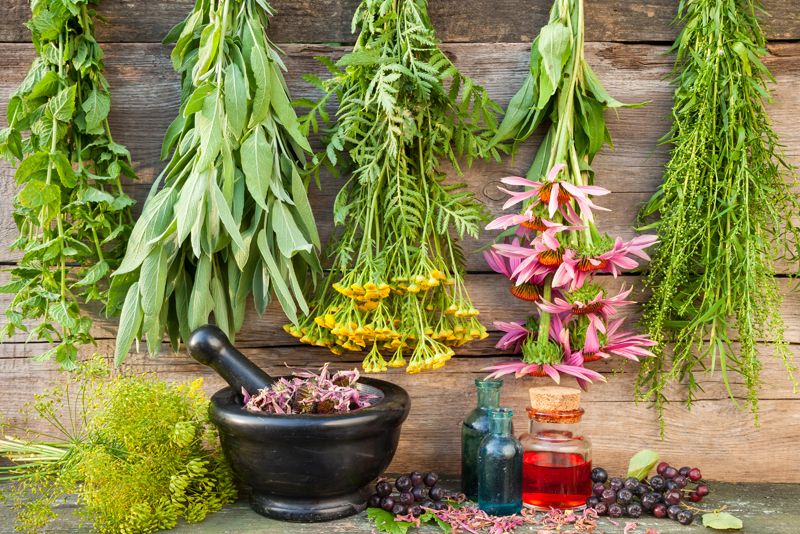 From a nagging tickle to painful enough to keep you from swallowing even fluids, a sore throat is a difficult symptom to deal with.

A sore throat is often the sign of impending illness and should be a warning that you need to what you can to boost your immune system. You may also experience throat pain from overuse (yelling or screaming), abusing your airway (smoking or being in a smoke filled environment) or from Strep throat, caused by the Streptococcal virus.

With herbs, you would look for plants that soothe by easing inflammation and boost your immune system. Increase your fluid intake and decrease activity may be just what your body needs to fight the problem. A prolonged sore throat or utterly painful one may be a sign of Strep and should be cultured to prove before you start any antibiotic routine.

Create an herbal throat tea or gargle and use them! You should increase your fluid intake and repeatedly soothe your mucous membrane with one or more of the following:

Gargle:

TURMERIC-1 teaspoon Turmeric in 1 Cup hot water

GINGER- 2 or 3 slices in cup of hot water or 1 teaspoon dried in cup of hot water.

THYME- 1 teaspoon in cup of hot water

CINNAMON- 1 teaspoon in hot water

Tea:

Find your favorite mixture of the following:

THYME
GARLIC
RED RASPBERRY
FENUGREEK
MULLEIN
MARSHMALLOW Root
ROSE HIPS
SLIPPERY ELM

Add one teaspoon of your mixture in a cup of hot water.

Sometimes hot broth is a soothing drink for a sore throat. You can make one simply by simmering Thyme and Garlic together with hot water. Make it taste even richer with the addition of Nutritional yeast(not a true yeast product) found in most health food stores. This yellow, flakey food is a rich addition to any soup or stew and its salty taste will help your throat feel much better.

If the above remedies provide not relief, try taking a spoonful of raw honey and letting it slowly melt on your tongue. Although not an herbal remedy, this is sure to coat your sore throat and allow you some relief.

Spring is notorious for allergies and those last of the season colds to go around. Keep this list of herbal remedies handy just in case you need it!











Related Articles
Editor's Picks Articles
Top Ten Articles
Previous Features
Site Map





Content copyright © 2018 by Amelia Tucker. All rights reserved.
This content was written by Amelia Tucker. If you wish to use this content in any manner, you need written permission. Contact Bettina Thomas-Smith for details.