Herbs Used in Summer Cooking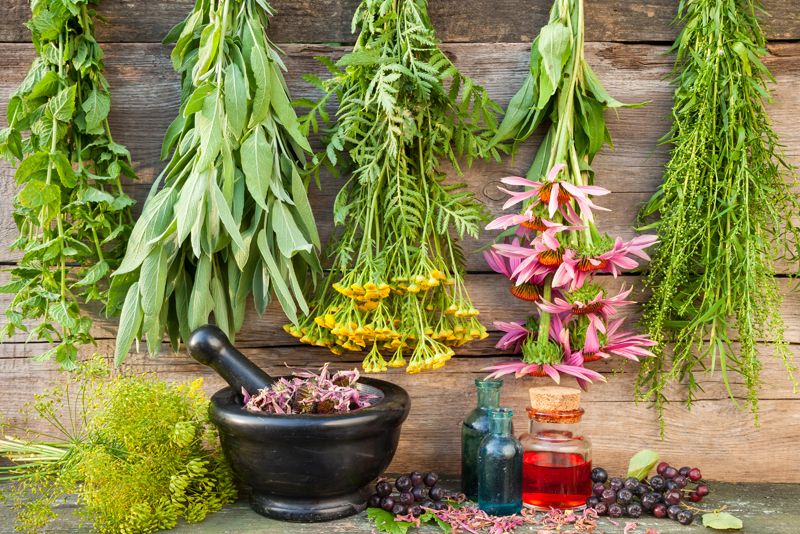 Summer cooking is all about picking ripe red tomatoes, shucking corn, plucking fresh green beans and other vegetables.

So why would you want to go and ruin such freshness with driedherbs?

Summer is the perfect time for many fresh herbs. Even if you don't have the time (or the thumb) to grow them yourself, framer's markets across the world have realized the desire for various and numerous herbs and spices.

Some of my favorites that start showing up this time of year are dill, tarragon, basil, and cilantro.

There are a few differences in using fresh herbs as opposed to dry. First, fresh herbs tend to have a less pungent flavor – so you may need to use more in the recipe. Also it is best to add fresh herbs near the end of cooking to help retain their color, and get the most out of their flavor.

Chopping or crushing herbs like dill or tarragon are good for releasing the oils (and therefore the flavor) in the herbs. But the best way to release the oils in leaf type herbs like basil and cilantro is to do a technique called chiffonade. While saying this word to your friends will make you sound really savvy in the kitchen, the technique is fairly simpler.

First, take several leaves of the herb and stack them together (no more than 4 or 5). Roll the leaves up together lengthwise tightly. Then with a good knife, finely chop the herbs starting at the short end. You will wind up with finely chopped strips of herbs that release tremendous amounts of flavor.


In case you are scared of using these fresh herbs, here are a few simple recipes:

Basil:
Tomato & Mozzarella Salad
Slice up several large ripe tomatoes
Slice up fresh mozzarella
Chiffonade a bunch of basil
Olive oil
Balsamic vinegar

Alternately arrange tomatoes and mozzarella on a platter, sprinkle with olive oil and good balsamic vinegar (not vinaigrette) Top with chopped basil. Serve as a salad before your favorite pasta dish.

Tarragon
Classic Béarnaise Sauce
3 tablespoons white vinegar
3 tablespoons white wine
2 tablespoons finely chopped shallots
1 tablespoon chopped tarragon
1 tablespoon water
3 egg yolks
1 cup unsalted butter, melted
Salt
Freshly ground black pepper

In a saucepan, combine the vinegar, wine, peppercorns, shallots, and tarragon. Bring the liquid to a boil and reduce to 1 tablespoon. Add 1 tablespoon of water. Add the egg yolks and whisk, over low heat, until frothy, about 3 to 4 minutes. In a steady stream, add the butter until the sauce thickens. Season with salt and pepper. I love to serve this over steak, shrimp, and mushrooms!

Dill
Shrimp Pasta Salad
1 bunch dill finely chopped
½ Cup Mayonnaise
3 Tbsp Dijon mustard
2 Tbsp Lemon juice
1 lb. salad shrimp – thaw of necessary under running water
2 cups cooked small seashell pasta

Whisk dressing ingredients together (dill, mayo, Dijon, & lemon juice). Add shrimp and pasta. Allow to sit at least 3 hrs to overnight.

Cilantro
Fresh Pico de Gallo
10 Roma Tomatoes
3 Assorted bell peppers (Green, red, orange, or yellow)
1 Red Onion
1 clove Garlic
1 bunch Green (Spring) Onions
1-2 jalapeños
1 handful cilantro
1 tsp lime juice

Seed and dice tomatoes. Dice peppers and red onion & add to tomatoes. Mince garlic and add to vegetables. Slice and add green onion. Carefully seed jalapeños (wear gloves, and do not touch eyes) finely dice and add to mixture. (For less heat, use 1 jalapeno, more heat use 2). Tear cilantro leaves by hand roughly and add to mix. Add lime juice. Let Pico de Gallo marinate at least 2 hours. Serve with tortilla chips or over chicken, fish, or shrimp.



Related Articles
Editor's Picks Articles
Top Ten Articles
Previous Features
Site Map





Content copyright © 2023 by Michelle Taylor. All rights reserved.
This content was written by Michelle Taylor. If you wish to use this content in any manner, you need written permission. Contact Bettina Thomas-Smith for details.