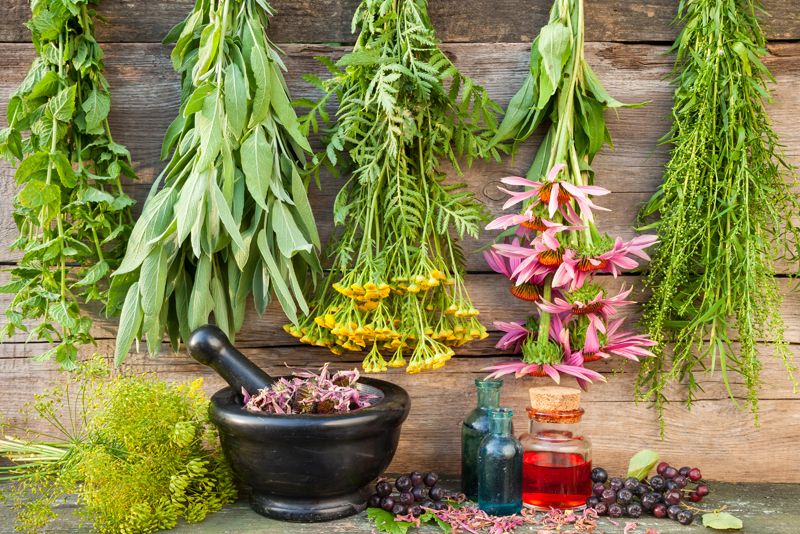 June marks national iced tea month, and I think it is a fine occasion to create a simple herbal ice tea mix. Despite traditional thought, herb teas can be made from fresh plant material, which is abundant right now.
Take some of your most fragrant herbs - the ones you brush with your hands to enjoy the smell, pick some of your favorites and place them in a glass container. I use a mason jar for convenience, when making a day's worth of tea for myself.


Lightly bruise the herbs with a wooden spoon. This means tapping and working the spoon into the herbs to help release the essential oils, the flavorful part of the plant.


Pour boiling water over the herbs and cover jar with a tight lid. If you do not have the exact lid that came with the jar, use a saucer. The weight of the saucer will be enough to keep the steam from escaping.


Let your herb tea sit until desired strength. Do not time this by color, however, as herbs may not give the darker appearance that black tea leaves provide.


To test the strength of your brew, taste after 3 minutes and every 2 minutes thereafter.


When tea if finished, strain off plant material and compost it. Then sweeten while the mixture is still warm to dissolve the sugar or honey more thoroughly.

During June, there are some blossoming edible flowers and herbs that could be included in your herb tea mix. The flowers impart a delicate taste and sweetness. You may not have to use additional sugar when using fresh flowers. Be sure to find flowers that are truly edible, however.

Here are some ideas for a fresh herb tea mix. These should be growing and often blossoming in many areas of North America in the month of June:

Pick at least a cup of the following:



Rose petals(unsprayed source only please)

Catnip leaves and flowers

Mints-growing abundantly now, pinch a mixture of them if you can.

Lemon Balm

Violet blossoms and leaves

Dandelion blossoms-remove the green parts, they can be bitter

Nettle leaves

Red clover blossoms



Using the method listed above, brew any combination of these herbs to the desired strength. Chill and enjoy some of the freshest tea you have ever had to celebrate ice tea month!






Related Articles
Editor's Picks Articles
Top Ten Articles
Previous Features
Site Map





Content copyright © 2023 by Amelia Tucker. All rights reserved.
This content was written by Amelia Tucker. If you wish to use this content in any manner, you need written permission. Contact Bettina Thomas-Smith for details.