Veracruz - Huevos Tirados Recipe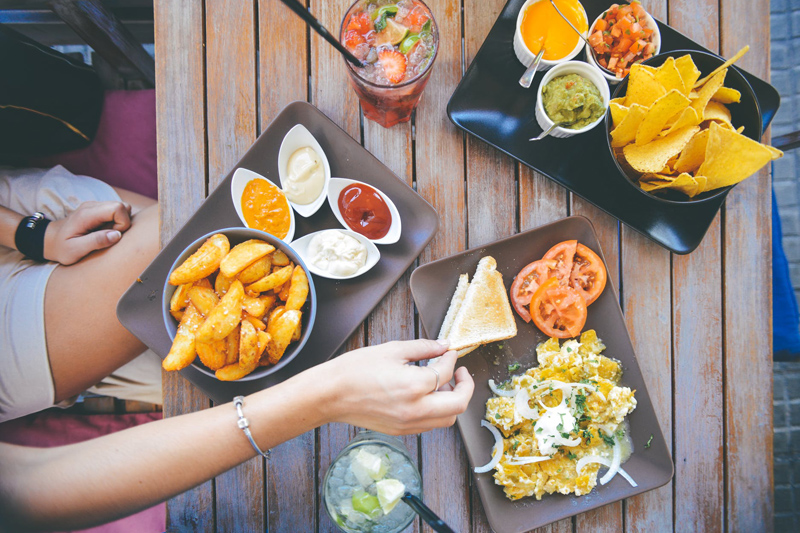 The only explanation I have been able to find for the name of this typical Veracruzano breakfast dish, ie Huevos Tirados, is "thrown eggs", which makes little sense – unless of course it can be interpreted as throwing the beaten eggs into a frying pan in order to cook them! A flamboyant way of cooking certainly, if not wildly practical.
Whatever the description, the eggs scrambled with black beans and topped with fresh cheese and fried plantains are on offer in every restaurant and every food stall in the Veracruz state. They are traditionally cooked in lard which gives them a fabulously deep flavour, and accompanied by warm tortillas and rice (but they are equally good on toast). Bearing in mind that as humans we eat first with our eyes, I have to say that they do not look particularly appetising, especially when they are made with the very Veracruzanos black beans – but the texture and flavour more than make up for any shortcomings in the dish's appearance.
The refried beans can be prepared well ahead of time and refrigerated, in which case the huevos can be made in minutes so a bit of forward thinking pays off.
Huevos Tirados from Veracruz
Serves 4
400 g/14 oz black beans
45 ml/3 tbsp olive oil
175 g/6 oz onions, peeled and coarsely chopped
1 large garlic clove, peeled and crushed
2.5 ml/1/2 tsp crushed epazote
2.5 ml/1/2 tsp ground cumin
2.5 ml/1/2 tsp chipotle chilli powder or paste, or to taste
600 g/1 lb 6 oz plantains (2 large), peeled and cut into rounds
50 g/2 oz butter (or lard if you prefer)
8 eggs, beaten
100 g/4 oz Mexican queso fresco or Feta cheese
2 green chillies, deseeded and finely sliced
10 g/1/3 oz fresh coriander/cilantro, coarsely chopped
Warm tortillas and/or cooked rice, to serve (optional)
Sea salt and freshly ground black pepper
Start off with the beans, which can be done well in advance. Place the raw beans in a colander and rinse them under cold, running water. Put them in a large saucepan and add enough water to cover by 10 cm/4 in. Bring to the boil over medium heat. Turn the heat down to low, cover the saucepan and simmer very gently for at least 2 hours, preferably 3 or 4, until the beans are totally tender. Check them every now and then to make sure that they are not drying out and are covered by at least 1 cm/1/2 in of water. Add some seasoning and cook for another 20 minutes. The beans can now be used immediately, or set aside to cool and then refrigerated.
Heat 2 tbsp of the oil in a large, heavy frying pan and cook the onions and garlic gently until soft and lightly browned, about 15 minutes. Stir in the epazote, cumin and chipotle and fry for a further 3 minutes. Add the beans and their broth and bring back to the boil. Mash coarsely with a potato masher. If the mixture is quite wet, turn the heat up to medium and cook, stirring often, until it thickens to the consistency of mashed potatoes. Yet again, the refried beans can be prepared up to this point in advance and refrigerated, in which case warm them separately before adding them to the eggs; and if they are a bit solid and thick, stir in a bit of water as they reheat.
Heat the remaining tablespoon of oil in a non-stick frying pan and fry the plantain slices until golden on both sides. Transfer to a plate lined with kitchen paper and keep warm in a low oven while you cook the eggs.
Melt the butter in a non-stick pan and add the eggs. Cook over low heat, stirring constantly, until very soft curds form. Stir in the beans and some salt and pepper and heat through. Check and adjust the seasoning.
Divide the huevos between four warm plates and top with the plantain. Crumble over the cheese and sprinkle with the sliced chilli and coriander.
Serve immediately.
Buén provecho!
| | |
| --- | --- |
| Chilli and Chocolate Stars of the Mexican Cocina by Isabel Hood is available from Amazon.co.uk | Just The Two of Us Entertaining Each Other by Isabel Hood is available from Amazon.com and Amazon.co.uk |
You Should Also Read:
Mexico's Regional Gastronomy
Mexico's Regional Gastronomies - Veracruz
Veracruz - Mole de Xico Recipe


Related Articles
Editor's Picks Articles
Top Ten Articles
Previous Features
Site Map





Content copyright © 2023 by Isabel Hood. All rights reserved.
This content was written by Isabel Hood. If you wish to use this content in any manner, you need written permission. Contact Mickey Marquez for details.