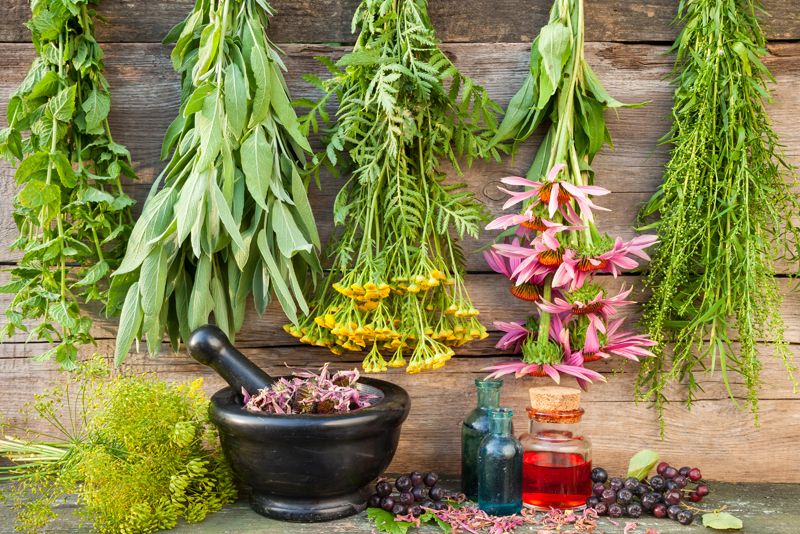 January is hot tea month. I think of it as a great time to clean out my herb cupboards and use up any extra herbs I have hiding there. Hot herb tea can be enjoyed on its own, or with sugar and cream, the same as you drink your coffee. Try replacing at least one cup of coffee a day with a cup of your own herbal tea and enjoy the taste difference.
There are therapeutic benefits to drinking hot tea as well. A half of a cup of dried herb, mixed with a quart of water and let set all night, makes an herbal infusion. Susan Weed recommends that all women (I say everyone), should drink a quart of this nutritious tea, often. I also use mine as a base for soup, it is a great way to add a delicious boost to the nutrition for your family, this cold and flu season.
Speaking of colds and flu, why not try Thyme tea for the next time you have some bronchial congestion? It will help your breathe easier and soothes your throat. Simply brew 1 teaspoon of dried Thyme in a cup of hot water. Steep 3 to 5 minutes and there you have it. I like to cover the cup with the saucer, while steeping. I feel that this helps hold in the volatile oils in the herb.
If you have anyone suffering from stomach upset and intestinal issues, you can make some tea from Red raspberry leaves. This herb is high in tannic acid, and will help tighten up diarrhea and helps soothe the stomach. I like to make ice pops with equal parts red raspberry leaves and nettles. A strong tea made into pops or ice cubes, can be very soothing.
A cup of hot, mint tea is the perfect finale for a big meal. Mint actually soothes the nerve spasms of the stomach, to help those who overate, feel better. I like to offer it to children who do not have much experience drinking herb teas. They seem to enjoy mint and do not miss the sweetness of the drinks they are used to.
Herb tea can also be soothing. A cup of chamomile is perfect for a cranky child. Offer one just before bed and you may be surprised at how quickly your wee one falls asleep. If the child is over the age of 2, try it with some local honey for a sweet treat.
Be sure to share you herbal tea favorites in our Herb forum! Thanks for reading!


Related Articles
Editor's Picks Articles
Top Ten Articles
Previous Features
Site Map





Content copyright © 2019 by Amelia Tucker. All rights reserved.
This content was written by Amelia Tucker. If you wish to use this content in any manner, you need written permission. Contact Bettina Thomas-Smith for details.