Tortas, Part of Everyday Mexican Life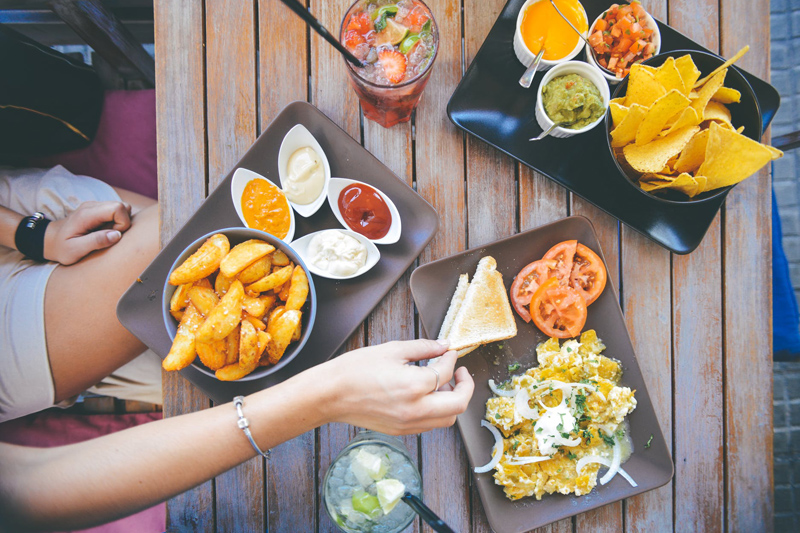 Tortas are an institution in Mexico, a part of every day life and an essential constituent of Mexican cuisine – there are even annual festivals in their honour. Like antojitos, they are eaten by everybody at any time, and "torterías" are found on virtually every street corner, particularly in major cities. Their long and wonderfully imaginative menus are displayed on large boards, and the "torteros" stand behind piles of bread rolls and bowls of fresh, aromatic ingredients, making tortas to order for each customer. This makes a tortería sound like a sandwich shop, and admittedly the simplest way to describe a torta is as a Mexican sandwich – but there the resemblance ends. Apart from the fact that a torta is a meal in itself – big and chubby, deeply filled, infinitely satisfying – a particular type of bread is required and the list of fillings available is endless, and of course, very Mexican and very regional.
A telera is a large, flat bread roll, about the size of an adult's hand, with two slashes across the top, a lovely crisp crust and a fairly dense crumb – ideal for a torta, as it is substantial enough to accommodate the extraordinary amount of filling which gets packed into a Mexican torta. The filling itself can range from the simplicity of ham or cheese, to spicy stews, savoury shredded pork or chicken, beans and salsas, steak or chorizo, even a breaded veal escalope, with standard additions like shredded lettuce, sliced tomatoes and avocadoes, onions, chillies, or a palate-tingling chilli sauce.
Torta © Philip Hood
Some tortas have become famous throughout the country and are known everywhere by their specific name: Mexico City has "pambazos" of potato, chorizo and tomatillo salsa, and tamal-filled "guajolotas"; the "guacamayas de León" feature pork cracklings in chilli sauce, while Tampico's "tortas de la barda" are a pork lover's dream, with not only cracklings but ham and chorizo to boot. However, the city of Guadalajara makes a very special torta, known as a "drowned" torta.
This torta ahogada requires a bread roll indigenous to the city, a "birote salado", and is traditionally filled with refried beans and "carnitas", shredded pork slow-cooked with spices until it is fabulously succulent and meltingly tender, before being drenched in tomato sauce and drizzled with a fiery salsa based on "de árbol" chillies. My version of Guadalajara's torta ahogada uses pre-Columbian duck rather than post-Hispanic pork carnitas.
Drowned torta with duck carnitas – Torta ahogada con carnitas de pato
Makes 4 tortas
For the carnitas:-
30 ml/2 tbsp olive oil
3 duck legs
5 ml/1 tsp cumin seeds
1/2 tsp ground cinnamon
1/2 tsp Mexican or Greek oregano
6 black peppercorns
1 bay leaf
500 ml/2 cups chicken or vegetable stock, or water with 1 heaped tsp bouillon powder
For the beans:-
150 g/5 oz black beans, rinsed
1 bay leaf
30 ml/2 tbsp olive oil
50 g/2 oz onions, peeled and coarsely chopped
1 garlic clove, peeled and sliced
5 ml/1 tsp ground cumin
For the tomato sauce:-
500 g/18 oz tomatoes, halved
8 garlic cloves, unpeeled
45 ml/3 tbsp olive oil
200 g/7 oz onions, peeled and coarsely chopped
5 ml/1 tsp Mexican or Greek oregano
For the chilli sauce:-
25 g/1 oz de árbol chillies or other hot dried chillies
50 g/2 oz onions, peeled and coarsely chopped
2 garlic cloves, peeled
250 ml/1 cup water
4 crusty bread rolls
Soft salted butter
2 romaine or cos lettuce leaves, shredded
100 g/4 oz tomatoes, sliced
Sea salt and freshly ground black pepper
For the carnitas, heat the olive oil in a heavy saucepan and add the duck legs, skin side down. Cook gently until golden, then brown the other side. Sprinkle in the cumin seeds and cook for a few minutes longer until they start to release their aroma. Add the cinnamon, oregano, peppercorns and stock. Bring to the boil, turn the heat right down and cook, covered, until the meat is falling apart, about 2 hours. Remove the duck with a slotted spoon and leave to cool. Strain the stock and boil briskly until thick and syrupy. Shred the duck meat, discarding fat and bones, and stir into the reduced stock.
Place the beans in a saucepan with the bay leaf, add enough water to cover by 10 cm/4 in, and bring to the boil. Cover, reduce the heat and simmer for at least 2 hours until the beans are totally tender. Check regularly that they are not drying out and are covered by at least 1 cm/1/2 in of water.
Heat the oil in a saucepan and cook the onions and garlic gently until soft and lightly browned, about 15 minutes.
Remove the bay leaf from the beans and, using a slotted spoon, transfer them to a food processor. Add the onions, cumin and some seasoning, and blend to a chunky paste, with just enough cooking liquid to make the blades turn. Set aside.
For the tomato sauce, heat the grill to high. Line the grill pan with kitchen foil and arrange the tomatoes, cut side up, and garlic cloves on it. Grill 10 cm/4 in from the heat for about 20 minutes, until lightly charred, turning the garlic over half way through. Cool, then peel the garlic and place in a food processor with the tomatoes and any juices. Process to a smooth purée.
While the tomatoes are grilling, heat the oil in a frying pan, add the onions and cook over medium heat, stirring occasionally, until soft and starting to brown. Sprinkle in the oregano and some seasoning, add the tomato purée and enough water to make a slightly runny sauce.
Make the chilli sauce by placing all the ingredients in a small saucepan and simmering, covered, for 30 minutes. Blend until smooth and strain.
The carnitas, beans and two sauces can be prepared up to two days in advance and refrigerated.
Reheat the carnitas, beans and tomato sauce. Split and butter the rolls. Spread the bottom half with refried beans and top with carnitas, lettuce and tomatoes. Cover with the top half and place in a deep plate. Pour over the tomato sauce and serve immediately, with the chilli sauce on the side.
Buén provecho!
You Should Also Read:
Veracruz - Pambazo Recipe
The Chillies of Mexico - El Chipotle
Egg and Chorizo Sandwich Recipe


Related Articles
Editor's Picks Articles
Top Ten Articles
Previous Features
Site Map





Content copyright © 2022 by Isabel Hood. All rights reserved.
This content was written by Isabel Hood. If you wish to use this content in any manner, you need written permission. Contact Mickey Marquez for details.