Cultivating Your Own Herbs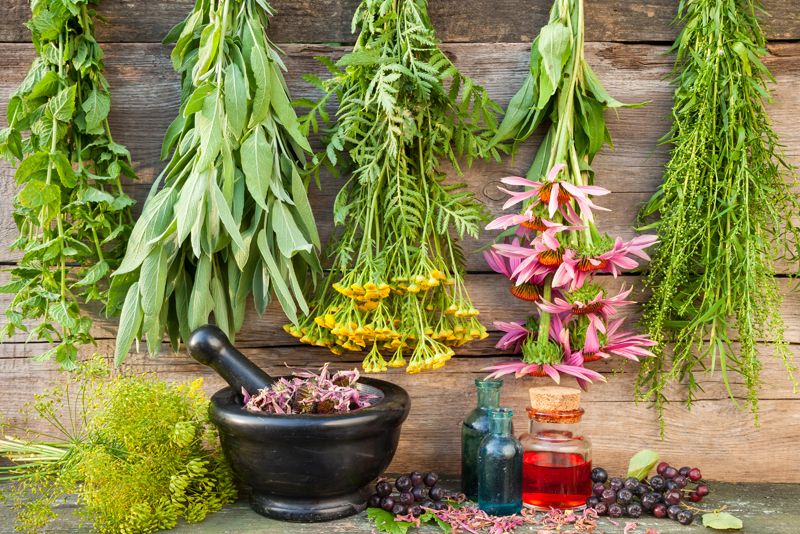 Herbs have been used for centuries as beauty products, in culinary applications and medicinally. At one point in recorded time herbs were the only medicine available if something was wrong, and often in hands of unskilled practitioners the herb itself was more dangerous than the ailment! A lot of study has gone into herbs in recent time and a resurgence of popularity has occurred for this method of treatment. Purchased herbs and roots are very good quality but after becoming more confident with herbs and spices most people find they enjoy cultivating a lovely little garden filled with their favorites. This project could be simply a few pots on a sunny window ledge or a fully fledged garden laid out in neat rows.
Whatever the scope, there are a few simple guidelines for harvesting and using your bounty to promote good health and mental tranquility:


Herbs can be used throughout the growing season although some varieties only flower once in the growing cycle so you have to work around that time. Herbs are in their peak before they flower, after the herb plant flowers their flavor becomes less pronounced and even can become rank tasting in the case of herbs like mint.


Many herb flowers are gorgeous additions to salads or wonderful garnish for other dishes. Harvest these flowers just before they are in full bloom and never treated with poisonous fertilizers. Some lovely edible flowers include chives, violets, garlic, marigolds, rosemary, thyme, lavender, fennel, bee balm, roses and borage.


Herb flowers can also be sugared to garnish desserts and cakes. This process is a simple as washing and gently patting the blooms dry. Use a small pastry brush and coat the flowers lightly with beaten egg white. Then you simply spoon regular granulated sugar all over the flower making sure to completely cover the flowers and leaves. Shake off the excess sugar and let the herb flower dry. These decorations have a lovely effect, almost shimmering.


With most herbs the more you prune and snip the healthier the plant will be. Early, frequent harvesting can encourage lush healthy growth. Try to snip from all over the entire plant and take whole stems rather than just simply stripping the leaves. Always take stems that are clean, pest free and aren't browning or mottled.


The best time to harvest herbs is before the sun has dried the dew and the heat has dissipated the essential oils, around mid morning. If you don't need the herb until later in the day still snip off the stems in the morning and store in a glass of water out of direct sunlight.


If you cannot use all your herbs during the growing season then drying or freezing is a viable option to ensure you have a supply of flavorings year round. It is prudent to choose your method carefully because some herbs do not dry well and lose color, potency and flavor when hung. So become familiar with unless you are simply looking for decorative bunches or wreaths to hang in your kitchen.


Related Articles
Editor's Picks Articles
Top Ten Articles
Previous Features
Site Map





Content copyright © 2019 by Michelle Anderson. All rights reserved.
This content was written by Michelle Anderson. If you wish to use this content in any manner, you need written permission. Contact Bettina Thomas-Smith for details.