Veracruz - Black Gorditas Recipe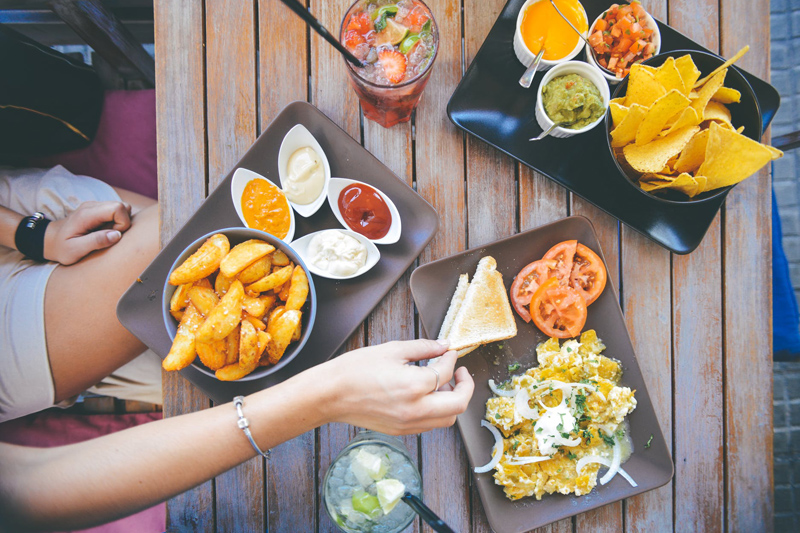 The cafés in the port of Veracruz do a roaring trade at breakfast time, with the state's famous Gorditas Negras flying out of the frying pan and onto the tables as fast as they can puff up.

Flavoured with black beans and chipotle chilli, the black little plump ones of Veracruz are deeply flavoured, earthy and sultry. Their preparation is lengthier than that of the very regional white gorditas (see link below) but it can be broken down into stages as the beans can be cooked well in advance and refrigerated. The eggs and plantain however are last minute jobs so keep these gorditas negras for a relaxed weekend morning. Having said that, if you want to leave the eggs out of the equation, do as it makes it all much easier – but stick with the plantains and salsa as they set gorditas negras off to perfection.

Black Gorditas from Veracruz – Gorditas Negras Veracruzanas

Makes about 12 and serves 6 as a brunch dish

For the gorditas:-
100 g/4 oz black beans
250 g/9 oz masa harina
15 ml/1 tbsp plain flour
5 ml/1 tsp chipotle chilli powder or paste or to taste
10 ml/2 tsp fine sea salt
Warm water as needed
Vegetable oil

For the salsa cruda:-
25 g/1 oz red onions, peeled and coarsely chopped
1 garlic clove, peeled
1 red and 1 green chilli, halved and deseeded
30 ml/2 tbsp olive oil
250 g/9 oz ripe tomatoes, quartered
Sea salt and freshly ground black pepper

To serve:-
Vegetable oil
2 large ripe plantains, about 250 g/9 oz each, peeled and cut into 1 cm/1/2 in rounds
6 eggs
15 g/1/2 oz fresh coriander/cilantro, coarsely chopped
Sea salt and freshly ground black pepper

Place the beans in a colander and rinse them under cold, running water. Put them in a saucepan, add enough water to cover by 10 cm/4 in, and bring to the boil over medium heat. Turn the heat down to low, cover the saucepan and simmer very gently for at least 2 hours, preferably 3 or 4, until the beans are totally tender. Check them every now and then to make sure that they are not drying out and are covered by at least 1 cm/1/2 in of water. Add some seasoning and cook for another 20 minutes. Drain and reserve the cooking liquid.

Place the beans in a food processor and process until they have broken down. Add the masa harina, flour, chipotle and salt and blitz until the beans are evenly distributed. With the motor running, start adding the cooking liquid from the beans, a quarter of a cup at a time, until the masa is smooth and pliable. If it is too dry, the gorditas will crack as they cook, letting the oil in; if the mixture is at all sloppy, it will be difficult to handle. You will need about three cups of liquid but it can vary. If you do not have enough of the bean cooking liquid, add some water.

Knead the dough briefly and divide into pieces about the size of a large walnut (or larger if you prefer). Flatten each one out between two sheets of cling film/plastic wrap either in a tortilla press or with a rolling pin, to a thickness of no more than 2 mm. The gorditas can be prepared up to this point and set aside, still in the cling film, for several hours.

For the salsa, place the onions, garlic, chillies and olive oil in a food processor and process until coarsely chopped. Add some seasoning and the tomatoes, and process again for just a few seconds, to break down the tomatoes – you are looking for a chunky texture, not a purée. Scrape into a bowl and check the seasoning.

The salsa can be prepared a couple of hours ahead of time, but after that it becomes a bit watery. If you are not going to eat it immediately, don't add any salt until the last minute.

About half an hour before you are ready to eat, turn the oven on to its lowest setting and put six plates to warm. Line two large baking trays with a double thickness of kitchen paper and place them in the oven. Heat a couple of tablespoons of vegetable oil in a non-stick frying pan and add the plantain, browning it quickly on both sides – do not crowd the pan and keep it moving around in the oil as it sticks easily. With a slotted spoon, transfer it to one of the baking trays in the oven and cook the remaining plantain slices in the same way. Set the frying pan aside but do not wash it as you will need it to fry the eggs.

Heat 5 cm/2 in of vegetable oil to 185oC/360oF in a deep frying pan, wok or deep fat fryer. Turn the heat down to low. Carefully peel the cling film off two pieces of dough and gently lower them into the hot oil. Cook them undisturbed for about three minutes on each side, until they balloon and are golden all over. Remove them to the trays in the oven, propping them up against each other like a tent – this will help to keep them fat and full of air. Cook the remaining gorditas in the same way. Keep an eye on the temperature of the oil and do not let it rise above 190oC/375oF or it will start to burn.

Heat the first frying pan again and add two or three more tablespoons of vegetable oil. Break the eggs into the oil and fry them sunny side-up (you may need to do this in batches). Season and place on the six warm plates. Divide the plantain slices between them, add two gorditas each, spoon the salsa over the eggs and sprinkle with coriander.

Serve immediately.

Buén provecho!

You Should Also Read:
Veracruz - White Gorditas Recipe
Mexican Antojitos - Gorditas
Mexico's Regional Gastronomies - Veracruz


Related Articles
Editor's Picks Articles
Top Ten Articles
Previous Features
Site Map





Content copyright © 2023 by Isabel Hood. All rights reserved.
This content was written by Isabel Hood. If you wish to use this content in any manner, you need written permission. Contact Mickey Marquez for details.