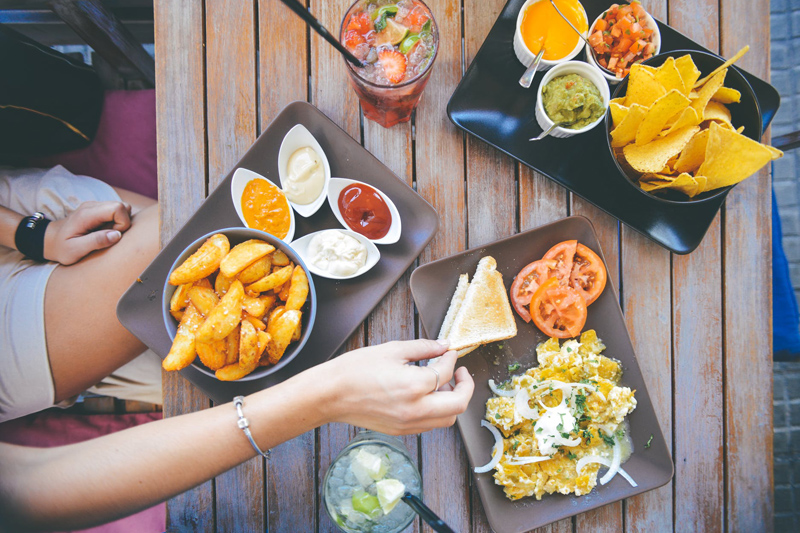 The state of Oaxaca has many claims to fame, from its magnificent Zapotec ruins at Monte Albán and Mitla, to its splendid colonial architecture and its celebrated gastronomy. It is renowned for its chocolate manufacturing, whether on a commercial scale or hand-crafted by indigenous women in the market, and it boasts no less than seven different moles (literally "sauce"), in an assortment of colours. I shall be writing about these moles in due course, but on this occasion, I am interested in some decidedly unusual Oaxacan specialities: insects.
A gaggle of elderly women is commonly found sitting on the steps of the Benito Juárez market in Oaxaca. In front of them rest large straw baskets full of small, shiny brown bits which are impossible to identify, however hard you look. The marchantas are fond of laughing at tourists' perplexity and daring them to try their merchandise – ándele, señora, atrévase, go on, have the guts. If you decide to be brave and buy some of the brown bits, they will be shovelled into a newspaper cone and sprinkled liberally with salt, chilli and lime juice. The flavour is spicy, sharp and savoury, the texture crisp and crunchy. They are chapulines, fried grasshoppers, and are considered a true delicacy by the Oaxaqueños. Although grasshoppers are widely farmed nowadays, many indigenous women still go out at dawn to collect them in the corn and alfalfa fields around their villages during the season from May to September. They are traditionally cooked in a dry frying pan until golden or fried with a bit of chilli and lime juice before being carted off to the market, to be eaten on their own as a snack, or wrapped up in a tortilla, or stirred into a guiso de chapulín, grasshoppers braised with mild poblano chillies, onion and perhaps a sprinkle of wild oregano.
Chapulín © Philip Hood
Other market vendors specialise in jars full of pinky red, podgy things about the size of a human thumb which they impale on a small wooden skewer before handing them to the customer: gusanos de maguey, caterpillars which feed on the maguey plant and roots. Contrary to expectation, the consistency is not all soft and squidgy, but firm, bordering on robust, reminiscent of a sea snail or an escargot; the flavour, however, can blow the roof off your mouth, not because it is fiery with chilli but because it is afire with alcohol: these gusanos have been "cured" in a bath of mezcal, a highly alcoholic beverage distilled from the maguey which is also a speciality of Oaxaca and very much an acquired taste. A more temperate way to sample the caterpillars perhaps is at one of the cook's stalls, simply fried and topped with a salsa.
My third insectivore's speciality, escamoles, is eaten in the spring, most particularly during the cuaresma, Lent. The name is derived from the Aztec náhuatl language and is an amalgamation of azcatl, meaning ant, and mole, meaning sauce – in this case, cooked ants' eggs or larvae. The ants, like the gusanos, are maguey inhabitants, building their nests in the plant's roots, and all the harvesters need do to discover the precious horde of eggs is look for an ant trail, follow it and start digging – protective clothing is a must, however, as the species of ant in question is very mean indeed. Escamoles are also known as the caviar of Mexico, which gives a clue to their price, and are served in the more expensive Oaxacan restaurants rather than by street and market cooks. Aficionados maintain that the only way to cook escamoles is to fry them gently in butter with a sprig of the indigenous herb epazote, thus ensuring that the delicate flavour is not overpowered. However, many chefs prefer a more elaborate approach and serve them, for instance, in scrambled eggs, in a taco or quesadilla, in a sauce or stew. When cooked the aficionado's way, escamoles look rather like a plate of rice but their texture is rich, creamy and soft and their taste faintly sweet, almost nutty.
Grasshoppers, caterpillars, ants' eggs - an insectivore's dream..... And while it has to be said that insects are not a part of most people's every day diet, it is always worth remembering that gastronomic exploration and experimentation can bring many rewards!
You Should Also Read:
Mexico's Regional Gastronomy
Mexico's Regional Gastronomies - Yucatán
Mexico's Regional Gastronomies - Veracruz


Related Articles
Editor's Picks Articles
Top Ten Articles
Previous Features
Site Map





Content copyright © 2022 by Isabel Hood. All rights reserved.
This content was written by Isabel Hood. If you wish to use this content in any manner, you need written permission. Contact Mickey Marquez for details.