Tips for Using Herbs for Healing Safely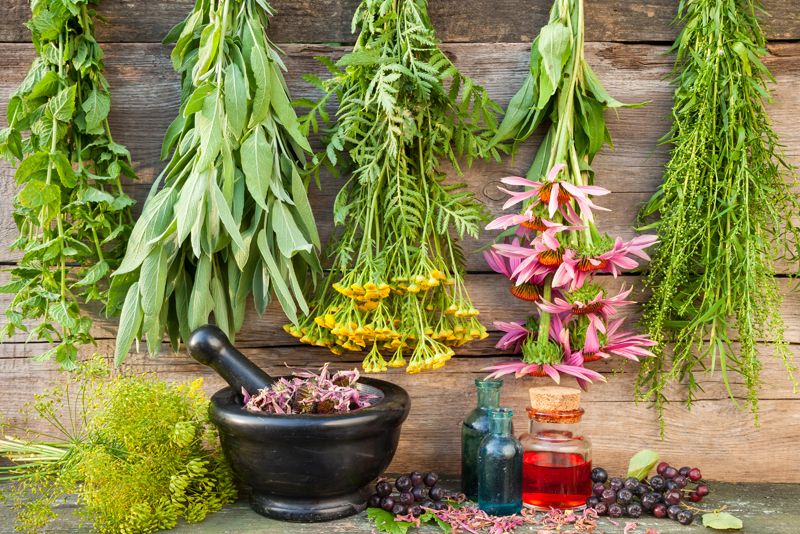 Taking herbal medications instead of over the counter or prescribed drugs can have adverse affects if you don't respect the strength of these plant powerhouses. People often make the error of underestimating herbs because they are natural; however, many of the drugs synthesized today have their base in herbs, so care is required when treating yourself or combining different herbs.

Self treating with herbs is fine when looking at cosmetic concerns or minor issues but when confronted by a potentially life threatening condition the input by a professional is required so the patient is safe and gains the benefits of the proposed treatment.Alternative treatments for diseases as serious as cancer are really making inroads even in the medical community. Ask your doctor about any herbal trials or other patients with success.

Herbs can have interaction problems with other herbs and drugs. Patients taking more than one medication need to be careful about combining them with other products. You should always talk to a doctor, herbalist or pharmacist before trying an alternative treatment which introduces a new variable.

On occasion, the side effects of the herbal treatment can be as annoying as the actual condition being treated .Most herbs have a great deal of research behind their use and many side effects can be determined with some certainty beforehand. For example valerian for sleep disorders can cause very vivid dreams in some people taking it.Be aware of the risks and stop taking the herbs if a severe side effect happens to you.

Always be aware of the herb you are taking, and never pick wild herbs for treatment if you are not a professional. Look at the common and Latin names when purchasing herbs because often there are more than one plant which can be commonly called the same thing or different types of the same herb which have different benefits and properties. Always double check to be prudent.

Some herbs can cause allergic reactions similar to many other ingested products. Always patch test your herbal treatment, don't just jump in and take the entire recommended dose if you've never been exposed to the herb. If a reaction develops stop taking the herb and if a severe reaction manifests immediately seek medical treatment.

When taking herbal medications never guess at the dose, this is as damaging as over dosing on any other drug. Dosages are recommended for important reasons to create a safe treatment so respect the research behind the numbers and follow the correct instructions.

Always consult a professional when treating children or if you are pregnant or nursing. As with any other medication, keep your herbal supplements out of reach of children and pets.



Related Articles
Editor's Picks Articles
Top Ten Articles
Previous Features
Site Map





Content copyright © 2023 by Michelle Anderson. All rights reserved.
This content was written by Michelle Anderson. If you wish to use this content in any manner, you need written permission. Contact Bettina Thomas-Smith for details.