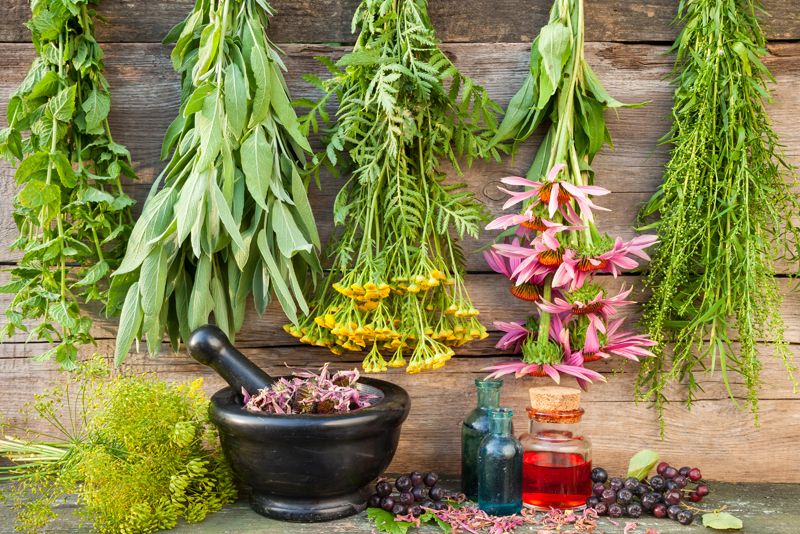 Insects are a natural part of gardening; both the pests and beneficial friends that help pollinate our plants and eat the damaging pests. Insects can be controlled by pesticides and chemicals but then you are consuming and using those herbs for products in your home it is inadvisable to contaminate them (and yourself).These pesticides can also destroy the insects required in the garden ecosystem.

Herbs contain essential oils can be great to repel common pests that bother human beings and growing these plants around decks and pathways are a great way to ward off insect problems. Mosquitoes are a huge issue these days due to the increased concern with west Nile virus and many commercial repellents contain DEET or other chemicals which also are simply not safe. Your skin absorbs what is put on it so don't spray chemicals on it you wouldn't eat. Try Wormwood, rosemary and Basil oils to stop them from biting. Fleas can be repelled by Tansy, penny royal or fennel. Other pests also do not like basil or tansy such as ants and flies so try these herbs on your next picnic.

Try using these herbs to repel mosquitoes from your dogs as well. Heart worm is an awful condition for your dog to develop and sometimes people forget to give the appropriate pills to deter mosquitoes from biting. Use a little basil and rosemary essential oil to protect your dog safely.

Herbs can be great in gardens to draw damaging insects away from other plants and flowers. They act as a lure with their fragrance and the pests are drawn in to be destroyed either by the herb itself or you. Tomatoes are very vulnerable to damage and planting dill, marigolds or borage can divert worms away from your prize crop. Nasturtiums attract aphids away from your roses and lavender can repel ticks.

Herbs are great to attract necessary insects like butterflies and bees so either create a beautiful herb butterfly garden or plant herb plants in between you other flowers. When trying to attract butterflies it is important to educate yourself on what caterpillars to leave in your garden. Remove the damaging ones and leave the caterpillars destined to turn into butterflies. Many butterflies seem to like flowers that are yellow, red, orange or pink. Try bee balm, violets, cone flower, fennel, lavender, catnip, thyme, borage, tansy or marigold for a variety of gorgeous colors and types.


Related Articles
Editor's Picks Articles
Top Ten Articles
Previous Features
Site Map





Content copyright © 2023 by Michelle Anderson. All rights reserved.
This content was written by Michelle Anderson. If you wish to use this content in any manner, you need written permission. Contact Bettina Thomas-Smith for details.