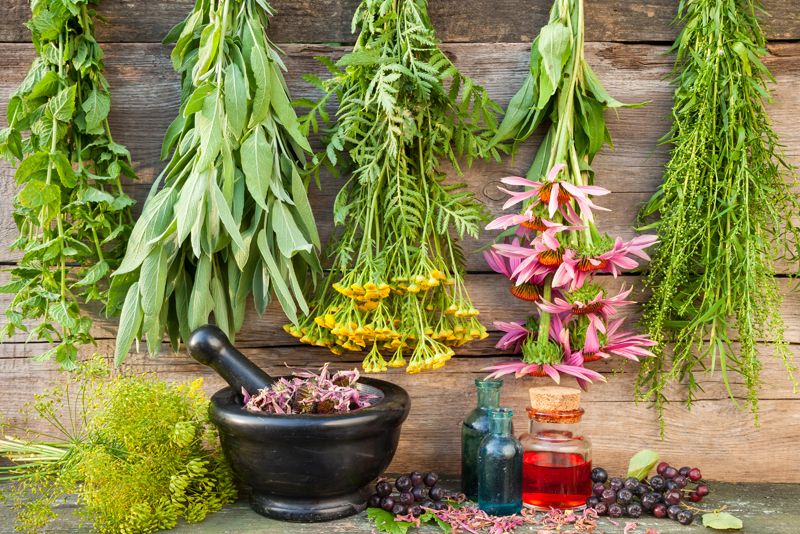 It seems that we all want to live longer. We do everything we can to look better…exercise, eating right, even cosmetic surgery to turn back the clock. But what if your "pill" so-to-speak was growing in your garden?

It turns out that are five herbs that not only heal your body of disease, illness and infections, but they can help prolong our lives by making us healthier. Herbs assist our bodies in more ways than one and balance our systems so that we can actually restore and heal itself so that we can improve our health and add years to our lives.

Holy basil is thought to be a holy manifestation of divinity by many Hindus. This herb has ostensibly unmatched abilities to diminish stress, enhance energy and promote longevity. It is most often suggested for cardiovascular conditions, hypertension and diabetes. It is also a great insect repellent and is wonderful in any recipe - either fresh or dried.

Reishi is known as the "mushroom of immortality". It aids us to boost energy while improving heart disease, immune disorders, cancers, cholesterol and arthritis. It may be taken either in extract or powdered form.

Sage has the ability to promote longevity with garden sage and Spanish sage being the most commonly used for healing. Revered by the ancient Aztecs, this "herb of immortality" has an instant calming and clarifying effect on congestion, making breathing easier, and even getting rid of headaches as it aids in more clear thinking, improved memory and better sleep. Sage oil has even been known for its cancer-fighting, immune-boosting and heart-protecting properties.

Jiaogulan is comparable to ginseng in its chemical composition. Like Reishi, this herb is called "the immortality herb" by the Chinese. It increases fat-burning rate by supporting the liver to move carbohydrates and other sugars into the muscles, rather than storing them. It has a positive effect on cardiovascular health, regulates blood pressure, raises good cholesterol, lowers the bad and shields you against heart attacks and stroke by helping to decrease arterial blockages.

Astragalus has earned a name for itself because of its deep healing effects on the immune system. It works wonders on seasonal allergies, cold and flu, fatigue, inflammation, blood pressure and circulation, heart disease, liver toxicity, diabetes, and cancer. Even pharmaceutical companies are using parts of the plant as base ingredients for new prescription drugs. This herb has the ability to slow the aging process by promoting the health of telomeres, which help hold chromosomes together. It is available in the form of an extract, powder or tablet supplement.

Please always do your research and consult with your physician, naturopath, or health care provider before taking any home remedies or supplements or following any treatment suggested on this page. Only your health care provider, personal physician, or naturopath can provide you with advice on what is safe and effective for your unique needs or to diagnose your particular medical issue.


Related Articles
Editor's Picks Articles
Top Ten Articles
Previous Features
Site Map





Content copyright © 2023 by Bettina Thomas-Smith. All rights reserved.
This content was written by Bettina Thomas-Smith. If you wish to use this content in any manner, you need written permission. Contact Bettina Thomas-Smith for details.