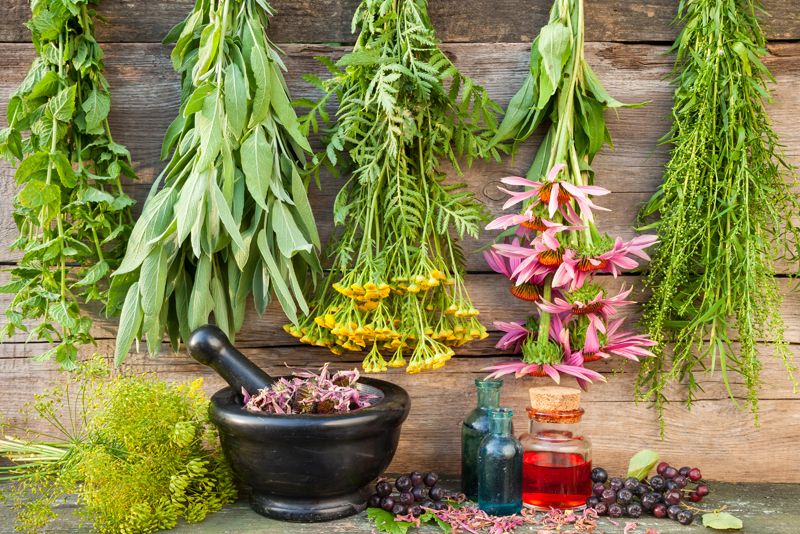 It seems that this is the time of year when the flu, colds, coughs and sore throats are more prevalent. The last one can be a real pain, literally. There is nothing worse than having a sore throat…it hurts to talk, laugh and swallow. But there is hope in the name of Herbs. These lovely plants can help sooth your irritation and heal the inflammation quickly.

Slippery elm was once considered a usual treatment for sore throats in North America. For sore throats, the inner bark of the tree is used as it contains mucilage, a gel-like substance that swells when it is mixed with water and is thought to lesson throat irritation and calm your sore throat.

Licorice root has a long history of use as sore throat remedy. According to the National Center for Complementary and Alternative Medicine (NCCAM), licorice root is known for its anti-inflammatory properties and ability to fight viral infections. It is also a common ingredient in herbal teas for sore throat and has a naturally sweet taste.

Marshmallow is an herb that has been used for centuries as a sore throat remedy. Like slippery elm, marshmallow contains mucilage, which is thought to soothe the mucus membranes in the throat. It can be used in tea as a remedy for sore throats. It is usually made by adding one tablespoon of the dried root to a cup (8 ounces) of boiling water. Let it steep covered for 30 to 90 minutes before straining. Drink up to three cups a day for a sore throat.

A sweet-tasting herb, honeysuckle flower is one of the most regularly used herbs for sore throats. It can be found in health/Chinese food stores. You can make honeysuckle tea by bringing one quart of water to a boil and adding one cup of honeysuckle flowers (not the leaves). Cover, let steep for at least 10 minutes and then strain. Drink up to four cups a day.

An old remedy for sore throat is tea made with lemon, apple cider vinegar, cayenne, and honey. Try adding one teaspoon of apple cider vinegar, a pinch of cayenne pepper, the juice of 1/4 lemon, and a teaspoon of honey into a cup of hot water, stirring until mixed. Four cups a day is recommended.

Throat sprays made from the herb sage can also help to reduce a sore throat and aids in reducing throat pain.

Please always do your research and consult with your physician, naturopath, or health care provider before taking any home remedies or supplements or following any treatment suggested on this page. Only your health care provider, personal physician, or naturopath can provide you with advice on what is safe and effective for your unique needs or to diagnose your particular medical issue.


Related Articles
Editor's Picks Articles
Top Ten Articles
Previous Features
Site Map





Content copyright © 2018 by Bettina Thomas-Smith. All rights reserved.
This content was written by Bettina Thomas-Smith. If you wish to use this content in any manner, you need written permission. Contact Bettina Thomas-Smith for details.