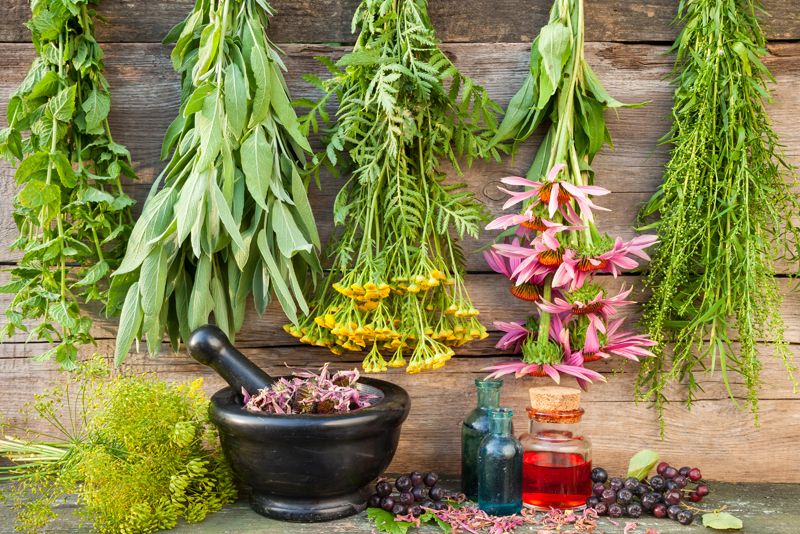 It seems that we are bombarded these days with products that make us look younger, healthier, reverse aging, stop hair loss, etc. The choices are overwhelming, but in reality what works? Is it prescription drugs or hair transplants? What can we do to re-grow that thick head of hair we used to have? Losing hair is very stressful, so here is a look at what options we have to stopping hair loss and stimulating new growth.

Unsure of the long term effects of conventional treatments, people are turning to alternative therapies such as herbal medicine. We know that herbs have been used for centuries on their own and in combination with other unconventional therapies such as acupuncture, acupressure and Ayurveda to avert hair loss, re-grow hair and bring back the natural pigment to gray hair.

They say the first step is increasing circulation to the scalp. This means that you need to massage your head to get the blood flowing. This is something you should do daily, BEFORE you notice the loss and have to take drastic measures.

If you are experiencing hair loss, please consider the following herbs while doing your research on what is the best course of action for you.

Aloe Vera is known for its ability to calm irritated skin and when massaged onto the scalp, the gel restores the PH balance of the hair and seals in the moisture content of the hair, and stimulates hair production.

Dong Quai (Chinese Angelica) contains phytoestrogens and is used to stop hair loss and even regrow hair.

Ginkgo Biloba helps improve the circulation of blood to the brain and skin which ultimately delivers more nutrients to the hair follicles and so promotes hair re-growth.

Green tea is another popular herbal remedy for male pattern type baldness and it is recommended that you drink several cups of green tea or take it in capsule form on a daily basis.

He Shou Wu is an ancient Chinese herb that has been used for centuries for hair loss and baldness and is available in both tea and capsule form.

Horsetail is renowned for its high content of silica which helps to restore connective tissues in the skin, rejuvenate hair and stimulate hair growth.

Saw palmetto, used primarily for the prostate is a popular choice for hair as it promotes the hair to re-grow and slows down the loss of hair.
Stinging Nettle blocks the conversion of testosterone into DHT which is the main cause of hair loss in men.

Ginseng, when used in shampoo or hair tonic, helps to nourish and strengthen hair.

We live in an age where we have countless of options available to us. Whether you opt for the natural route or go traditional, you need to take the time to discover what will and won't work and what the right treatment for you is.

Please always do your research and consult with your physician, naturopath, or health care provider before taking any home remedies or supplements or following any treatment suggested on this page. Only your health care provider, personal physician, or naturopath can provide you with advice on what is safe and effective for your unique needs or to diagnose your particular medical issue.


Related Articles
Editor's Picks Articles
Top Ten Articles
Previous Features
Site Map





Content copyright © 2018 by Bettina Thomas-Smith. All rights reserved.
This content was written by Bettina Thomas-Smith. If you wish to use this content in any manner, you need written permission. Contact Bettina Thomas-Smith for details.