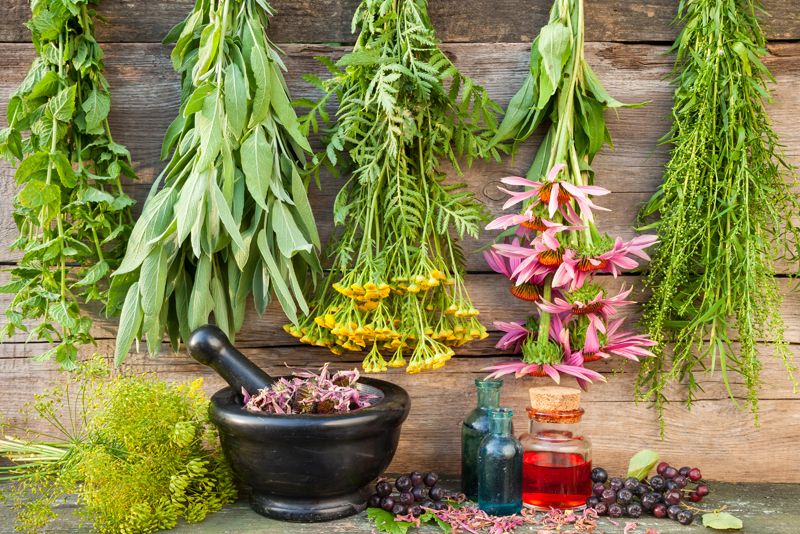 Most families have about six or seven dishes they alternate every week for dinner with very little deviation from this comfort zone. Sometimes these recipes are handed down through generations or created with easy processed products. When looking closely at the ingredients there is usually room for improvement and substitution of healthier alternatives. One of the easiest ways to change a dish to a healthier version is to use herbs for flavoring instead of chemical or sodium packed alternatives. This process should be done carefully and with forethought because despite the dashes and pinches, recipes are a science. Ingredients combine together to create a specific result due to complex interactions between acids, sugars and other components.
When altering recipes keep the following in mind:



You can cut refined sugar out of most recipes with no real effect. If a recipe calls for 1 cup of sugar you can put in 2/3 or 3/4 cup and still have a similar taste. You might have to add slightly more flour to make up the dry ingredient ratio.


White flour can be replaced with whole grain or whole wheat variations except when baking certain cakes and pastries. Whole wheat flour has a coarser texture and different taste than white flour so if in doubt of the results try substituting half first.


Try low fat variations of products like cream cheese, sour cream and yogurt instead of the full fat version. These work very well in most recipes with very little taste difference although the texture might be slightly altered.


Try different methods of preparation instead of frying or sautéing. Grill, bake, poach or steam your recipe components with no very little added fat to avoid added calories. If you must sauté then at least use an oil spray instead of larger quantities which get absorbed into your food.


If your recipes cannot be altered successfully and are seriously unhealthy then perhaps find a healthier substitution. For example instead of French fries saturated in oil try oven baking sweet potato wedges with a light spritz of olive oil.


Try using fruit and vegetable purees instead of fatty liquids in baked goods. Try unsweetened applesauce instead of butter or oil in muffins and quick breads. Experiment for the best results.


Adjust the seasonings in your favorite recipes cutting out the salt and trying other herbs and flavorings instead. Salt definitely adds a familiar taste to your food but you might find you like thyme or rosemary just as much or better.


Related Articles
Editor's Picks Articles
Top Ten Articles
Previous Features
Site Map





Content copyright © 2019 by Michelle Anderson. All rights reserved.
This content was written by Michelle Anderson. If you wish to use this content in any manner, you need written permission. Contact Bettina Thomas-Smith for details.