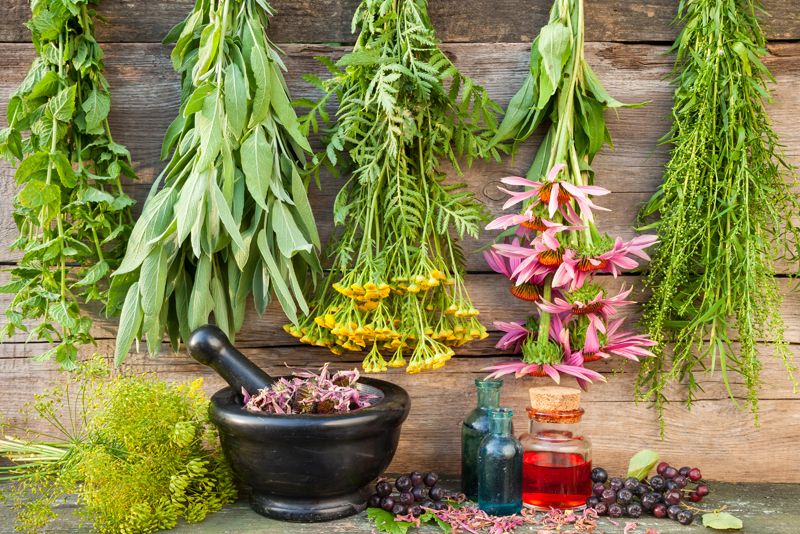 With most of us living longer these days, we need to stay as healthy and active as we can. This becomes extremely important as we age. It would be wonderful if there was some magic pill that we could take every morning and it would miraculously turn back the hands of time…unfortunately there isn't. Good news is we can arm ourselves with herbs that fight every aspect of the aging process and may indeed reverse those dreaded years that have crept up on us.

With age come memory loss, diminished energy, bone loss, weight gain and grey hair. Yippee! Good news is that we can reverse this by waging war on the free radicals, those byproducts your body's natural metabolism processes. These are the molecules that cause cell damage that leads to disease, cancer and aging. Your weapon is antioxidants. They virtually stop the free radicals from damaging your healthy cells.

Where do you find these cell warriors? Herbs of course! They are loaded with antioxidants that when added to your diet on a regular basis, will help eliminate free radicals from the body which in turn aids in your battle with aging. That is why it is so important to eat the right foods. This can significantly slow your aging and lesson your risk of age-related problems. The same goes for eating the wrong foods which can trigger and even accelerate aging. Try to eat organic and unprocessed foods when possible. Read the labels and try to avoid produce sprayed with pesticide, cured meats loaded with nitrates and convenience foods loaded with preservatives and dyes. Drinking pure water will help flush out the toxins as you change over to better eating habits.

Herbs to keep on hand? Try out some of the below and add them to your daily routine. You won't be disappointed.

Take Bilberry for your eyes, it helps with the deterioration. Black Cohosh is excellent for women's health. Dandelions are great for healthy liver and gallbladder, as is Milk Thistle. Take Garlic for cardiovascular health, Ginger for your digestion, Ginkgo Biloba for remembering where you left the keys or people's names (memory), Ginseng for overall health and last but not least Gotu Kola for your brain and skin.

Please always do your research and consult with your physician, naturopath, or health care provider before taking any home remedies or supplements or following any treatment suggested on this page. Only your health care provider, personal physician, or naturopath can provide you with advice on what is safe and effective for your unique needs or to diagnose your particular medical issue.


Related Articles
Editor's Picks Articles
Top Ten Articles
Previous Features
Site Map





Content copyright © 2023 by Bettina Thomas-Smith. All rights reserved.
This content was written by Bettina Thomas-Smith. If you wish to use this content in any manner, you need written permission. Contact Bettina Thomas-Smith for details.