Capirotada - A Pudding for Easter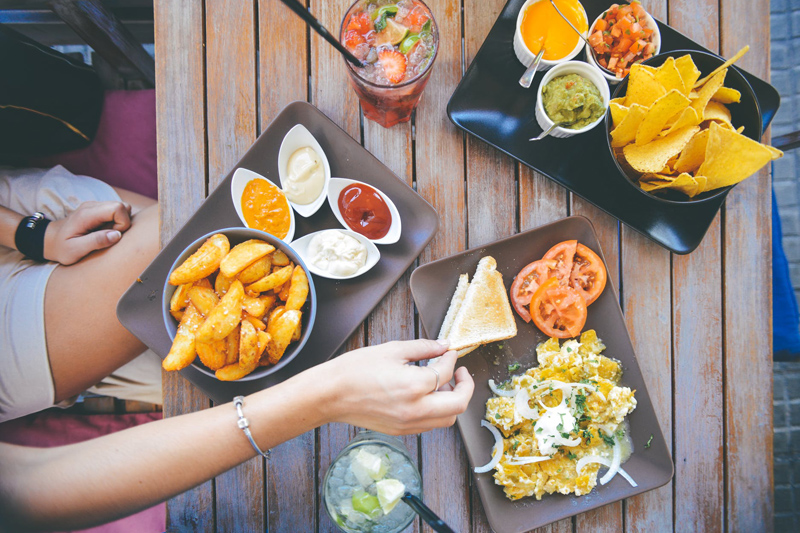 Mexico is a fundamentally catholic country, and Semana Santa, Holy Week, and Pascua, Easter, are marked by widespread celebrations, festivities and rejoicing. The Passion of Christ is re-enacted in cities, towns and villages, with Ixtapalapa, Taxco, San Cristóbal de las Casas and Pátzcuaro being famous throughout the country for their passion plays. Silent torch-lit processions wind through lanes and down avenues, street vendors sell palm crosses, altars are decked with flowers, and "cascarones", painted egg shells filled with confetti, are gleefully crushed over the heads of family, friends and total strangers. While this period is in essence a religious festival, it is also tremendous fun, with a decidedly carnival atmosphere.
Cascarones © Philip Hood
Lent is known as La Cuaresma, and among the traditional dishes of the "cocina cuaresmeña" served during these 40 days are "tortitas de papa", potato cakes flavoured with tuna or dried shrimp, and prawns with cactus paddles, as well as stuffed chillies, corn or lentil soup, and a bread pudding known as "capirotada".
Whenever I make capirotada, I am struck by its peculiar combination of ingredients. The flavours are very reminiscent of Christmas pudding, and while bread has been used in sweet dishes for centuries and the great British nursery favourite, bread and butter pudding, has achieved classical fame and undergone countless makeovers, capirotada seems to be an incongruent mishmash of disparate elements which somehow manage to come together into a very delicious whole, both sweet and savoury.
There is no one recipe - every cook has her own version and makes it her own way but there are a handful of ingredients which are customary and which point to an Old World provenance: bread, sugar, raisins, spices and cheese, all Spanish contributions to the Mexican larder. On the New World side, peanuts are a time-honoured addition, but are often replaced with other nuts like almonds or pecans, and while the native guavas or pineapples were probably included originally, many adaptations feature apples, apricots, pears or bananas.
The oddest ingredient is perhaps the cheese. Cheese is of course a typical component in many desserts - cheesecake and mascarpone sorbet for instance, but somehow the combination of bread, sugar and a strongly flavoured hard cheese seems awkward and uncomfortable - and yet it works. Furthermore, it is the cheese which enables capirotada to act as both a savoury dish and a sweet one, despite the considerable sugar content. An aged cheese from Chihuahua is frequently used, as is the crumbly, acidic "queso fresco", fresh cheese. Both work well if the capirotada is to be served as a savoury course, but the queso fresco is more at home in a pudding. I like a fresh, light goat's cheese, as its lemony tang offsets the sweetness and gives the whole dish some bite.
Unlike most bread puddings, the bread in capirotada is soaked and baked in a spiced sugar syrup rather than a custard type mixture. This syrup is traditionally made with piloncillo, an unrefined, quite coarse and sticky brown sugar which is pressed into a cone shape and commonly used in sweet dishes and drinks in Mexico; and for an authentic capirotada, the bread must come from thickly sliced, stale "bolillos", torpedo shaped rolls. However, in the absence of piloncillo and bolillos, a stick of French bread and dark muscovado or Barbados sugar are excellent stand-ins.
Felices Pascuas!
Capirotada – Mexican bread pudding
Serves 10
For the syrup:-
500 g/18 oz dark muscovado or Barbados sugar
1 litre/1 3/4 pints water
4 cinnamon sticks
5 whole cloves
5 ml/1 tsp fennel seeds
1 large lemon, juice and grated rind
For the bread pudding:-
350 g/12 oz bread, about 1 large French stick, two or three days old, sliced 1 cm/1/2 in thick
Soft unsalted butter
175 g/6 oz raisins
250 g/9 oz toasted, flaked almonds
250 g/9 oz eating apples, peeled and thinly sliced
200 g/7 oz fresh goat's cheese, crumbled
Thick cream, to serve (optional)
A 2.25 litre/4 pint/10 cup ovenproof dish, about 6 cm/2 1/2 in deep
Start off by making the syrup as it needs time to cook. Place the sugar, water, spices and lemon juice and rind in a saucepan and bring to the boil over medium heat, stirring all the time to ensure the sugar dissolves. Turn the heat right down and leave to simmer uncovered for 20 minutes. Strain into a large jug and set aside. Reserve the cinnamon sticks.
Lightly butter the bread on both sides and arrange one third in the bottom of the ovenproof dish. Sprinkle with half the raisins, almonds, sliced apples and cheese, and add two of the reserved cinnamon sticks. Repeat the process, adding another layer of bread and the rest of the fruit, nuts, cinnamon and cheese, and finish off with a layer of bread. Carefully pour the syrup all over the pudding and set aside for at least one hour, or even overnight in the refrigerator, to give the bread time to absorb all the liquid.
Preheat the oven to 180oC/350oF/gas 4/fan oven 160oC. Bake the capirotada until golden, 30 to 45 minutes.
Capirotada is traditionally served at room temperature, but I have to say that it is terribly good hot, with lashings of thick cream!
Buén provecho!
You Should Also Read:
Sweet Mexico - Easter piglets
Sweet Mexico - Piloncillo
The Spices of Mexico - Vanilla


Related Articles
Editor's Picks Articles
Top Ten Articles
Previous Features
Site Map





Content copyright © 2022 by Isabel Hood. All rights reserved.
This content was written by Isabel Hood. If you wish to use this content in any manner, you need written permission. Contact Mickey Marquez for details.