The Spices of Mexico - Vanilla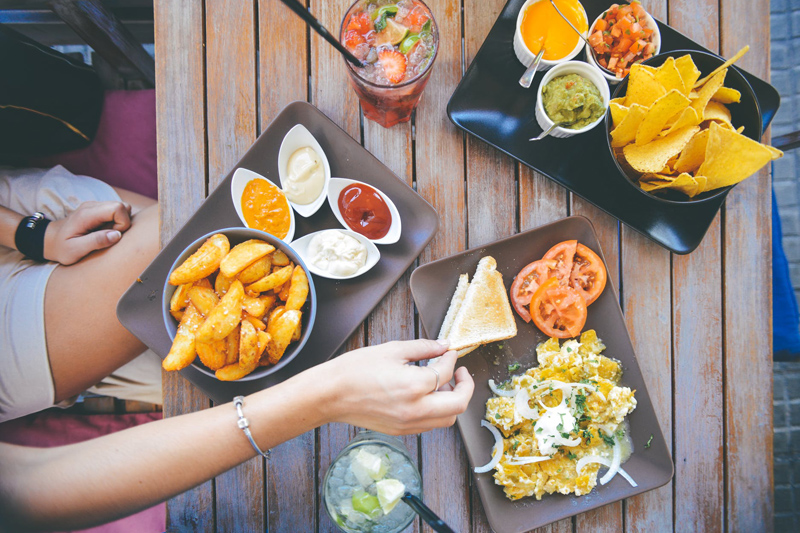 Vanilla is a shy and gentle spice. There is nothing brash or flamboyant about it, and yet its power is great, with a delicately warm, sweet flavour and scent which are deeply evocative, almost hypnotic. Its dark, slender pod is shiny and slightly sticky, and within it is concealed a treasure trove of tiny black seeds endowed with magic: sniff them or taste them on the tip of your tongue and close your eyes - you will be instantly transported to a land of exoticism, of milk and honey, of mystery and enchantment. While many people find that they cannot tolerate one spice or another, vanilla seems to be an overall favourite, associated with tender childhood memories, sweet nothings and romantic encounters.

Vanilla Planifolia or "flat-leaved vanilla", a native of Mexico, is part of the orchid family, a perennial vine which wraps itself around tree trunks and thereby grows up to 30 metres in height. The initial use of vanilla is attributed to the Totonaca people in the state of Veracruz on the Gulf of Mexico, who referred to the plant as the "Tlilxochitl vine" and the flower as "xanath", and paid their tribute to the Aztec empire in the form of vanilla pods. The Mayas, however, seem to have been the first to actually cultivate vanilla or "zizbic" as a spice to flavour chocolate – there are reports of great "forest gardens" in which cacao and vanilla, that heavenly combination, grew side by side.

Vanilla was introduced to Europe following the Spanish conquest of Mexico and found great favour with the rich and noble as an addition to hot chocolate, and it was not until 1602 that it became more widely available, thanks to a certain Hugh Morgan, the royal apothecary, who experimented with vanilla as a flavouring in its own right. Courtesy of Mr Morgan, vanilla is today one of the most extensively used spices, with an important role to play in the cosmetics, perfumery and aromatherapy industries as well as in gastronomy.

While Vanilla Planifolia originated in Mexico, it was on the far side of the world that it was turned into a commercial crop. It was most probably transported aboard the Spanish ships known as the Manila Galleons, which sailed across the Pacific Ocean from Acapulco on the western coast of Mexico to the Philippines between 1565 and 1815 and from there continued its journey through Indonesia, eventually reaching the "Bourbon Islands" of Comoro, Réunion, Seychelles and particularly Madagascar, which is today one of the largest world producers of vanilla, defined as Bourbon Vanilla.

The edible pods of Vanilla Planifolia start off green and can mature to a length of 30 cm over a period of nine months before they are harvested. They are then "cured" by a process which began centuries before the arrival of the Spanish and takes six to nine months to carry out. The pods are first soaked in order to arrest growth; they are then wrapped in cloth, placed in an airtight box and subjected to high temperature. The next step involves drying them in the sun for several days and wrapping them in blankets to "sweat" during the night. Finally they are left to dry in the shade for several months. By the end of this long process, the compound glucovanillin has become the vanillin with which we are all so familiar. This slow and time-consuming transformation from hard green pod to dark, rich allure accounts for vanilla being the second most expensive spice, saffron being the first.

Papantla, in the state of Veracruz, was the cradle of vanilla and is still the centre of Mexico's vanilla-growing industry today. It is most famous perhaps for its "flying men", the "Voladores de Papantla", but also for its vanilla, which won many awards in its heyday and is described as creamy, sweet, smooth and spicy, and for its Vanilla Festival, which dates from pre-Columbian times and is now celebrated during the Feast of Corpus Christi. Papantla flourished while Mexico had a monopoly on the production of vanilla, but with the rapid growth of the vanilla business in faraway foreign islands and the advent of cheap synthetic vanilla substitutes, it went into decline - and while Madagascan and Indonesian vanilla crops now account for 90% of global production, Mexican yields are a bare 360 tonnes compared to Indonesia's 2000. Nevertheless, in recent years, the Mexican vanilla industry and Papantla have revived due the establishment of a co-operative of small producers, and the Xanath Ecological Park is ensuring that vanilla history is a living heritage.

Vanilla icecream with hot chocolate sauce - Helado de vainilla con salsa de chocolate

Serves 6

For the icecream:-
2 vanilla pods
250 ml/8 fl oz full cream milk
500 ml/17 fl oz double/heavy cream
6 egg yolks
125 g/4 1/2 oz caster/superfine sugar
30 g/1 1/4 oz chopped, toasted hazelnuts

For the chocolate sauce:-
500 ml/17 fl oz double cream
30 g/1 1/4 oz unsalted butter
200 g/7 oz dark chocolate (minimum 70% cocoa solids), broken into small pieces

Split the vanilla pods lengthways and scrape the seeds out with the tip of a knife into a medium saucepan. Add the pods, milk and cream and heat gently until steaming.

Place the egg yolks and sugar in a large bowl and whisk with an electric beater until thick and pale. Carefully whisk in the hot milk and cream. Return the mixture to the saucepan and cook gently, stirring all the time with a wooden spatula, until it thickens to a custard consistency and coats the spatula. Pour into a clean bowl and allow to cool before refrigerating until really cold. Remove the pods and churn in an icecream machine. Store in a plastic container in the freezer.

For the sauce, heat the double cream until steaming. Remove from the heat and add the butter and chocolate, stirring until totally melted and smooth.

Place a scoop of icecream in individual bowls or coupes, pour over some chocolate sauce and garnish with hazelnuts.

Serve immediately. It will all melt and blend into a wonderful chocolate and vanilla goo. Buén provecho!

You Should Also Read:
The Spices of Mexico - Cumin
The Spices of Mexico - Cinnamon
The Spices of Mexico - Achiote


Related Articles
Editor's Picks Articles
Top Ten Articles
Previous Features
Site Map





Content copyright © 2023 by Isabel Hood. All rights reserved.
This content was written by Isabel Hood. If you wish to use this content in any manner, you need written permission. Contact Mickey Marquez for details.