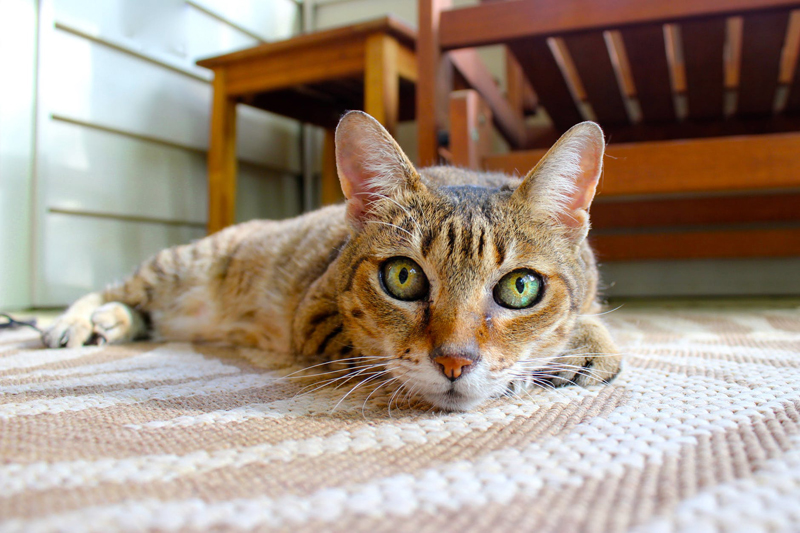 Knitted rugs of all kinds, including round radial rug designs by Iris. Knitted rugs are simple to make. Radial rugs add a sophisticated touch to any decor.
2 Halves Make a Whole Different Round Knitted Rug


This article explores design possibilities for a knitted round or half round rug.
BellaOnline Dyeing - Spinning


Learn to dye yarn with Bella Online´s Spinning Editor, Llyn Payne.
BellaOnline Knitting - Information for Beginners


Learn to knit with Marjorie Colletta, BellaOnline´s Knitting Editor.
BellaOnline Knitting - Intermediate and Advanced Information


Marjorie Colletta, BellaOnline´s Knitting Editor covers topics like; How to adjust a pattern, how to correct mistakes in your knitting, the crocheted knitting bind off, how to block your knitting, how to knit a swatch and how to check your gauge.
Blue Skies and Sandy Beaches make a Round Rug


This is a detailed description of a round rug made from yarn remnants and inspired by good times at the beach.
Bold Designs for Round Accent Rugs


Create magic circles in your room. Design ideas and knitting instructions for small round knitted rugs.
Book Review - Mason-Dixon Knitting


"Mason-Dixon Knitting, The Curious Knitters' Guide" written by Kay Gardiner and Ann Shayne was not only fun to read, it made me want to run for my knitting needles and start knitting.
Book Review - Mason-Dixon Knitting


If you love to knit and have been looking for a new rug pattern and a fun book to read, "Mason-Dixon Knitting Outside the Lines" has a colorful rug pattern called Kiki Mariko, knit using the Fair Isle technique and bulky wool yarn.
Christmas Variations for a Round Knitted Rug


Design ideas for knitting a round rug in the season´s colors - red and green. Red for fire and the warmth of the hearth, green for evergreen trees. Many celebrate Christmas at this time.
DVD - No Rules Knitting


Interested in learning to knit? "No Rules Knitting at the Teen Knit Cafe'" is a good place to start.
Free Rug Patterns


Looking for free patterns or inspiration for your next project? Here's a list of places to look online for free knit and crochet rug patterns.
Fun Stuff - Design a Mug Rug


This is a fun project that takes little time. You will delight yourself and others with a mug rug. Just learning to knit rugs? This is a great project to get started.
Gardener´s Kneeling Pad


Quick and Easy instructions for crocheting or knitting a rug to protect your knees in the garden using an old sweatshirt.
Knitted Rugs can be Round or Half-Round


Looking for that special small round rug? Here is a new approach with fascinating designs and color combinations. You don't have to wait for an alien to do something in your cornfield. You can make these incredible shapes yourself!
Knitting a Round Rug


Make a knitted rug that looks similar to a braided rug.
Knitting with Circular Needles


Instructions for straightening the cord that runs between the needles, using markers, avoiding twisted stitches and tips for keeping your project moving.
New Material and New Design for a Round Rug


Take a chance and use different material. Explore the possibilities of jute yarn or macarame cord.
No Sew Fabric Joins


Instructions for joining fabric strips - No sewing required!
Plastic Bag Rug


Instructions for knitting a rug using plastic bags.
Purple Shaded Round Rug


Instructions for creating a round rug in three shades of the same color.
Radial Rug Techniques


Review different methods for making a radial rug and see how a perfect center can be achieved.
Round Knitted Rug in Yellow, Green and Brown


Description of a striking design for a round rug in golden yellow, forest green and dark brown.
Sewing Fabric Joins


Instructions for sewing a diagonal and straight join. Sewing can be done with or without a sewing machine, using matching thread
The Craft Of Hand Made Rugs


This book includes patterns for four braided rugs, a scalloped door mat (sewn tongue rug), a knitted rug, a crocheted rug, a hooked rug, a needle woven rug and two color plans for colonial woven rag rugs. Written in 1914 by Ami Mali Hicks, it's now available for free in the Google Library.
Three-Color Combinations - Color Wheel Tool


Guidelines for choosing three colors. Know what the possibilities are.
Yarn Magic


Use yarn magic to achieve special effects and create fabulous rugs. Ideas for using color and knitting with multiple strands of yarn. Instructions for knitting a four-colored round rug using two strands of yarn at a time.
Editor's Picks Articles
Top Ten Articles
Previous Features
Site Map
Content copyright © 2018 by . All rights reserved.
This content was written by . If you wish to use this content in any manner, you need written permission.
Contact BellaOnline Administration for details.