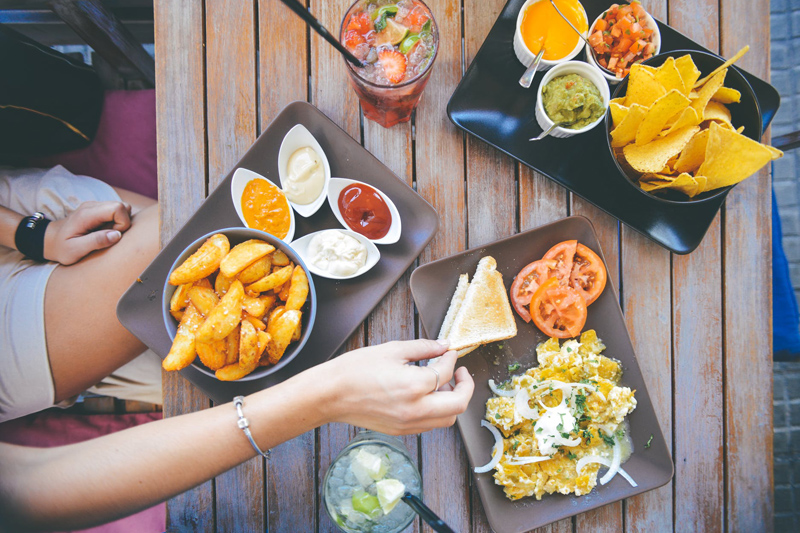 Pumpkins and squashes of all types are native to the Americas, and in pre-Hispanic times, they formed part of the traditional Mexican "milpa" or field, along with other staples like corn, beans and chillies. They are very much in evidence in Mexican markets and vegetable dishes throughout the late summer and autumn, but the golden blossoms are their crowning glory for an all too brief and very colourful season when stalls and green grocers are splashed with bright yellow and orange and festooned with huge bunches or garlands of "flor de calabaza". I always smile wrily when I see how incredibly cheap they are there – and remember even more wrily how much I have to pay for little courgette flowers at home, as one of the challenges with using squash blossoms in the kitchen is the very considerable quantity and weight which is required!
Flor de calabaza © Philip Hood
Mexican cooks, whether in the markets, on the streets or in the fanciest of restaurants, let their imaginations run wild and use the flor in the simplest or most elaborate ways. Common and popular dishes are squash blossom soup, "sopa de flor de calabaza", a stew or "guiso de flor de calabaza", and quesadillas, but there is virtually no limit to the recipes in which the blossoms can be included. I love to use the whole flowers as a fantastically flamboyant edible garnish, or torn into strips and lightly steamed before being strewn over a soup or roasted vegetables; combined with runny, stringy cheese, they make a deliciously rich filling for "chiles rellenos" or crêpes, while folded into a silky smooth cream sauce, they become a perfect accompaniment to white meat and fish dishes. Their flavour is not pronounced and it is important to keep them away from stronger tasting partners which could easily overwhelm them.
It is not only the flavour which is delicate. The flores themselves and their fragile petals need to be handled with care, and cooked and eaten soon after picking. If you are lucky enough to have a vegetable plot, or a friendly neighbour with green fingers, it is an easy journey from garden to pot, but farmers' markets are also a good starting place.
When buying squash blossoms, avoid any which are beginning to wilt and look far from vibrant – although any tired specimens can be revived in a bowl of icy water, their flavour will already be fading and they will have little more to offer than their dazzling colour. It is essential to remove the pistils and stamens from the flowers before cooking, as they can impart a bitter undertone to the finished dish.
And next time somebody tells you that cooking with squash blossoms is completely and utterly Italian, tell them about the Mexican "milpa": courgettes/zucchini may have been developed in Italy, but their ancestors most certainly came from the Americas and cooking with squash blossoms began in the pots and on the griddles of all the American peoples, including the Aztecs, Mayas and Incas. They would not have filled them with mozzarella cheese or deep-fried them in a batter, as there were no dairy products, cooking fats or wheat flour in Mexico before the Spanish Conquest, but they have featured in the cuisines of the American continent for millennia and did not arrive in Italy until comparatively recently!
Squash blossom soup - Sopa de flor de calabaza
This is a subtle, pale gold soup, which goes well with the faint sweetness of tortillas.
Serves 2 as a first course
30 ml/1 tbsp vegetable oil
100 g/4 oz onions, peeled and coarsely chopped
100 g/4 oz squash blossoms, without pistils or stamens, shredded
250 ml/1 cup vegetable or chicken stock, or water mixed with 5 ml/1 tsp bouillon powder
60 ml/4 tbsp double/heavy cream
Sea salt and freshly ground black pepper
Warm tortillas, to serve (optional)
Heat the oil in a medium pan and add the onions. Cook gently, stirring occasionally, until translucent. Add the blossoms and some seasoning, cover the pan, and sweat for 15 minutes. Pour in the stock and simmer for a further 10 minutes.
Cool slightly before blending until fairly smooth. Return to the pan, stir in the cream and bring back to the boil. If the soup is very thick, thin it down with a little stock or water but remember that the more you dilute the soup, the more you dilute the already delicate flavour.
Check the seasoning and serve immediately.
Buén provecho!
You Should Also Read:
Autumn Gold and Squash Blossoms
Squash Blossom Crêpes Recipe
Squash Blossoms


Related Articles
Editor's Picks Articles
Top Ten Articles
Previous Features
Site Map





Content copyright © 2022 by Isabel Hood. All rights reserved.
This content was written by Isabel Hood. If you wish to use this content in any manner, you need written permission. Contact Mickey Marquez for details.