Autumn Gold and Squash Blossoms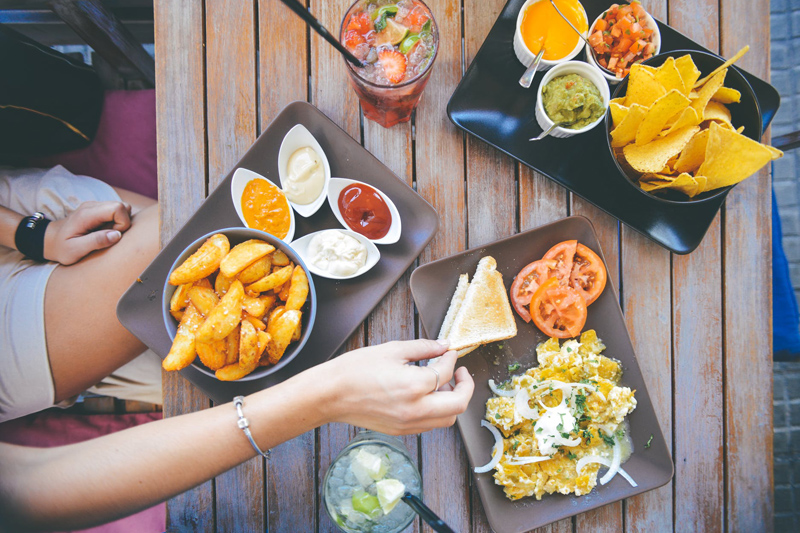 The markets of Mexico are splashed with gold and the time of year has arrived when every stall is decorated with armfuls of flamboyant courgette/zucchini and pumpkin flowers – and every restaurant chef and street or market cook is churning out dish after dish containing them – making the "flor de calabaza" into soups and quesadillas, rolling them into tacos and enchiladas, stuffing them into large chillies, stirring them into rich creamy sauces, braising them gently into delicious "guisos" and filling them with cheese perhaps, or seafood, before frying them until crisp. Although the supply is abundant, they still remain a delicacy as they are so truly seasonal. I am lucky enough to have a neighbour who grows courgettes and generously allows me to pick the blossoms at will, and having returned to my kitchen this morning with my apron full of bright gold flowers, I am treating myself to a plate of my favourite quesadillas.
Flor de calabaza © Philip Hood
The flavour of the flower, like that of the vegetable, is subtle and its partners therefore need to be chosen with care. A hot chilli, for instance, will annihilate it, as will a strong cheese such as "queso fresco" or feta, or bacon and chorizo. But a jalapeño chilli, a light and fresh tomato braise or "guiso", and a dainty cheese like a fresh young goat's cheese or the French Boursin which I am using in the recipe below (or even plain Philadelphia cream cheese), will allow the essence of the flower to shine through.
The main challenge with flores de calabaza outside Mexico is sourcing enough of them to be able to actually turn them into a dish; this is a case where a lot goes a very short way and since they are such a seasonal delicacy, they can be very expensive. If you are fortunate enough to get hold of some, handle them with care, as they are delicate, and remove the pistils and stamens which are very bitter; this also gives you the opportunity to get rid of any creepy crawlies lurking inside the flower – and there are always plenty of them. The flowers can be washed if really necessary, but avoid this if you can. Needless to say, if they are wilted, tired looking, bruised or faded, do not bother with them as their flavour will be virtually unnoticeable and you will have wasted your money – although in an emergency, a very brief soak in ice cold water can actually revive them.
Courgette blossom quesadillas – Quesadillas de flor de calabaza
Makes 4 quesadillas
30 ml/2 tbsp olive oil
100 g/4 oz onions, peeled and finely chopped
1 jalapeño chilli, deseeded and finely chopped
225 g/8 oz tomatoes, coarsely chopped
100 g/4 oz courgette flowers
150 g/5 oz plain Boursin cheese
4 corn tortillas, approximately 15 cm/16 inches in diameter
Sea salt and freshly ground black pepper
Heat 1 tbsp of oil in a medium frying pan, add the onions and chilli, and cook gently, stirring often, until the onions are translucent and just starting to turn golden. Stir in the tomatoes and some seasoning and continue to cook, still stirring, until you have a thick, fairly dry stew.
While the vegetables are cooking, prepare the courgette flowers by removing the stamens and pistils and tearing the petals into strips. Stir them into the tomatoes and cook for a further 5 minutes, just until they have wilted right down into the sauce. Check the seasoning.
Heat the remaining oil in a large non-stick frying pan. Lay the tortillas out on the work surface and divide the cheese between them, spreading it evenly over one half of each tortilla. Top the cheese with the courgette blossom mixture and fold the other half of the tortilla up and over the filling into a half moon shape, pressing down gently so that it holds together. Place the quesadillas in the frying pan and cook them over medium heat for about 4 minutes, until they turn golden and crusty. Carefully flip them over with a spatula and cook the other side in the same way.
Transfer the quesadillas to warm plates and serve immediately.
Buén provecho!
You Should Also Read:
Squash blossoms
Of Calabacitas, Courgettes and Zucchini
Squash Blossom Crêpes Recipe


Related Articles
Editor's Picks Articles
Top Ten Articles
Previous Features
Site Map





Content copyright © 2022 by Isabel Hood. All rights reserved.
This content was written by Isabel Hood. If you wish to use this content in any manner, you need written permission. Contact Mickey Marquez for details.