The Sauces of Mexico - Pipián Verde Recipe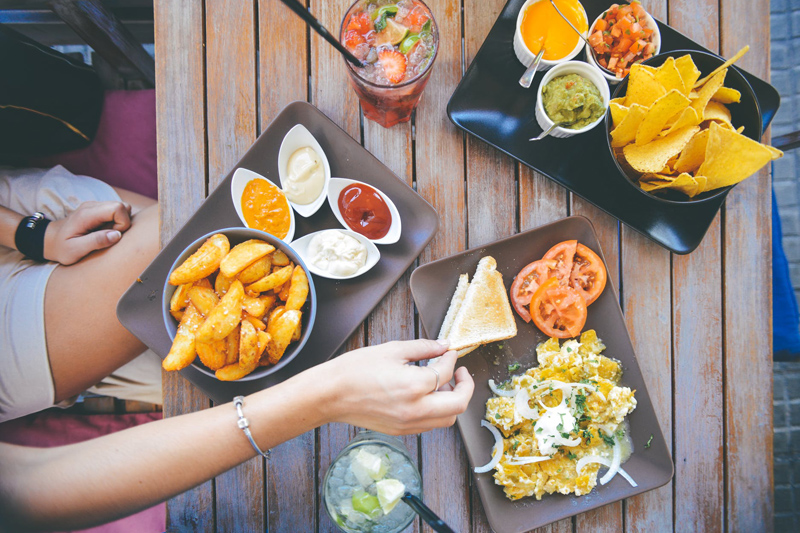 My organic vegetable box contained a wonderful treat this week: tomatillos or Mexican green husked tomatoes. I call them a treat as they are not readily available to me, and even a foray into the Harrods Food Halls and the Whole Foods Market in London proved fruitless a few weeks ago. I can therefore only cook with fresh tomatillos occasionally, when they make a surprise summer appearance at a farmers' market perhaps and I can choose them individually, making sure that they are fully ripe and about to burst out of their husks – this is essential as under-ripe tomatillos are sour and lack the citrusy sparkle and magic of the fully grown and matured ones. So the sight of a large bag of these husked green fruit filled me with joy and nostalgia for Mexican street stalls with their bowls of fresh green Salsa Verde, and the aroma of tomatillos roasting on a charcoal brazier in a market.
My organic tomatillos have been grown not in Mexico but on a French "sister farm" owned by my supplier in the Vendée region. Their flavour is excellent and my only challenge has been deciding what to make with them and what to write about. While I would normally use them raw to enjoy their very distinctive exuberance and keep the tinned ones for cooked sauces, I have opted for a green "pipián", rich with pumpkin seeds and the characteristic caramel tones of tomatillos roasted in the oven. Tinned tomatillos would do, but why open a tin when I have a bag of pale green, juicy Mexican husked tomatoes in my refrigerator?! Although my favourite partner for cooked tomatillos is dairy produce like cream or cheese which combines so successfully with their natural tartness, a pipián is also an ideal vehicle for tomatillos due to its seedy fat content.
A pipián is Mexican food at its most historical and pre-Hispanic, a sauce thickened with seeds or nuts – originally the seeds of the indigenous squashes - and flavoured with the equally indigenous chillies and tomatoes or tomatillos. Many versions of pipián exist of course, and each and every cook makes it her own way, but the simple version below shows off the individual components while bringing them together into a fresh, green, wonderfully savoury, satisfying whole. The khaki-coloured pumpkin seeds, toasted in a dry frying-pan until swollen and golden, lend their rich mellowness and depth, as well as their fat and protein (just as good as cream and cheese!); the grilled green chillies, with or without their seeds, depending on your palate, bring an explosion of aromatic heat; and the tomatillos, roasted in the oven until their flavour is intense and concentrated, provide a mysterious, fruity acidity to balance the opulence.
Whereas I am serving my pipián verde with stir-fried chicken "mini fillets", it is very versatile and equally good with a steak for instance, or grilled fish, even as a sauce for poached eggs; or it can be used as a cooking medium in which to stew browned chicken portions or cubes of meat. However, if a pipián rich in seeds is cooked for a long time, the sauce can separate and needs to be given a robust stir with a wire whisk before serving to bring it back together; the lengthy simmering will also diminish the freshness, but not the depth, of flavour. The recipe below produces a fairly solid, chunky pipián, reminiscent of an Italian pesto perhaps, so if you want something a bit more liquid and saucy, add some water, a spoonful at a time, until you reach the desired consistency.
Although the recipe looks long and time-consuming, the different stages can be done in advance and the sauce blended and cooked as needed.
Be sure to buy fully ripe tomatillos which fit very snugly into their thin papery husks, and having removed the husk, rinse them under cold running water as they have a natural, sticky residue on them.
Chicken in green pipián sauce – Pollo en pipián verde
Serves 4
For the chicken:-
700 g/1 1/2 lb chicken mini fillets
60 ml/4 tbsp olive oil
2 garlic cloves, peeled and crushed
15 ml/1 tbsp chipotle chilli purée or powder
15 ml/1 tbsp dried Mexican oregano
Freshly ground black pepper
Warm corn tortillas or rice, to serve (optional)
For the pipián:-
100g/4 oz hulled pumpkin seeds
50 g/2 oz fresh jalapeño chillies
6 garlic cloves, unpeeled
500 g/18 oz fresh tomatillos, husked and rinsed
30 ml/2 tbsp olive oil
125 g/4 1/2 oz onions, peeled and coarsely chopped
40 g/1 1/2 oz fresh coriander/cilantro
15 g/1/2 oz Cos/Romaine lettuce leaves
5 ml/1 tsp bouillon powder
5 ml/1 tsp dried Mexican oregano
Sea salt and freshly ground black pepper
Place all the chicken ingredients in a freezer bag, tie it securely and shake it all about to distribute the marinade. Set aside for an hour or two, or refrigerate for up to 24 hours.
In a heavy frying pan, toast the pumpkin seeds over medium heat, stirring constantly, until they just start to turn golden and aromatic. Transfer to a plate and leave to cool.
Preheat the grill to high and line the grill pan with foil. Place the whole chillies and garlic cloves on it and grill about 5 cm/2 in from the heat, turning as necessary, until blistered and blackened in places. Cool then peel the garlic. Slip off the chilli skins and discard the stems and seeds (unless you prefer a much hotter dish, in which case do include the seeds in the sauce!).
Preheat the oven to 220oC/425oF/gas 7/fan oven 200oC. Line a roasting tin with baking parchment (not foil as this will react with the acidity), arrange the husked tomatillos on it and roast in the oven until the skins are puffed and golden, about 45 minutes.
Heat the olive oil in a heavy frying pan and cook the onions over medium heat, stirring regularly, until they turn a light brown.
When everything is ready, reserve a handful of pumpkin seeds and place the remainder in a blender or food processor and process finely. Add the chillies and garlic, tomatillos, onions, coriander, lettuce, bouillon powder, oregano and some seasoning, and process again until the sauce is fairly smooth. Add a bit of water if necessary to help the blades turn efficiently, and as much as necessary if you want a pipián with a saucy consistency.
Return the pipián to the onion frying pan and reheat very gently without boiling to preserve the delicate green colour. Check the seasoning.
Place another, preferably non-stick, frying pan over medium heat, add the chicken and its marinade, and stir-fry briskly until the chicken is cooked through and lightly browned.
Divide the chicken between four warm plates, top with the sauce, sprinkle with the reserved pumpkin seeds and serve immediately, with warm tortillas or rice.
Buén provecho!
| | |
| --- | --- |
| Chilli and Chocolate Stars of the Mexican Cocina by Isabel Hood is available from Amazon.co.uk | Just The Two of Us Entertaining Each Other by Isabel Hood is available from Amazon.com and Amazon.co.uk |
You Should Also Read:
Salsas, the sauces of Mexico
Tomatillo, the Mexican husked tomato
The sauces of Mexico - Salsa Verde Cocida


Related Articles
Editor's Picks Articles
Top Ten Articles
Previous Features
Site Map





Content copyright © 2023 by Isabel Hood. All rights reserved.
This content was written by Isabel Hood. If you wish to use this content in any manner, you need written permission. Contact Mickey Marquez for details.