The Sauces of Mexico - Salsa Verde Cruda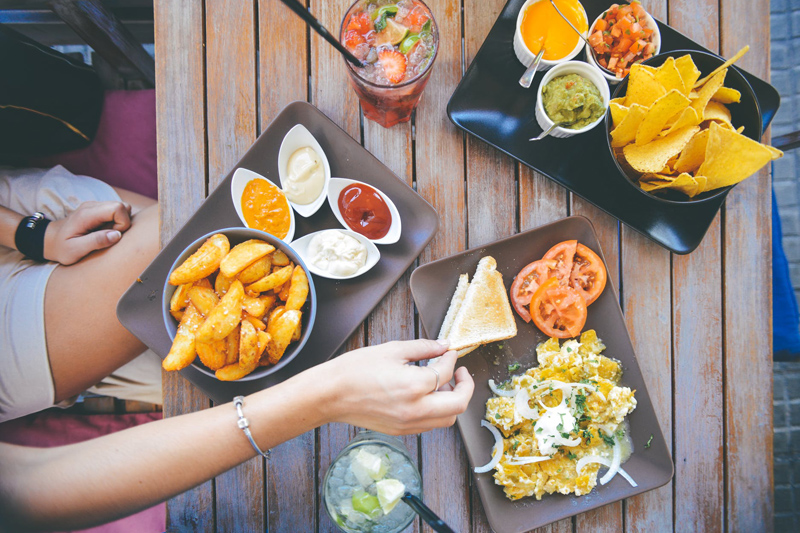 A raw "salsa", made from tomatillos, the Mexican green husked tomato, is one of the pillars, and joys, of the Mexican table. "Salsa Verde", green sauce, or "Salsa Verde Cruda", raw green sauce, is sharp and tangy, with a strong hint of citrus, and, like the tomato-based Salsa Cruda or Salsa Fresca, appears in restaurants and on market stalls as a basic "table sauce", one which is automatically laid out for diners and customers to help themselves "a gusto", to taste, and which can be eaten with virtually anything: spooned over tacos and enchiladas, drizzled over fried eggs, stirred into soups, guacamole and cooked beans, even just rolled into a plain, warm tortilla or scooped up with "totopos", tortilla chips. It is fabulously versatile and is happy to partner whatever other dish is on offer. This utterly Mexican sauce is not to be confused with the fashionable Salsa Verde of Italian origin, which is based on herbs, green olives, capers and anchovies.

Salsa Verde's one and only drawback for me is that it is essential to use fresh tomatillos – neither tinned nor frozen will do, and since they are often not readily available fresh outside their homeland, Salsa Verde is a truly seasonal sauce, to be eaten ad nauseam when tomatillos can be found abroad in farmers' markets, large supermarkets and via mail order. During this time, I, like all Mexican cooks, serve it with pretty much everything, from authentic Mexican dishes to plain grilled fish, chicken, steak and vegetables, baked or roast potatoes, rice and pasta, scrambled and poached eggs, even as a green "gazpacho" style soup or a dressing for a salad - I never tire of the flavour and aroma, and the sparkling lift which it gives to anything it accompanies.

For a truly traditional Salsa Verde, you will need a large mortar and pestle, a "molcajete" and "tejolote", ideally made of volcanic rock – and in it you will need to patiently pound all the ingredients until you end up with a medium coarse texture and a vivid green colour flecked with the darker green of the coriander. When I have the time, I do actually make my Salsa Verde by this method, as the fragrance which rises from the mortar is truly life-enhancing. If I have less time, I use a large, extremely sharp, carbon steel knife and dice everything up together on a chopping board, which works very well but I must emphasise the sharpness of the knife, as any hint of bluntness will simply mash the ingredients rather than finely chop them. And when I am being a real 21st century cook, which is pretty much most of the time, I use a food processor and just take care not to purée everything by processing for a few seconds too long. I also add a bit of olive oil to my Salsa Verde, which is totally untraditional and inauthentic, but its richness goes well with the flavours and helps the sauce to hold together.

As always with tomatillos, ensure that they are firm and bursting out of their husks, since only truly ripe tomatillos can provide the flavour and aroma needed – any small specimens which rattle around in their envelope will be sour and tasteless.

Tomatillos contain high levels of pectin and Salsa Verde made well ahead of time will tend to thicken and almost set to a gelatinous texture; this is not a problem, however, and a good stir with a wire whisk is usually enough to bring it back to its original consistency.

Spice-crusted potatoes with Salsa Verde Cruda – Papas al horno con Salsa Verde Cruda

Serves 2

5 ml/1 tsp whole cumin seeds, coarsely ground
5 ml/1 tsp whole coriander seeds, coarsely ground
2.5 ml/1/2 tsp ground cinnamon
5 ml/1 tsp dried Mexican oregano
2.5 ml/1/2 tsp chipotle chilli powder, or to taste
60 ml/4 tbsp olive oil
500 g/18 oz smallish potatoes, scrubbed but not peeled, cut into wedges
300 g/11 oz tomatillos, husked, rinsed and coarsely chopped
50 g/2 oz onions, peeled and coarsely chopped
1 large red or green chilli, as mild or hot as you like, deseeded and chopped
15 g/1/2 oz fresh coriander/cilantro
Sea salt and freshly ground black pepper

Preheat the oven to 200oC/400oF/gas 6/fan oven 180oC. Place the potatoes in a roasting tin and toss with the spices, oregano, chipotle, 2 tbsp of olive oil and some seasoning. Cook, stirring occasionally, until golden and crusty, about 50 minutes.

Make the Salsa Verde while the potatoes are cooking, although it can be made several hours in advance if convenient. Place the remaining olive oil, tomatillos, onions, fresh chilli, coriander and some seasoning in the bowl of a food processor and whizz up for a few seconds, just until broken down but still a bit chunky. Check the seasoning.

Divide the hot potatoes between two warm plates and top with a good spoonful of salsa.

Serve immediately with the remaining salsa on the side.

Buén provecho!

You Should Also Read:
Salsas, the sauces of Mexico
The Sauces of Mexico - Salsa Verde Cocida
Tomatillo, the Mexican husked tomato


Related Articles
Editor's Picks Articles
Top Ten Articles
Previous Features
Site Map





Content copyright © 2023 by Isabel Hood. All rights reserved.
This content was written by Isabel Hood. If you wish to use this content in any manner, you need written permission. Contact Mickey Marquez for details.