Mixed Seafood Curry (Choo Chee Talay)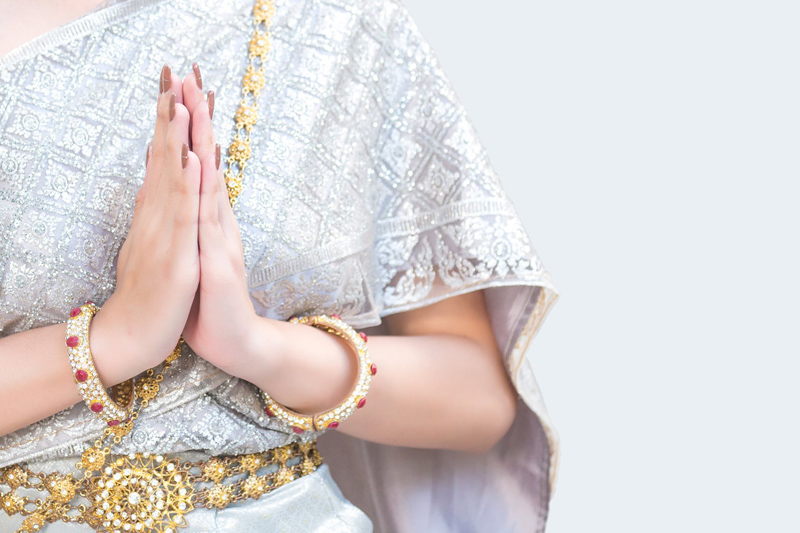 1/3 lb. prawns
1/3 lb. scallops
1/3 lb. firm white fish chunks
1/2 lb. fresh mushrooms, cut in quarters,
1 cup coconut cream, (the thickest part on the top of a can of coconut milk)
4-8 Thai Dragon chiles or 5 red serrano peppers, chopped
3-10 dried red chillies, soaked to soften, then chopped
1 head garlic, or about 12-15 cloves, minced
6 shallots, chopped
2 tsp. "kapi" shrimp paste*
2-3 Tbs. fish sauce (näm plah), or to taste
1-2 tsp. palm sugar, or to taste
10 small kaffir lime leaves, finely slivered
A few sprigs of cilantro for garnish

Adjust the amount of chiles to your taste

*Kapi (shrimp paste) place the required amount on a double layer of tinfoil and place for a few minutes in your toaster oven to develop the flavours. This "frying" releases much of the fragrance.

Shell the prawns, devein, and butterfly. Cube firm white fish into 3/4# bite sized pieces. Remove the "heel" on the scallops, which is the cartiledge that attaches the scallop to the shell and is tough.

Place these in a bowl and add a teaspoon of sea salt and a little ice water
to cover. Mix well, massage the shrimp a bit with your finger tips as
this allows the ice cold salt water to refresh the shrimps, and set aside 15-20 minutes. Rinse seafood a few times with running water to wash off all the salt.

Drain well.

Make a well-blended (pounded) paste out of the ingredients; fresh red peppers, shrimp paste, garlic, shallots, dried chiles, ­ either by pounding ingredients with a mortar and pestle, or by processing them in a blender or food processor.

Prepare the other ingredients as listed.

Spoon a cup of coconut cream from the top of a can of coconut milk
into the wok and heat over high heat. Reduce the cream for a few
minutes to thicken.

Stir in the chile paste and fry until fragrant and until the oil has clearly separated from the cream. I usually oopen a kitcben window as the chile emits quit a lot of the capsicum.

Reduce until the mixture is very thick before adding the seafood, mushrooms, and slivered kaffir lime leaves, as you don't want to overcook the seafood.

Stir-fry over medium-high heat until the seafood is nearly cooked.

Add date palm sugar and fish sauce to taste. Adjust seasonings as needed.

Place in a shallow serving dish and garnish with a few sprigs of cilantro.
Serve hot with steamed jasmine rice. Sometimes we serve this with steammed broken Jasmine (Hom Mali Thai or new crop jasmine rice).



Related Articles
Editor's Picks Articles
Top Ten Articles
Previous Features
Site Map





Content copyright © 2023 by Mary-Anne Durkee. All rights reserved.
This content was written by Mary-Anne Durkee. If you wish to use this content in any manner, you need written permission. Contact Mary-Anne Durkee for details.