Crispy Fish Salad (Yam Pla Group Phrik)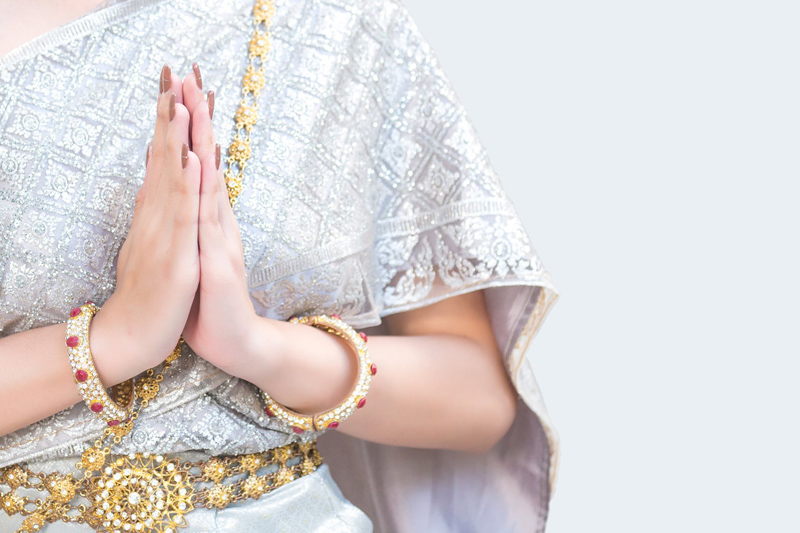 Crispy Fish Salad
(Yam Pla Group Phrik)

This dish is tradionally made with cat fish from the Mekong. I will never forget having this wonderful salad in Nong Kai while sitting at a table over looking the Mekong River and having to fend off a small kitty who wanted my salad! This delightful expierence was before the Friendship Bridge was byilt and Americans had great difficulties in traveling to Laos. Now it is quite easy and you can actually walk across the bridge. Visa required of course.

This salad is the perfect balance of hot-sweet-salty-sour that is the heart of Thai cuisine. Yam Pla Group Phrik is a big time favourite of our family, it is such a lovely combination of flavours along with the pleasurable crunch of the fried fish.

Cat fish in the Mekong can grow to 3' to 4' or evewn longer!

8 oz firm fresh white fish, such as catfish, but salmon works as well
Sea salt
oil for deep-frying
1 small, very firm green mango, julienned
2 shallots, sliced lengthways
3 cloves garlic minced
1 stalk of lemongrass, sliced thin
2 Tabs raw peanuts,roasted in a dry skillet, coarsely chopped

Garnish
4 kaffir lime leaves slivered
4-6 fresh mint leaves, torn
Fresh cilantro (coriander) leaves

DRESSING

4-10 Green Thai chiles (Phrik kee nu or phrik chee fa)
Pinch salt
1 Tabs fish sauce (nam pla)
2 Tabs fresh lime juice
1 tsp date palm sugar sugar


Method:

Rub the fish with sea salt and place in a baking pan giving each piece plenty of room. Place the fish into a 350 deg F preheated oven and bake for 20 minutes until golden brown. Place fish fillets on a rack to cool.

Place fish into bowl of your food processor, pulse chop until flakey, don't over process.

Heat a half oil filled wok until very hot 350 deg F. Add ½ cup of the flaked fish into the oil. When it has puffed up and turned lightly golden turn it over and continue frying until it is golden on this side as well. Now carefully remove the fish with a mesh flat strainer and drain on paper towels. Repeat with the remaining fish. The fish will cling together as it fries like a floating island.

Break the fish up into a bowl into large pieces. Gently toss the fish with the the mango, and peanuts. Turn this out onto a serving plate. Just before serving add the dressing and garnish with the slivered kaffir lime leaves, cilantro and mint leaves.

Dressing
Crush the minced chiles with the salt with a mortar and pestle or a food processor. Add the fish sauce, lime juice and sugar and pound until incorporated thoroughly.

Tips: Use fresh fish!
Use good quality fish sauce such as Golden Boy.




Related Articles
Editor's Picks Articles
Top Ten Articles
Previous Features
Site Map





Content copyright © 2022 by Mary-Anne Durkee. All rights reserved.
This content was written by Mary-Anne Durkee. If you wish to use this content in any manner, you need written permission. Contact Mary-Anne Durkee for details.