Khmer Chicken Soup with Eggplant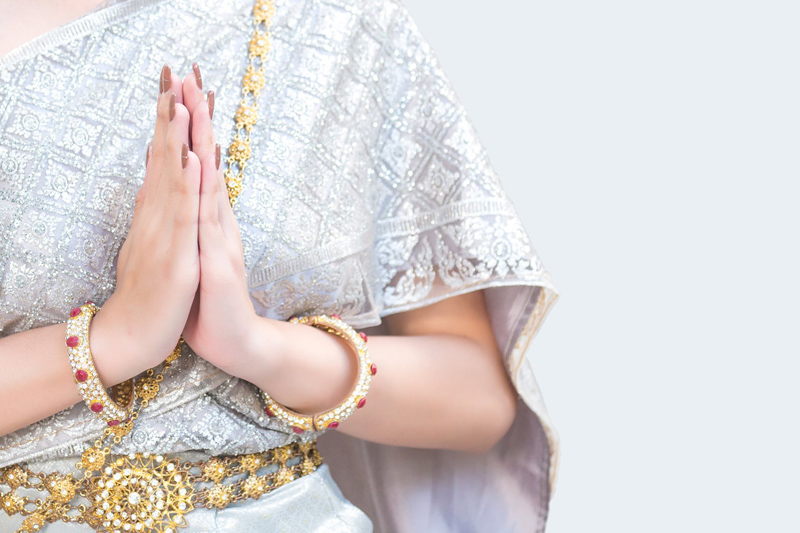 Khmer Chicken Soup with Eggplant is a popular Cambodian soup that is often served in the border regions of Thailand/Cambodia. This region has been in the International news for quite some time as a continuing disagreement between Thai and Cambodian troops clash over a disputed border area surrounding a 900-year-old Khmer temple, which both sides claim as their own.

The crumbling stone temple, several hundred feet from Thailand's eastern border with Cambodia, has fueled nationalism on both sides of the disputed frontier for decades and conflict over it has sparked sporadic, brief battles in recent years. However, sustained fighting has been rare.

The cuisine of this region is not so separated as people have lived on both sides of the border region for centuries sharing cuisines. Perhaps the balance is swayed towards the more earthy fragrant notes of Cambodia as seen and tasted in this amazing soup.

Bright aromatics like ginger and lemongrass are part of the cuisine as are peppery herbs, rice noodles and curries. Cambodian food is less spicy and sweeter than Thai food. But if the difference between Cambodian food and other Asian food can be reduced to one ingredient, it would be prahok.

Prahok is to Khmer cooking is what fish sauce, nam pla is to Thai cooking. Prahok is a fish paste made from the gutted, scaled, salted, fermented remains of various freshwater fish. It is a pale, pinkish grey in color and possesses a pungent aroma that gives Khmer food a deep, earthy flavor. The flavors of the Thai food commonly eaten in the west would be less less rustic in many cases by comparison. Prahok is used in most Khmer dishes, as a base of flavor to build on.

Khmer also refers to the language of Cambodia and to its people. The Khmer Empire was one of the most powerful empires in Southeast Asia, based in what is now Cambodia the empire flourished from the 9th to the 13th century. The empire, which grew out of the former kingdom of Chenla, at times ruled over and/or dominated parts of modern-day Laos, Thailand, Vietnam, Burma, and Malaysia.

Somlah Machou Mouan
Khmer Chicken Soup with Eggplant

Serves 6

Ingredients
Paste
6 dried New Mexico Chilies, soaked, and de-seeded
1/2 tablespoons sliced tender lemongrass
1 1/2 tablespoons peeled, coarsely chopped fresh or frozen galangal
3 medium shallots, coarsely chopped
6 garlic cloves, coarsely chopped
3/4 teaspoon ground turmeric
8 kaffir lime leaves, de-veined
1 1/2 teaspoon shrimp paste (kapi)
1 1/2 cup water

2 tablespoons vegetable oil
1/3 cup unsweetened coconut milk
1 1/2 pounds chicken thighs, skinned, boned, sliced into ½-inch-thick strips
6 cups chicken broth
2 teaspoons date palm sugar
1-2 teaspoon fish sauce-nam pla to taste
1 teaspoon prahok (optional)
1/2 teaspoon salt
4 cups round Thai eggplants, cut in half (or 2 medium Asian long eggplants, cut into ¾" slices)
1/3 cup tamarind juice
Handful of fresh Thai basil leaves, for garnish

Preparation
Paste: Blend all the ingredients in a blender until smooth, 2 to 3 minutes. Set aside. Or pound in mortar with pestle.

In a stockpot, heat the oil. Add the coconut milk and cook over medium-high heat until the oil separates, about 2-3 minutes. Add the spice paste and cook for another 2-3 minutes, stirring constantly, until fragrant. Add the chicken and cook for 5-6 minutes, then stir in the chicken broth, sugar, fish sauce, prahok (if using), and salt. When the soup comes to a boil, reduce the heat to low, add the eggplant and tamarind juice and simmer gently for 10 minutes.

Serve with steamed jasmine rice (Thai Hom Mali) garnish with the basil and serve.


You Should Also Read:
Prahok


Related Articles
Editor's Picks Articles
Top Ten Articles
Previous Features
Site Map





Content copyright © 2023 by Mary-Anne Durkee. All rights reserved.
This content was written by Mary-Anne Durkee. If you wish to use this content in any manner, you need written permission. Contact Mary-Anne Durkee for details.