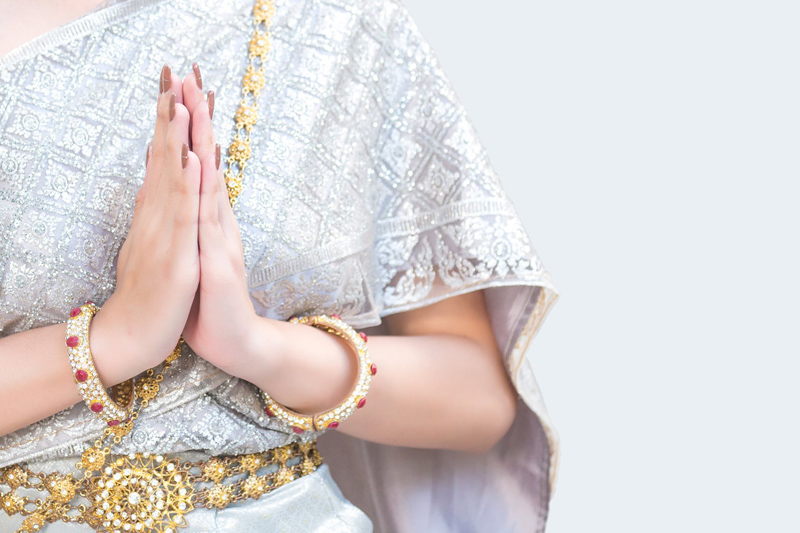 Shrimp Paste Rice (Khao Krok Kapi)

This Thai fried rice dish is called Khao Kluk Kapi. You don't see this dish very often and then only in Thai neighbourhoods and never in tourist regions.

The big difference between this dish and normal fried rice is that the rice is fried with shrimp paste which gives it a brown look. It is also seasoned with sugar and fish sauce.

for photo of dish:

https://testing.ifood.tv/recipe/shrimp_paste_rice_khao_krok_kapi

Sometimes sweet pork is added onto the rice. To make this you fry the pork with shallots in a wok. You then season with fish sauce, dark soy sauce and sugar. After adding the pork to the plate. This fried rice is garnished with shallots, thin slices of omelette, grated papaya, chopped long beans, cucumber and lime wedges. Also nam pla phrik is drizzled over it if desired. Nam pla phrik is fish sauce with chopped green and red chiles. It is worth trying this as an alternative to normal fried rice. It is a delicious dish!

The key to making this dish appeal to Western palates is to fry the kapi first to release the smell and devlop the flavour. Place the kapi on a piece of tin-foil, place in toaster oven and toast to develope the flavour. Keep the window open as it will smell very fishy as it cooks. This roasting develops the flavour and releashes the strong fishy smell.

Ingredients

4 cups cold left over Jasmine rice
2 Eggs (preferably duck eggs) beaten
1/2 cup dried shrimp
1/2 cup Mango shredded
1/4 cup Rice ribbon noodles
3 tablespoon Hom daeng (shallots/purple onions) thinly sliced
3 tablespoon Kratiem (garlic) thinly sliced
3 tablespoon Kapi (fermented shrimp paste) Roasted-see above
3 tablespoon Nam pla (fish sauce)
A little sugar to taste can be added

Side dishes: lime wedges mango fried egg chiles shallots cucumber and sweet fried pork salted pickled radish blanched ong beans nam pla phrik (diced chiles in fish sauce) or anything else you wish.

How to make Shrimp Paste Rice (Khao Krok Kapi)

Prepare side dishes-any of the following you want:

Shred the mango, or finely slice it, and place it in a serving bowl.

Place a wok over medium heat and warm enough oil for deep frying.

Briefly saute the shallots and garlic until golden. Remove with a slotted spoon and place in a serving bowl.

Deep fry the shrimp briefly (about 30 seconds), then remove from the oil and place in a serving bowl.

Cut the noodles into short pieces, and stir fry until crispy. Remove and place in a serving bowl.

Place salted radish in side bowl.

Place tomato chunks or cut in half cherry tomatoes in a side bowl.

Blanche cut up long beans, drain, place in side dish.

Place sweet fried pork in side bowl.

Although not traditional I make side dishes of Thai Basil and cilantro.

Remove nearly all the oil from the wok, and then combine the roasted shrimp paste with the cooked rice (it is the process of mixing in with the fingers that is implied by the Thai word krok) and then stir fry it until heated through.

Remove and place in a large serving bowl.

Finally the egg is cooked.

The Thai technique is to drizzle it into the hot wok whilst making a 'chopping' motion with the spatula to break the cooked egg into fine ribbons and pieces.

You may find it easier to make a thin crepe, then roll it and slice it into half inch wide ribbons.

Place egg in a side bowl.

Serving:

Arrange the bowls on the table, and give each diner a plate, and a slice of lime. The dish is finally seasoned to the diner's taste from the table condiments as they wish.

This is a fun do-it-yourself meal.


Related Articles
Editor's Picks Articles
Top Ten Articles
Previous Features
Site Map





Content copyright © 2023 by Mary-Anne Durkee. All rights reserved.
This content was written by Mary-Anne Durkee. If you wish to use this content in any manner, you need written permission. Contact Mary-Anne Durkee for details.