Salad of Mixed Ingredients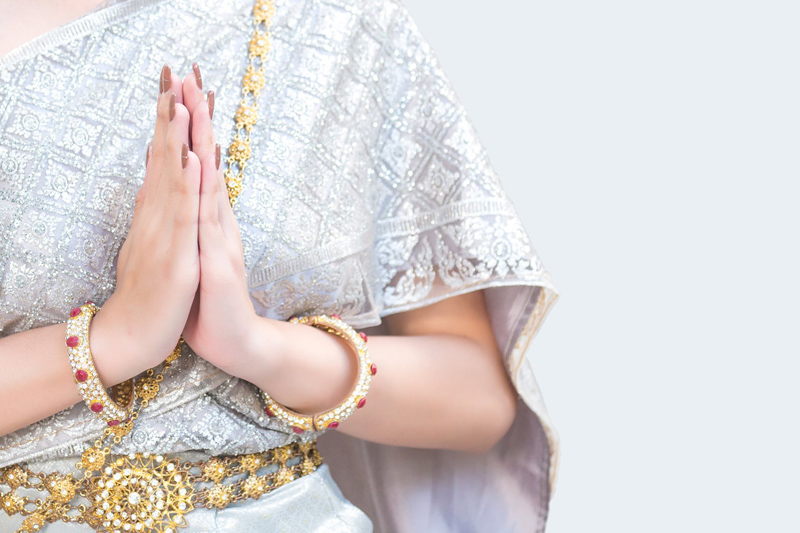 Salad of Mixed Ingredients (Yam Goong Mu Gai Talay)
Serves 36-48

The number of large shrimp (8), their colour (red), and even the local name (dragon) are indicators of wealth and success in life, so highly significant for the young couple.

One local tradition when this salad is served at a wedding is for the couple to each feed each other a shrimp - less messy than the American wedding cake! Eight shrimp also means one each for the Bride and Groom, their parents, and the best man and maid or matron of honour. Finally yam means tossed (as a salad is tossed), and signifies a scattering of fortune in life.

8 dragon shrimp (fresh water shrimp, 2-3 to the pound)
1 lb. shrimp (16-20 to the pound)
1 lb. ham (smoked Black Forest type)
1/4 lb. Chiang Mai Sausage, sliced (substitute w/Italian Sausage if unavailable)
1/4 lb. sliced roast pork
1/4 lb. shaved beef
1/4 lb. cooked chicken, sliced
Dressing:
1 cup fish sauce (nam pla)
1 cup lime juice(nam manao)
1/4 cup sweet dark soy sauce, or use oyster soy (nam si-ew wan)
1/3 cup garlic, minced (kratiem)
3/4 cup ginger, minced (khing)
3/4 cup cilantro including the roots, chopped (bai chi)
1 cup green onions, sliced (ton hom)
1 cup shallots/purple onions, thinly sliced (hom daeng)
1/4 cup sesame oil
4 tsp chilli/chile oil
¼ to 1/2 cup (bird's-eye chills, mixed red and green), sliced to your taste
2 tbl toasted rice powder (khao koor)*

6-8 tomatoes (heirlooms are the most flavourable, various colours of cherry tomatoes can be used)
3 Japanese/Asian/English cucumbers
Optional-Butter lettuce or red leaf lettuce leaves which guests can use to scoup salad into and eat out of hand. Depending on size of heads use a total of 4-6 heads.

*Khao Koor - place 5 tablespoons uncooked Jasmine rice in a wok over medium heat, and toast gently until light brown. Allow to cool and then grind to a coarse powder in a mortar and pestle, or spice grinder.

Cook the shrimp: the jumbo shrimp should be grilled or barbecued until pink. To avoid burning this is best done whole unshelled with the heads still on.

Thais eat almost the whole shrimp (including some of the shell), so would serve them like this. You may prepare to remove the head and legs, shell (except the tail), and de-vein them. Set them aside.

The smaller shrimp are best dry-toasted in a wok over medium heat, tossing continuously to avoid burning until pink. Again they are best cooked with the head left intact shell on. Cooking with the shells on make the shrimp more flavourful and it retains the moisture. You clean the shrimp after cooking.

Slice the cooked meat into half inch strips, and then cut any long pieces into smaller bite sized pieces.

Shred the chicken with the tines of a fork.

Cut the white bulbs from the spring onions, and then slice the green parts thinly.

Place the chicken, sliced meat, and small shrimp in a large bowl.

In a mixing bowl combine the remaining ingredients and then pour them over the mixed meats and shrimp. Toss to thoroughly coat and leave to stand for at
Least one hour before serving.

Place the tossed ingredients on a large serving platter, surround with a circle of alternating tomato segments and slices of cucumber, and place the jumbo shrimp like the spokes of a wheel, heads towards the center, then garnish with cilantro and mint leaves.

Serve with steamed Jasmine rice.




Related Articles
Editor's Picks Articles
Top Ten Articles
Previous Features
Site Map





Content copyright © 2022 by Mary-Anne Durkee. All rights reserved.
This content was written by Mary-Anne Durkee. If you wish to use this content in any manner, you need written permission. Contact Mary-Anne Durkee for details.