Chicken Curry with Flatbread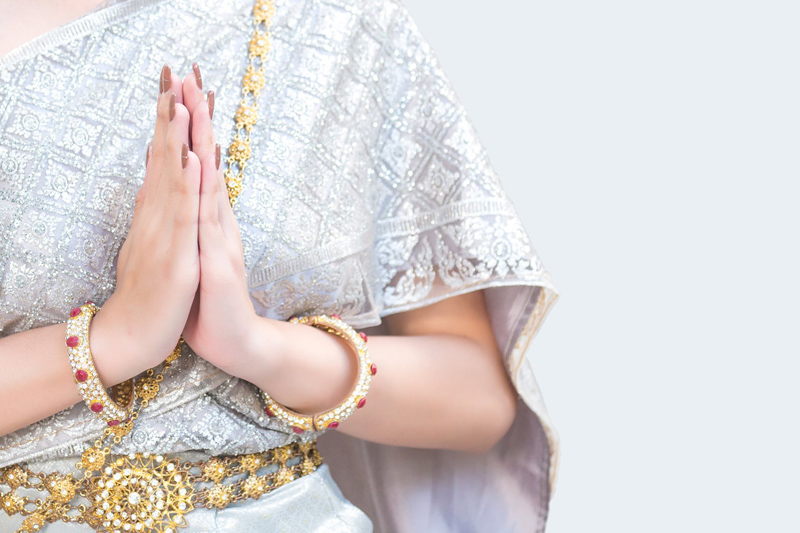 This is a popular Thai Indian recipe you find as street food in Little India part of Bangkok.

This hidden jewel in Bangkok's crown is full of gorgeous food, interesting sights, and a real impression of what it's like to walk down an Indian street. As you wander this soi you'll find food stalls selling hot snacks, posters of Hindu gods, old ladies in saris sit and watch the laughing grandchildren nearby. The sights and sounds of India engulf you in a magical spell of flavours, colours, and exotic music fills the air as you walk along eating one of the amazing street food offerings.

Bangkok's Indian community first settled in the Phahurat area soon after King Rama I ordered its construction in 1898. The area has expanded over the years, and now merges into the southwestern edge of Bangkok's Chinatown.

You literally walk from one culture or "country" to the next eating as you explore the tiny hidden away sois where people work and live in shop houses. Shop-houses are a long time tradition in Asia where a family keeps shop on the ground floor and lives above.

Some of my favourite dishes in Thailand have evolved with the various immigrants from India and China. This is one of the most delightful Indian Thai dishes you will ever eat.

Chicken Curry with Flatbread (Gai Kaeng)
Serves 4

Chickpea Flatbread

1/2 cup chickpea flour (besan in Indian stores)
1/2 cup plus 1 tablespoons water
3/8 teaspoon sea salt
generous pinch ground cumin
1-2 green Thai chiles minced or thinly sliced
4 teaspoons, peanut oil, divided

Chicken Curry (Gai Kaeng)
1 pound, boneless, skinless chicken thighs cut into small bite sized pieces
1 small onion, diced
½ red pepper, diced
1 inch piece of fresh ginger, minced
2 pair of Kaffier lime leaves (Thai lime), sliver
2 cloves garlic, minced
1 ½ Tablespoons canola oil
1 1/2 Tablespoons Thai yellow curry powder or 1 tablespoon yellow curry paste*
1 12 ounce jar of mango chutney
8 ounces coconut milk
1Cup water
Splash of nam pla (fish sauce)
Optional-add smoked ground Thai chiles for extra heat
Garnish with cilantro or Thai basil leaves

• I like Mae Ploy, Mae Sri or Lobo Curry Paste, but my absolute favourite Thai curry powder is the one used by Sombon
Flatbread
To make the batter, whisk all your ingredients together in a big bowl. Allow the batter to rest for 2 hours before using.
While the batter is resting prepare the curry.
Chicken Curry.
Place oil in heated wok. Once the oil is hot, add the curry powder or paste and fry while stir frying until fragrant. This step develops the wonderful curry flavor. Now add the onions, peppers, garlic, and ginger. Stir fry a few minutes until the veggies start to soften. Add the water, chutney, and the coconut milk and stir to incorporate the ingredients. . Add the chicken to the wok, bring it to a simmer.
Simmer for approximately 20 – 30 minutes until the curry reduces to a thick sauce and the chicken is done. Add the date palm sugar and stir it until it's dissolved. Taste and adjust flavor to your taste of hot-sweet-salty-sour.
Flatbread
While the curry is simmering and just keeping warm make the flatbread.

Add a little of the oil to a heated large non-stick skillet. Ladle 1/2 cup of the batter into the skillet, swirl the batter until it is an even layer in the skillet, much like when making crepes. Cook the flatbread on a medium-high heat until slightly browned and firm about 4 minutes. Flip them over to lightly brown the other side.

Serve with the chicken curry. We really like these as a brunch. Serve with champagne for a festive feel.







Related Articles
Editor's Picks Articles
Top Ten Articles
Previous Features
Site Map





Content copyright © 2023 by Mary-Anne Durkee. All rights reserved.
This content was written by Mary-Anne Durkee. If you wish to use this content in any manner, you need written permission. Contact Mary-Anne Durkee for details.