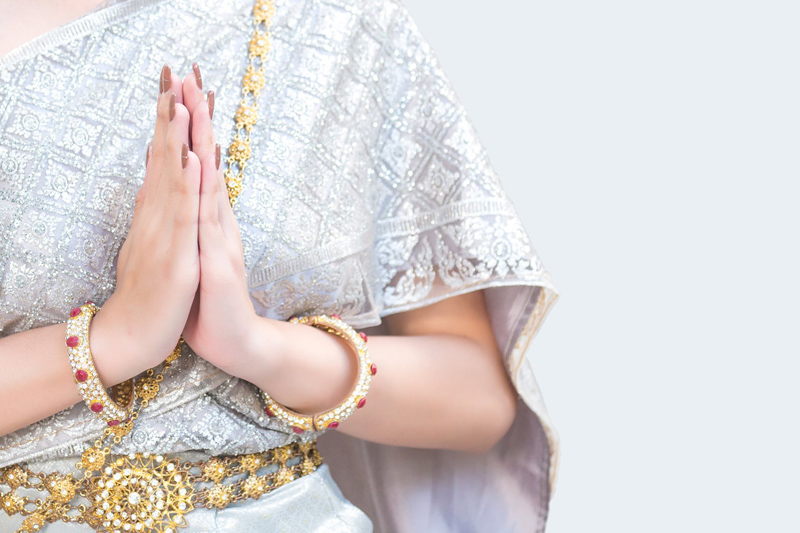 I love making this in the middle of summer when my vegetable garden holds a plethora of lovely organic heirlooms including squash, tomatoes, beans, and eggplants. This vegetable selection served along side fresh seafood makes the perfect summer drink snack.

We grill large prawn in their shells, sea scallops, and local Monterey Bay Calamari (squid) and grilled vegetables with this spicy green mango dip. It is also popular in Thailand to serve hard boiled chicken and duck eggs with this dip.

My husband takes out our wonderful "old" large, earthenware mortar and a wooden pestle that we bought over 20 years ago in the enormous open air market, Chatuchak Park that is held on weekends in Bangkok. It runs Thursday through Sunday and is often simply called "the weekend market". There are literally thousands of stalls which sell everything from antiques to pets with a lot of clothing too.

The key to making this tasty hot dip is kapi [kah-PEE], which is made of small, black-eyed shrimp that are ground into a paste, salted and fermented. It is quite strong, and used in small quantities to add a subtle, but rich undertone to many dishes.

I think we first ate this amazing dip at Chatuchak Park. I remember the lady asking us how hot we want it. My husband said Thai-style! That means hot enough to make a tiger cry!
Green Mango Spicy Dip (Nam Prik Ma-Muang)

8 ounces shredded green mango
6-8 garlic cloves, minced (gratiem)
4-10 Thai chiles, minced-depending on your palate for heat
1 Tbls. Shrimp paste (kapi)*
1/4 cup fish sauce (nam pla)
2 Tbls fresh lime juice
2 Tbls date palm sugar (lt brown can be used)

Method
Place the kapi onto a piece of tinfoil that has been formed to a sort of small cake pan. I place this in my toaster oven to roast the kapi which releases a strong aroma. Warning open the window first. However, the aroma gives way to an amazing taste to this dip!

Now add chiles, garlic and cooled shrimp paste to a large mortar and pound with the pestle. This is a great way to relieve any agressive feelings you might have!

Add the shredded mango and the remaining ingredients and pound to mix well.
Taste, adjust hot-sweet-sour-salty balance.

Place the dip into a bowl surrounded with the grilled vegetables and shellfish.

You can also serve with bowls of steamed Jasmine or sticky rice.

Vegetable suggestions include, slices of long eggplant, Thai round eggplants, red bell pepper, baby corn, sugar snap peas,asparagus, bitter melon slices, yard long beans red and green cut into 3" pieces, green onions, cherry tomatoes, raw cabbage wedges and whatever is in season. You can blanch the green beans and other vegetables, or lightly grill them.

I like to skewer the shellfish like prawn or shrimp in the shell, calarami rings and legs, scallops, and serve guests skewers of a mixed shellfish and a mixed vegetable offering.





Related Articles
Editor's Picks Articles
Top Ten Articles
Previous Features
Site Map





Content copyright © 2023 by Mary-Anne Durkee. All rights reserved.
This content was written by Mary-Anne Durkee. If you wish to use this content in any manner, you need written permission. Contact Mary-Anne Durkee for details.