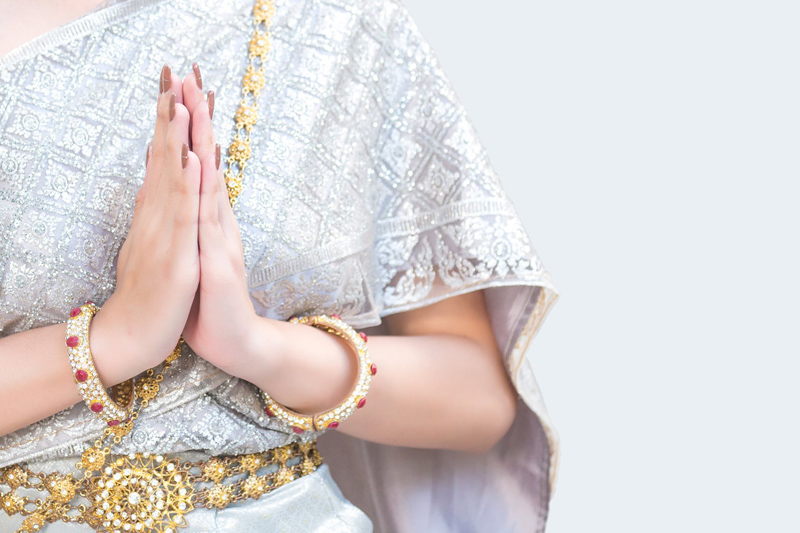 This dipping sauce is served with raw or blanched vegetables and is called Nam Phrik Ong. It is served often for khantoke meal which is a pedestal tray used as a small dining table by Lanna people (northern Thai), Laotians of Laos and by the people from Isan (northeastern Thailand), those areas where glutinous rice is eaten instead of the more "fluffy" rice which is eaten in the rest of the Thailand.

Khantokes are used as dining at Lhana style meals. We have three Khontoke tables and often use them just for serving Thai meals to family and friends.

Note: Soak and prepare sticky rice beforehand.

Nam Phrik Ong
serves 4 as starter

1 lb lean ground pork
5 plum tomatoes
6-8 cloves of garlic
4 - 6 shallots
1 Tbls vegetable oil
2-3 Tbls fish sauce
1- 1 1/2 Tbls of date palm sugar to taste
1/2 fresh lime (for juice)
10 - 20 Thai bird chiles (or less to your taste)
1/2 cup of water

Method

Heat a wok over medium-high heat. When preheated, toss in your whole tomatoes to dry roast them (No oil is required) Let cook turning occasionally until cooked through and browned/blackened all over, this will take 4 to 8 minutes. Remove from wok, and set aside.

Repeat the same dry roasting technique with the shallots and chilies. Remove the chilies and shallots from wok, set aside.

If wok is quite blackened wipe out or pour hot water and use wok brush to remove blackened bits, pour water out, It is important to begin with a somewhat clean wok as blackened taste will be bitter.

Add the pork to your skillet. If pork is ultra lean add a little oil for ease of stirfrying until no longer pink. Set aside.

In a mortar and pestle, pound the chiles, shallots and garlic very well (you may use a blender if you don't have a mortar and pestle here). However, using a mortar and pestle releases the oils and promotes a greater Thai taste. When well pounded to a paste, add the tomatoes and incorporate by pounding carefully.

Re-heat your wok to medium hot, add back in the pork, the chile-tomato-garlic-shallot paste, and the remaining ingredients, the water, fish sauce, sugar and lime juice.

Heat to a vigorous boil, then reduce the heat and simmer until it is completely incorporated together. It will have a thick consistency. If watery cook it down to a thick consistency.

Taste for seasoning and adjust if needed with more chile, lime juice, fish sauce or sugar to balance to a perfect note of hot-sweet-salty-sour.

Nam Phrik Ong is served with your choice of raw and blanched vegetables.

Raw vegetables such as sliced cucumbers, cabbage wedges, snow or sugar peas, green onions, etc.. We like also serving blanched eggplant cut into large bite size pieces, Ladies Fingers, chunks of Kabocha, Carrots, and Long Beans. Blanche lightly just to make a bit tender but not completely cooked.

Crispy pork rinds are also a traditional accompaniment. These are called "Kaeb Moo"in Thai. You also will find fried pork skins in Mexican markets.

Serve with baskets of steamed sticky rice.

This works very well as an appetizer before a Thai style or better yet, a Northern Thai Khon Toke style dinner. Enjoy!



Related Articles
Editor's Picks Articles
Top Ten Articles
Previous Features
Site Map





Content copyright © 2023 by Mary-Anne Durkee. All rights reserved.
This content was written by Mary-Anne Durkee. If you wish to use this content in any manner, you need written permission. Contact Mary-Anne Durkee for details.