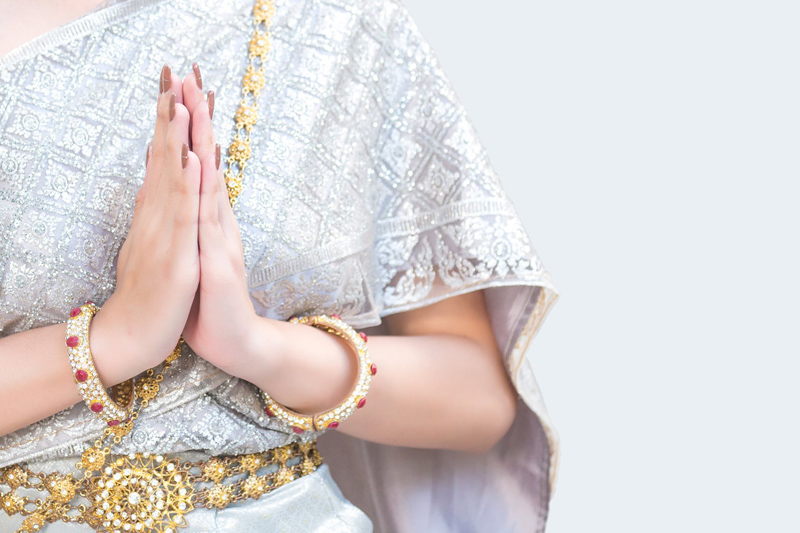 Winged Bean Salad with Toasted Coconut and Crispy Shallots (Yam Tua Phu)

Winged Beans (Psophocarpus tetragonolobus) grow as a long vine. The bean pod is typically 6–9 inches long and has four wings with frilly edges running lengthwise. The skin is waxy and the flesh partially translucent in the young pods. It's blossom is quite large and pale blue. The beans themselves are similar to soybeans in both use and nutritional content (being 35% +/- protein). All parts of the plant are edible!

Wing Bean Salad is a Thai dish common to the central region of Thailand, but also popular in other regions like Bangkok. The key ingredient is "wing beans" which are blanched and tossed with coconut milk, roasted chile paste, toasted coconut, tamarind, date palm sugar and roasted chopped peanuts. If winged aren't available in your Asian markets you can substitute green beans, yard long beans, Red Noodle Beans, or snap peas. Sometimes I make this salad using the Red Noodle Yard long Bean and Winged Beans together as it is so colourful.

Serves 4
Ingredients
1 pound winged beans, trimmed and strings removed
1 stalk of lemongrass, outer tough leaves removed, use 4" of tender lower stalk, finely sliced
1-3 small Thai chilies (Phrik Kee Nue) or 1 Thai Dragon or Serrano chili, minced
1 Tbsp cilantro leaves

Place in a mixing bowl, toss lightly

Optional – To serve as a lunch entrée add 12 medium large shrimp shelled (tail left on) deveined, stir fried until just barely done or grill the shrimp with shell on, peel and serve with tail on.

Dressing:

100 g. ground pork, sautéed until no longer pink
1/2 cup coconut cream
3 cloves garlic, minced
1 large shallot thinly sliced

Sautee ground pork, minced garlic and shallots in coconut milk. Set aside.

1/3 cup coarsely chopped dry roasted peanuts*
1 tablespoon Chile-Tamarind Paste (Nam Phrik Pao) **
1/2 cup fresh lime juice
1 1/2 Tbsp date palm sugar
1 1/2 Tbsp fish sauce, (Nam Pla)

Mix together until incorporated.

Pour dressing over beans, and other ingredients in bowl until coated. Serve at once, garnish with shrimp if using, and crispy fried shallots.

Garnish – Fried shallots, toasted coconut***, and cilantro sprigs.

Notes:

*Dry roast raw peanuts in dry skillet, keep them moving until just beginning to colour. Remove from skillet to prevent further cooking.


**Pantainorasingh Brand is very good, and comes in mild, medium or hot versions. You can also make your own Nam Phrik Pao.

*** Toast unsweetened coconut flakes in toaster oven, watch VERY carefully to not burn.

Method
Bring a large pot of water to a boil.
Wash the winged beans, cut off both ends, and slice into 1/3" pieces.
Blanche the beans for 30-45 seconds in the boiling water. Green beans will require about 1 minute to blanche. Immediately place the drained beans in ice cold water to stop cooking and maintain colour.
Peel the garlic and shallots. Dice the garlic, and dice the shallots.


You Should Also Read:
Nam Phrik Pao


Related Articles
Editor's Picks Articles
Top Ten Articles
Previous Features
Site Map





Content copyright © 2022 by Mary-Anne Durkee. All rights reserved.
This content was written by Mary-Anne Durkee. If you wish to use this content in any manner, you need written permission. Contact Mary-Anne Durkee for details.