Ua Si Khai-Stuffed Lemongrass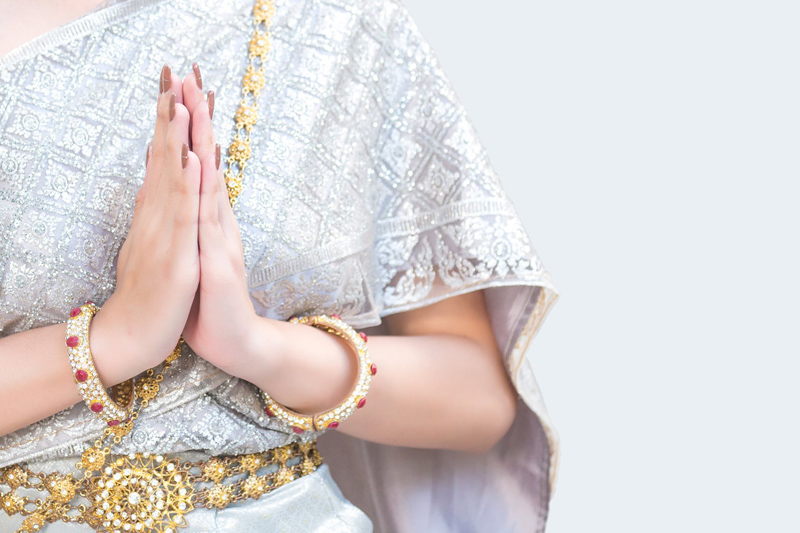 During our first trip to the magical town of Luang Prabang, Laos we wandered into a just then opened Tamarand Cafe. I was impressed with the tastefully appointed small dining room and the artfully arranged gift offerings. A delightful energetic woman named Caroline Gaylard greeted us and told us of their tasting menu. That was the beginning of a love affair for the culinary delights of Luang Prabang.

We met Caroline's mum who was visiting from Australia and her now husband Chef Joy. In between that first visit and our second visit this amazing couple had opened a cooking school in an idyllic location beside a stream a few minutes outside town. The minute you arrive the breath-taking ambiance literally takes you back in time to "yesterday" Luang Prabang, which is a stunning World Heritage city and was the ancient capital of Laos.

I first learned to make Ua Si Khai (Stuffed Lemongrass) at Tamarind Cooking School during our second visit to this magical town that is lost in time. I have played around with the original recipe over time depending on what fresh ingredients I have available.

You can vary the recipe with different meats such as chicken or pork. For a vegetarian version, you can use tofu.

Makes 12 Stuffed Lemongrass

4 large garlic cloves, chopped
1 pair kaffir lime leaves, very finely slivered
1 teaspoons salt
2 large shallots, minced
1/2 cup chopped cilantro*
1/4 cup chopped Thai basil
2-4 Thai chiles, minced
5 oz ground pork
4 oz shrimp, shelled, deveined, chopped fine
1 teaspoon Roasted Rice Powder**
12 stalks lemongrass
1 qt vegetable oil for frying
2 large eggs, lightly beaten

*If available use cilantro roots pounded

With a mortar and pestle, pound the garlic, lime leaf, chiles, and salt to a smooth paste. Add shallots, cilantro and basil to the mortar and pound to soften. Add ground pork and shrimp into the paste, stirring to blend well.
Starting 1/2 inch from the bottom of a lemongrass stalk, with the tip of your knife make a 4-inch-long lengthwise cut. Rotate lemongrass stalk a little at a time, making more lengthwise cuts all around the lemongrass stalk being careful not to cut across the previous cuts.

Hold lemongrass with one end in each hand and move ends toward each other.

This should open the slit portion of stalk to make a basket or cage like opening. Repeat with remaining lemongrass stalks.

Spoon about 1 to 2 tablespoons soft mixture into center of each lemongrass basket depending on the size of the lemongrass.

Heat oil to 375°F in wok

Dip stuffed end of 3 or 4 lemongrass stalks in beaten eggs, turning to coat, and fry, turning occasionally, until golden and cooked through, 3 to 4 minutes.

Transfer stuffed lemongrass stalks on to paper towels to drain.

Coat and fry remaining stuffed lemongrass stalks in batches of 3 or 4.

Variations-Substitute chicken for pork.

Vegetarian option-use 8 ounces of firm tofu in place of meat. Brown tofu in a skillet in a small amount of vegetable oil, season with 1 tsp. soy sauce and let cool. Crumble into very small bits and place in a mortar or food processor with the garlic, green onion, cilantro, lime leaf, and salt. Blend until all ingredients are incorporated. Proceed as above to stuff lemongrass.

Visiting Luang Prabang and taking a class from Chef Joy is a must for all foodies who delight in Southeast Asian cuisines: https://tamarindlaos.com/

Note
** Toasted or Roasted Rice powder (Khao Kua Pon) can be purchased at Asian markets in small packets or jars. It is easily made at home -

Rice Powder(Khao Kua Pon)
You heat a dry skillet over medium flame, and toss raw sticky rice/glutinous rice about until browned nicely and fragrant.

Cool and grind in your clean spice grinder. Keep in tightly covered container to retain it's fragrance for future use. I usually make 1/2 cup raw rice into this powder at a time.


Related Articles
Editor's Picks Articles
Top Ten Articles
Previous Features
Site Map





Content copyright © 2023 by Mary-Anne Durkee. All rights reserved.
This content was written by Mary-Anne Durkee. If you wish to use this content in any manner, you need written permission. Contact Mary-Anne Durkee for details.