Thai Salmon Cakes with Curry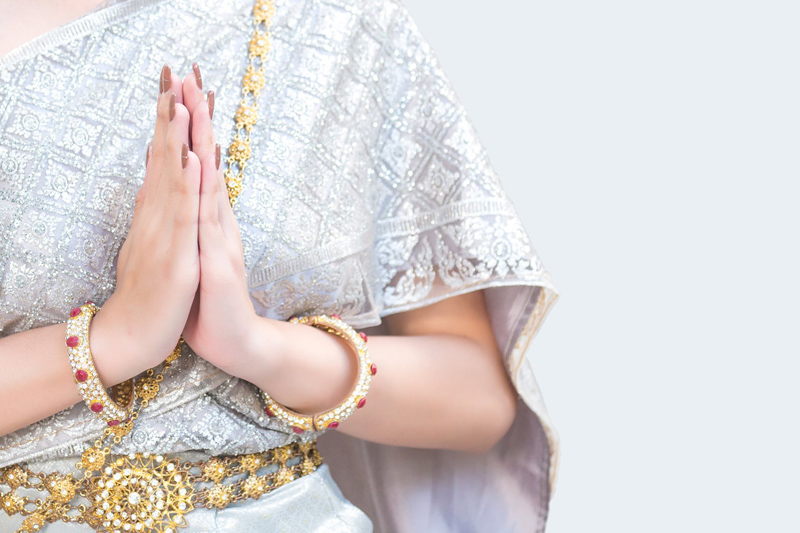 Salmon cakes:
8 ounces smoked salmon meat, skinless
2 Tbs. fresh chives, chopped
1/4 cup red bell pepper, minced
1 Tbs. lime juice, fresh squeezed
1 tsp. Togarashi
1 Magroot (Kaffir Lime) leaf, fresh, slivered with center stem removed
2-4 tablespoons coconut milk to soak bread
2 medium sized slices French bread soaked in coconut milk, mashed with fork
1/2 tsp fish sauce
1 tsp Garlic-Ginger Paste
1 tsp Thai red curry paste
1 egg, whisked

2 Tbs. clarified butter (or Ghee)
Panko bread crumbs

Sauce:
Curry Hollandaise Sauce
1 cup of Hollandaise Sauce (pre-packaged or from a traditional recipe)
1 tsp Thai curry powder (more, or less, to taste)
1 small tomato, diced

Optional- 1 bundle somen noodles, cooked & drained

Garnish:
Fresh Chives, whole

To prepare the Salmon Cakes:
Place the diced salmon meat, chopped chives, minced bell pepper, lime juice, Togarashi, Magroot leaf, curry paste, and coconut milk soaked bread in a non-reactive mixing bowl. Toss together and season to taste with salt and pepper.

Fill 4 - 2 3/4" bottomless ring molds with the salmon mixture and pack tightly. Dust the tops and bottoms of the molds with Panko bread crumbs. The Salmon cakes may be kept in a refrigerator until ready to sauté and serve.

Just prior to serving, sauté the Salmon cakes in the molds in a very hot pan in clarified butter (Ghee) for 1-2 minutes on each side until golden brown. Blot on paper towel (or drain on parchment paper) and carefully remove molds.

To serve:
Place a generous swirl of the Curry Hollandaise on each plate and place a Salmon cake on top. Place 2 whole chives in an "X" on top of Salmon Cakes as a garnish.

Optional: Toss somen noodles in remaining Curry Hollandaise Sauce, serve on plate with Salmon Cakes placed on top.

Ingredients notes:
Fresh smoked salmon or canned can be used for this recipe.

Togarashi is a Japanese condiment that is available in small shaker vials at most Japanese or Asian specialty stores. It is a combination of chili pepper, black and white sesame seeds, orange peel, ginger and seaweed that adds a very special and unique flavor to the Salmon Cakes.

Ghee is clarified butter that can be found in most Indian specialty markets. We prefer it because it has a much higher flash point than regular butter, and doesn't smoke or burn as easily, while still adding authentic butter flavor.

Magroot (Kaffir Lime) is a lime variety indigenous to Thailand. The leaves have a very unique citrus flavor and are frequently used in Thai cooking. They may be found fresh or frozen in many Asian specialty markets.

Garlic-Ginger Paste is a mixture of ginger and garlic which is available in a glass jar at Asian stores. I use Laxmi Brand that I buy at my local Indian market. I often use this ingredient as a quick and easy way to have the fresh ginger and garlic flavor in dishes. Various sized jars are available from 4 ounces to 26.5 ounces. Keep in refrigerator after opening the jar.







Related Articles
Editor's Picks Articles
Top Ten Articles
Previous Features
Site Map





Content copyright © 2023 by Mary-Anne Durkee. All rights reserved.
This content was written by Mary-Anne Durkee. If you wish to use this content in any manner, you need written permission. Contact Mary-Anne Durkee for details.