Shrimp, Prawn and Seafood Tips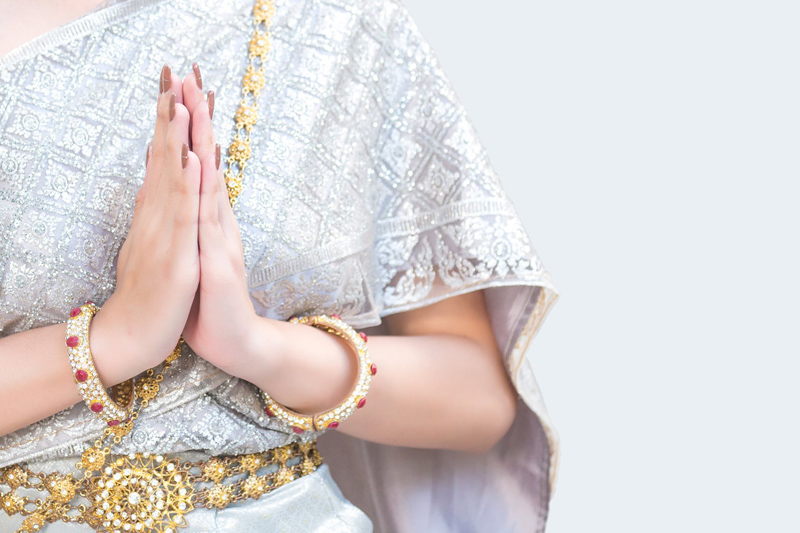 Having the freshest tasting seafood is paramount in preparing Thai seafood recipes. A tip I learned over 25 years ago from now long time friend, Kasma Loha-unchit who is a well respected Thai cooking teacher here in the San Francisco Bay Area. Kasma is also an author and recipient of the coveted James Beard award for International cookbook of the year. Kasma leads culinary focused tours to Thailand each year.

This tip is such an easy one! Place shrimp or prawn in a bowl of ice cold water with 1 teaspoon of salt dissolved for 20 minutes. I sort of massage the shrimp to help the salt water "refresh" the flavor of the shrimp or prawns. I also use this technique with fish. It really makes a huge difference in the taste of seafood.

Shrimp and Prawn Tips

Prawn and shrimp look much the same, and taste very similar, so many people use the terms interchangeably, often referring to smaller examples as shrimp and larger ones as prawns.

But prawns can be small and shrimp can be large. The best way to tell the difference is to check out the crustaceans' abdomen before it's been peeled or deveined. Take a look at the underside of the tail and pay careful attention to the second plate. On a shrimp the second plate overlaps both the first and third plates, but on a prawn the second plate will only overlap the third plate.

Though both prawn and shrimp are crustaceans belonging to the Decapoda order, they are members of different suborders: Prawns belong to the Dendrobranchiata suborder, and shrimp to the Pleocyemata. In addition to the slight variation in appearance, their reproductive patterns differ.

One other gourmet tip – female buy fresh shrimp or prawns with eggs held between their legs. The eggs have a delightful flavor and texture. These treats should be cooked lightly with shells and legs intact to not disturb the eggs. Also preparation simply with butter, garlic and a splash or two of sherry to finish off the cooking is an amazing taste treat. My favourite is the Monterey Bay Shrimp or Spot Shrimp.

To read more on these https://www.montereybayaquarium.org/cr/cr_seafoodwatch/content/media/MBA_SeafoodWatch_ColdwaterShrimpReport.pdf

The most common prawn in Thailand is the Black Tiger Prawn. Penaeus monodon, the giant tiger prawn (and also known by other common names), is a marine crustacean that is widely reared for food in Indo-West-Pacific, ranging from the eastern coast of Africa, the Arabian Peninsula, as far as South-east Asia, the Sea of Japan and northern Australia.

Wild Louisiana Gulf shrimp, fresh from the waters of the Gulf of Mexico, are amazing, but not common in much of the US. Another delight from this area is the Crayfish or Crawdad. The Sacramento River, the Pacific Northwest and some fresh water lakes have these famous crustaceans.

85% of the shrimp that's sold in this country is actually imported from foreign countries, thus most of the shrimp you buy have been frozen.

Another treat is the Freshwater Prawn, again not commonly found fresh. On occasion I find them frozen from India.

Fresh
For the best flavour in seafood use them on the same day of purchase.

For temporary storage, rinse shrimp in cold running water and pat dry. Wrap in damp paper towels and then place in a loose plastic bag.

To freeze, vacuum pack and seal, keep tightly wrapped to avoid freezer burn. Use within a month for best flavour.

Frozen
Buy while still completely and individually frozen; thaw by placing for a few minutes in ice cold water.

If you detect a smell like ammonia or a strong fishy odor, discard, and do not use. Also if shrimp or prawn appear mushy, discard. Another sign of deterioration is called melanosis which causes the appearance of black spots along the sides and heads of shrimp.

Contued Part Two:




Related Articles
Editor's Picks Articles
Top Ten Articles
Previous Features
Site Map





Content copyright © 2023 by Mary-Anne Durkee. All rights reserved.
This content was written by Mary-Anne Durkee. If you wish to use this content in any manner, you need written permission. Contact Mary-Anne Durkee for details.