Leaf Wrapped Grilled Fish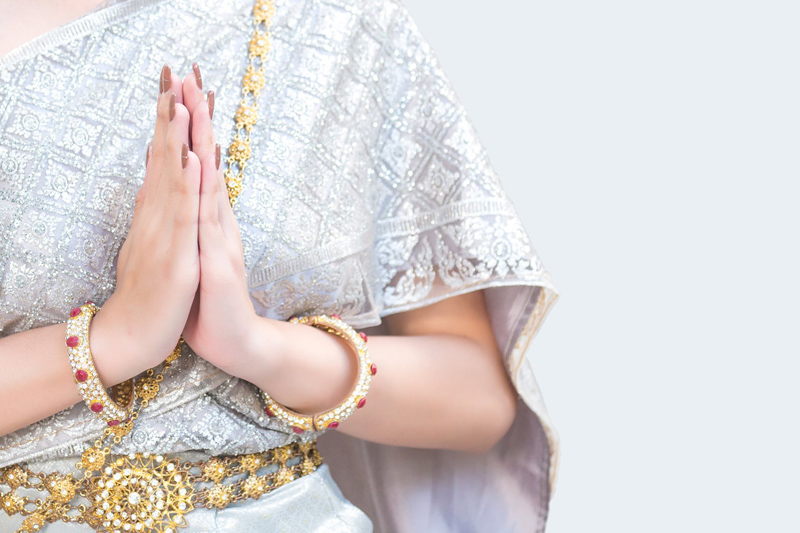 4 servings

Ingredients

Sauce
2 TBS peeled minced fresh ginger
2 TBS date palm sugar
4 cloves garlic (1 tablespoon, minced)
1- 4 Thai Dragon chiles, minced
1/3 cup water
3 TBS fish sauce
3 TBS vinegar (rice or coconut)
1 1/2 to 2 pounds fresh firm fish, such as catfish, carp, or snapper cut into 1 1/2" X 1" X 1" pieces**
1 bunch bai Chaplu (wild pepper leaf)*
Large pinch salt and freshly ground black pepper

Garnish
1 long chile, julienned
4 spring onions, finely sliced
Preheat a charcoal grill or barbecue.

For the sauce:
Place the ginger, date palm sugar, garlic, chile, and a pinch of salt in a mortar. Pound until a smooth paste is formed. Then add the water, fish sauce, and vinegar and blend together.

Set aside.

Season both sides of the fish with salt and freshly ground black pepper.

Wash and dry bai Chaplu leaves removing any long stems and reserve if using as ties.

Wrap the fish pieces tightly with the bai Chaplu leaves, then enclose in a wire barbecue rack or secure leaf wrap with a tooth pick.

Char grill each side of the fish for 5 to 10 minutes on medium heat.

Cover the fish with the fish sauce dressing and garnish with sliced chile and spring onions.

Serve with bowls of steamed Jasmine Thai Hom Mali rice. You eat the fish with wrapper in a couple of delicious bites.

Variation: Serve bowls of the dipping sauce and diners can dip each bite in the sauce to eat out of hand.

*bai Chaplu leaves can be found at specialty Asian markets. For photo of cha plu

https://marketfresh.com.au/produce_guide/product.asp?ID=181

Thai bai Chaplu leaves are often labeled La Lot (Vietnamese), pepper leaf in Asian markets. If you can't find these leaves you can use large spinach, small chard, shiso or grape leaves.

Bai Chaplu (Piper sarmentosum) is a heart shaped leaf that develops a lovely aroma, as it is grilled, a sort of incense-like fragrance. The pliable leaves are shiny on one side and matte on the other. Try to locate these very special leaves as nothing will taste the same as chap lu or lalot. Bai cha plu is NOT the same as betel leaf which has a strong pungent taste and has a far thicker leaf.

Piper sarmentosum is a plant in the Piperaceae family used in many Southeast Asian cuisines. The leaves are often confused with betel, but they lack the intense taste of the betel leaves and are significantly smaller.

Bai Chaplu is used as the wrapper for Miang Kam, shredded in soups, and as a wrapper for fish and meats that are grilled.

There is no "official" English name for it, but it is sometimes called wild betel leaf.

Tip: Instead of using toothpicks to secure the leaves around the fish use the long stems that you cut off from the leaves as ties.

** Cut the fish into pieces that can be wrapped in the bai chap lu leaves.



Related Articles
Editor's Picks Articles
Top Ten Articles
Previous Features
Site Map





Content copyright © 2023 by Mary-Anne Durkee. All rights reserved.
This content was written by Mary-Anne Durkee. If you wish to use this content in any manner, you need written permission. Contact Mary-Anne Durkee for details.