Parental Stress, Abuse, and Intervention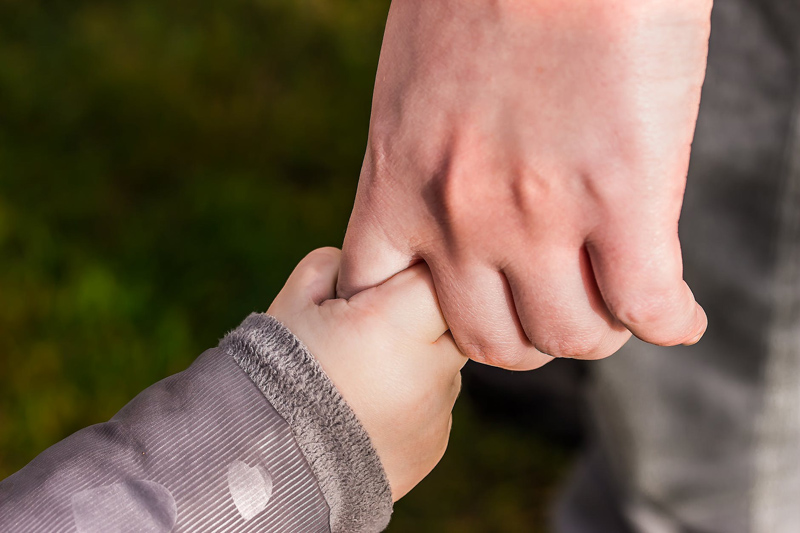 One hot late summer day I was at a photography studio hoping to get a nice picture of my almost one year old son and his almost three year old sister. I had enjoyed about four hours sleep the night before, was late for our appointment, the air conditioning in the shop had failed, and my daughter was uncomfortable in the dress she wanted to wear in the picture. I was *begging* her with gritted teeth to calm down so I could finish filling in the paperwork and straightening up her brother's outfit, when another woman strolled over and asked very sweetly if she could 'hold the baby' so I could take care of my daughter.
I think I just said, "Oh." I wanted to tell her that I had been the one to offer help dozens of times, but she was very gently taking my son from my arms, so I turned to my daughter and tended to her. She was so relieved to see me back to my usual relaxed and friendly way of interacting with her, she calmed down immediately. It was the same heat, the same discomfort from lack of sleep, the same being late for our appointment, but someone was there for me when I needed a casual intervention and an extra set of arms.
In the years following, I recognized that startled look of recognition in many of the temporarily stressed out moms who accepted my support and offer of help in similar situations. When I was in college, I volunteered at a community hotline for parents under stress.m My friend and I were in the first and only training session where non-parents were accepted. When other volunteers shared stories about feeling overwhelmed or even angry with their own children, I was shocked. But I continued because I felt it was important to intervene with friendship and compassion when parents called in, worried they would neglect or abuse their children. This was the purpose of the volunteer organization. The time I spent there gave me strategies and also permission to intervene with kindness in all the years following when I happened to observe stressful situations or actual abuse in public places.
We are the lucky ones. The sweetness in our lives gives us the strength and stamina to be the parents our children deserve, almost all of the time. And of course we have to add into the mix the natural inclination of our children to want to be independent and establish their own identities, emphatically; exploring the full meaning of the word "no" and demonstrating to us that they know just how to push the right buttons to produce interesting reactions in us or their siblings. Sometimes our children want to explore their ability to control situations that are otherwise out of our control.
But there are parents in our communities who have never had a friend, who have never had warmth or acceptance from their parents, who don't understand how to fill themselves up with gratitude, faith, joy or sweetness, and have absolutely no one in their lives who can share that with them or teach them where to find it. They may have had expectations that their child or children could fill that need, and not understand why babies and children are just the opposite of what they expected.
Somewhere in between are others who have experienced grief, loss, or terrible events that have knocked them off their equilibrium and they can't find their way back on their own.
And then there are families who argue and yell and bump into one another and create a commotion who are actually enjoying healthy and supportive relationships. They just have a different way of being.
I don't know if any parent knows what amazing little rascals they will hold in their arms until we get lost in the incredible sweetness of being with them moment to moment, being able to look back to those first moments and look forward to sweet moments we can't imagine in the future. No matter how they turn out, they give us all our opportunities to be the best parents we can be while they are growing up. I still remember my mom saying I will always be her baby no matter how old I happen to be. She was talking about that same joy I feel from my children.
One of the ministers at our church when my children were in elementary school provided counseling and comfort to the mother of a death row inmate who was eventually executed. He was asked how difficult it was to be there for the family of a monster and he said something about that mother holding her son as a newborn baby, having hopes and dreams for him just like we do for all our children. Remembering and honoring that sweetness is a Joy we should hold close to our hearts, always.
Browse at your public library, local bookstore, or online retailer for books like:
The Guide to Compassionate Assertiveness: How to Express Your Needs and Deal with Conflict While Keeping a Kind Heart
or
Calming the Emotional Storm: Using Dialectical Behavior Therapy Skills to Manage Your Emotions and Balance Your Life;
Mindful Parenting: Practicing Kindness
https://blogs.psychcentral.com/mindful-parenting/2013/10/mindful-parenting-practicing-kindness/
The Part of Parenting We're Too Embarrassed to Talk About
https://www.whattoexpect.com/wom/toddler/the-part-of-parenting-we-re-too-embarrassed-to-talk-about.aspx
You Should Also Read:
Intervening with Abusive Mothers in Public
Using Behavior as Communication
Moms Under Stress Problem Behavior


Related Articles
Editor's Picks Articles
Top Ten Articles
Previous Features
Site Map



Follow @DownSynAdvocacy
Tweet





Content copyright © 2021 by Pamela Wilson. All rights reserved.
This content was written by Pamela Wilson. If you wish to use this content in any manner, you need written permission. Contact Pamela Wilson for details.