Chile Fried Rice with Prawns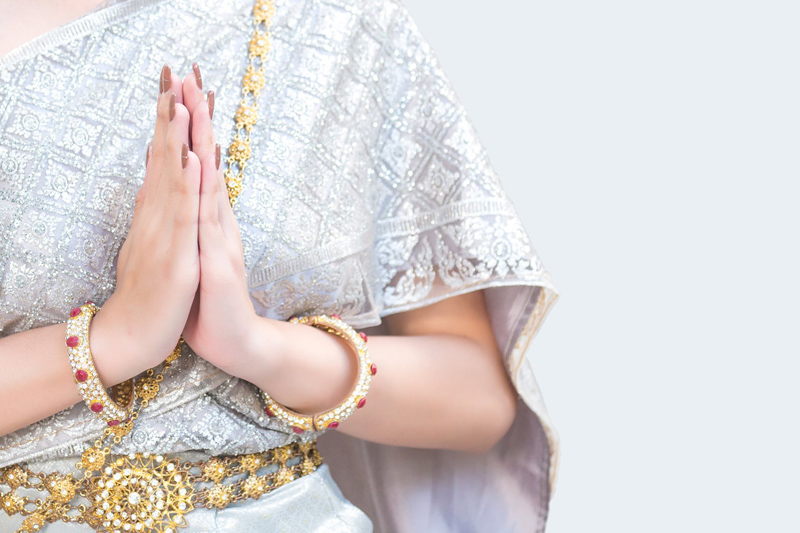 This is a great recipe for leftover rice. It is important that the rice is thoroughly chilled and not mushy or too moist. You need the rice kernels to be separate.

4 cups Jasmine Rice*, cold left over from refrigerator
*Butterfly or Elephant brand is good

12 to 16 ounces prawns, shelled, deveined, tail left on
2 Tablespoons chopped garlic
2 Tablespoons of peanut oil
3 Tablespoons of Oyster Sauce (I prefer the Thai Oyster Sauce, Maekrua brand
Optional if available - 2 bai Magroot/Kaffir Lime leaves, slivered
6 to 8+ Thai chiles diced (wear rubber gloves when chopping and touching)
1 to 2 Tablespoons of Fish Sauce (Golden Boy is excellent)
Generous sprinkling of white pepper on shrimp, and egg, and rice
Smoked dry chilies ground up for garnish and extra heat *Optional
½ each red and yellow bell pepper, cut into ½ inch pieces
1 medium, red onion, cut into ½ inch pieces
2 eggs beaten, fried, sprinkle w/white pepper, slice, add to rice with basil leaves
Thai Basil Leaves, large handful
Reserve for garnish basil flower and leave tops
Serve with sliced cucumber, and Nam Phrik Pla* which diners can adjust heat if they wish.

*Thinly slice Thai chiles, place in small dish, add fish sauce (Nam Phrik Pla).


Method

Add a little of the oil and heat the wok until hot, repeat this step in between stir frying ingredients as needed.

Add beaten eggs, swirling into bottom of wok and up the sides, sprinkle with white pepper, when just cooked, flip the egg "omelete" over for a few seconds. Remove from wok, cut into strips ½ inch wide by 1 inch long. Set aside.

Add the prawn (or shrimp), fry until lightly browned and turn over and fry a few seconds on second side to brown. Remove from wok, set aside
This step can be done at the last minute in a separate pan to keep them warm.

Add the onions and bell peppers, fry until just a bit cooked very ala dente.

Add the garlic, chopped chilies, and lime leaf slivers if using, stir fry until cooked, but do not burn the garlic or it becomes bitter.


Add the rice (make sure all big chunks are broken up). I usually store my left over rice in a zip lock bag and break up the rice lumps with the back of my hand before removing rice from the bag.

Add the Oyster Sauce
Stir fry
Add the egg pieces
Add the fish sauce and Thai Basil
Stir fry until leaves are slightly wilted

Serve on individual plates or on a large serving shallow bowl or platter, arrange prawn around the rice.

Garnish with basil leaves and serve with sliced cucumbers (optional)

Allow about 1 1/2 cups of rice per person for a main course.

This is so easy and tasty for a lunch or as a side dish for a Thai meal. Leftovers make an amazing omelet filling. Drizzle Sriracha on omelet for real Thai taste.

Optional: I garnished with chunks of heirloom tomatoes from my garden. I usually cut up a red, a yellow, an orange colour tomato and alternate with the prawns for a festive plate. So yummy together.





Related Articles
Editor's Picks Articles
Top Ten Articles
Previous Features
Site Map





Content copyright © 2023 by Mary-Anne Durkee. All rights reserved.
This content was written by Mary-Anne Durkee. If you wish to use this content in any manner, you need written permission. Contact Mary-Anne Durkee for details.